Vancouver Fire Chief Karen Fry says she will request city council provide $6.9 million in next year's budget to hire 55 firefighters to help lessen the load on crews who continue to respond to a record number of fires and overdoses.
The request is based on an operational review done of Vancouver Fire Rescue Services several years ago by independent consultant Darkhorse Analytics, which recommended an increase of 100 firefighters and 22 staff be hired between 2019 and 2023.
The previous council approved implementation in 2018, but never met the goal of the recommended increases, with an estimated 60 positions filled as of this year.
"Fires continue to grow," Fry said Tuesday during a break from council's first of many meetings to discuss the city's overall budget, worth $1.9 billion for 2023.
"As council is sitting here today, we actually had another fire in [a single-room-occupancy hotel] at 11 a.m. this morning, where we have a minimum of 33 firefighters on scene."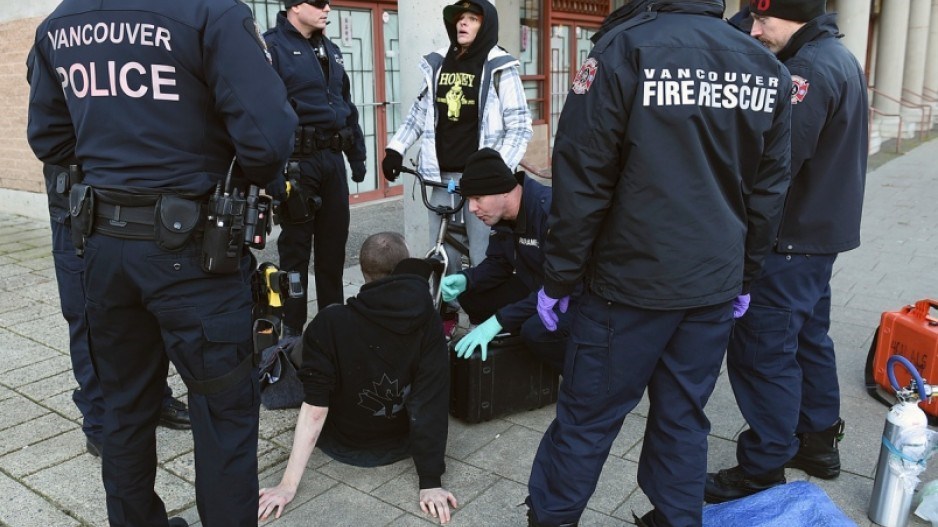 Overdose calls average 19 per day
This year, firefighters have responded to an average of 10 fires per day that caused damage to a building or structure. Nine fire deaths have occurred, including five associated to fires caused by the charging of lithium-ion batteries used for electric bikes.
Overdose calls have averaged 19 per day, with eight per day out of the No. 2 fire hall in the Downtown Eastside. As of last week, firefighters administered the overdose-reversing drug naloxone 777 times this year, with more than 300 injections done by crews at No. 2 hall.
Last year, city council unlocked $3.1 million for the fire department to hire 25 new firefighters, who were expected to be stationed in the under-served southeast quadrant of the city.
At the same time, the department has lost firefighters to retirement and others who transferred to other departments in B.C., where the cost of living is more affordable than in Vancouver, Fry said.
"We're saving lives, and we're protecting people as best we can with the resources that we have," she said. "But we need more."
The requested 55 positions include 40 firefighters, six fire inspectors, four safety officers, two outreach and diversity members, two staff for the department's business unit and one training officer.
Mental health support
Fry said she was concerned how the volume and type of calls is affecting the mental health of firefighters, which total roughly 850 across 20 halls. Adding mental health experts is part of the department's growth plan, which would require more funds.
"We've done a lot of raising awareness, and that's probably why we've seen larger numbers book off in the fire service," she said, noting firefighters worked through the pandemic, despite risks associate with their health.
"We definitely need mental health supports, we need access to counsellors and we need to be able to treat it along the way to build that resiliency instead of waiting and waiting until they're broken."
The newly inaugurated council is comprised of eight ABC Vancouver members, including Mayor Ken Sim.
The party's campaign platform said ABC would "complete the Darkhorse report review and ensure our fire rescue services are fully resourced and benchmarked against a consistent North American standard."
The chief's budget request was not included in a draft budget report that went before council Tuesday, but she will make it official in a presentation in the new year.
The budget report didn't include any of council's new priorities for 2023, with those items to be revealed and discussed at council's Dec. 6 meeting.
Council is expected Dec. 6 to approve the capital budget, utility rate hikes and fee increases for 2023. Council is also expected to defer debate and decision on the operating budget until the spring.
An interim "current state" operating budget will likely be in place between Jan. 1 and council's approval of the operating budget, likely in March.
'That's the goal'
ABC Vancouver Coun. Sarah Kirby-Yung said Tuesday the goal is to make good on the promise to hire more firefighters but cautioned council still had work to do in setting priorities for 2023.
"That's the goal of what we'd like to get to, and that's why we're taking our time to do due diligence on the budget, because this initial budget dropped doesn't include our priorities for public safety," she said.
Kirby-Yung wouldn't speculate on where council would find $6.9 million in next year's budget, if she and her ABC Vancouver team agree to unlock funds for all 55 firefighters in 2023.
"We're taking the time to delve into the budget so that we can make some good balanced decisions because we want to see service levels and other priorities like libraries and community centres and recreation facilities maintained as well," she said.
Last week, the ABC majority council approved $16 million towards the hiring of 100 police officers and 100 mental health nurses.
Note: Glacier Media recently participated in a ride-along with No. 2 hall in the Downtown Eastside. The story can be read here.
@Howellings