Owners of Vancouver gas stations and commercial parking lots who do not install an electric vehicle (EV) charger on their property by 2025 could see their annual business licence fees increase from a couple of hundred dollars to $10,000.
A city staff report that goes before council April 12 says current annual licence fees for a gas station are $243 and $163 for a commercial parking lot — fees that would remain similar in price come 2025 if owners install an electric vehicle charger.
So far, only two of the city's 66 gas stations and roughly 60 of 366 parking lots provide charging stations for electric vehicles.
Staff believes the proposed requirement to have chargers available at all the sites by 2025 — or face a $10,000 annual fee — will accelerate adoption of the technology.
$136,000 to install charger
The initial investment, however, will be costly.
The estimates provided in the staff report say it would cost $136,000 to install a charger at a gas station and $100,000 at a parking lot; staff noted the estimate for a parking lot is "conservative and includes extensive electrical upgrades."
Power output required will be at least 50 kilowatts for gas stations and 26.6 for parking lots.
Marine service stations and parking lots with fewer than 60 spots would be exempt from the $10,000 fee, if implemented by council, which will likely refer the staff report to a May 19 public hearing for decision.
Owners would accrue any revenues collected for use of the chargers, with staff estimating a gas station's annual profit by 2030 could be $6,000, including revenue from convenience store customers.
Annual profit for a parking lot is estimated at $5,000.
"Business owners would also be eligible to collect Low Carbon Fuel Standard Credits and associated revenues," the report said.
"However, the financial case for installing EV charging at gas stations and parking lots is not compelling. A significant intervention is necessary to increase EV charging on private land."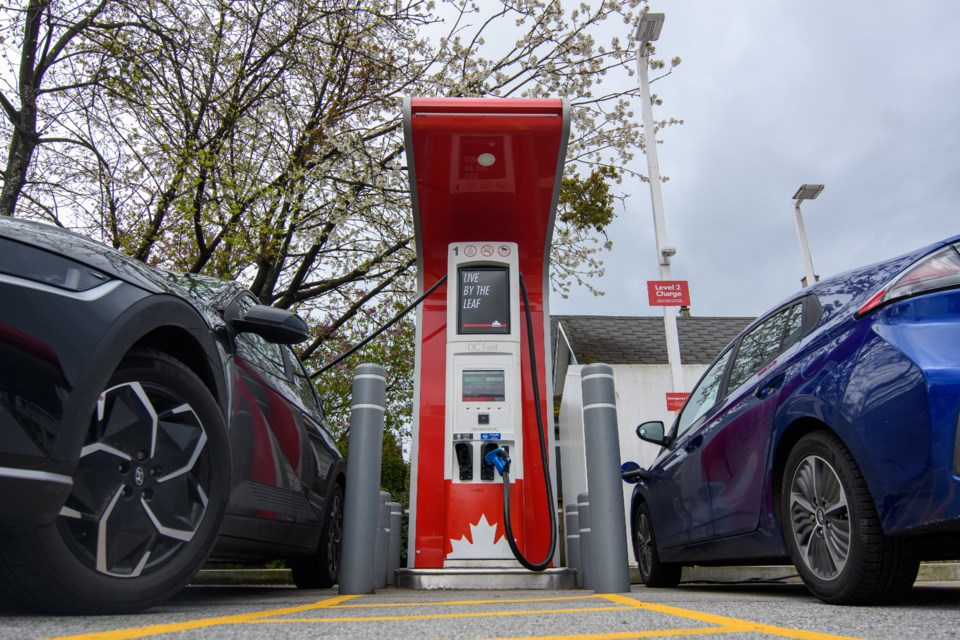 Vancouver Is Awesome sent email requests to Shell Canada and Suncor-Petro-Canada Thursday for reaction to the recommended increase in licence fees for gas stations but had not received a response by the time this story was posted.
Petro-Canada operates a station at Burrard and Second Avenue that offers a charger. Same for Shell with a station at Marine and Boundary, with another charger coming to the company's station at Main and First Avenue.
The push from city staff to increase the number of chargers in the city is based on the goals of the city council-approved climate emergency action plan, which was adopted in November 2020.
The main objectives driving the plan are for the city to cut emissions to 50 per cent of 2007 levels by 2030, and have 50 per cent of kilometres driven on Vancouver's streets done by zero-emission vehicles.
Nearly 40 per cent of carbon pollution in Vancouver comes from burning gas and diesel in vehicles.
According to a 2021 survey conducted for the city's "climate emergency parking program," 49 per cent of residents who plan on purchasing a vehicle in the next two years are somewhat or very likely to go electric.
Of the residents interested in buying a new car, but unlikely to choose an electric vehicle, 59 per cent identified a lack of available places to charge as a barrier.
"While this survey is not representative of all Vancouverites, it had over 12,000 responses," the staff report said of the findings.
"Many residents, including renters, are not able to install charging at home. Increasing the public EV charging network on private land would reduce barriers to EV adoption."
City invests $3 million in EV charging
City staff say the intention of increasing fees for owners who don't install chargers is not to generate revenue for the city but to encourage private investments in EV infrastructure at gas stations and parking lots.
"However, any net revenue generated from this program would be transferred to a reserve and held for the purpose of funding various climate emergency initiatives outlined in the [climate emergency action plan]," said the report, noting it could include making EV charging more accessible to underserved groups by adding chargers in rental buildings.
From 2012 to present, the city says it has invested approximately $3 million in EV charging infrastructure with a further $2.8 million committed and planned.
In March 2018, council approved changes to the Vancouver building bylaw and parking bylaw to require that 100 per cent of parking stalls — excluding visitor stalls — in new multi-unit residential buildings include EV charging infrastructure.
In 2021, the city contracted Dunsky Energy and Climate Advisors to complete an economic analysis of different scenarios for gas stations and parking lots.
Based on its work, including feedback from gas station owners, Dunsky predicted adoption rates of 30 per cent for gas stations and 40 per cent for parking lots by 2030.
"Adoption rates for gas stations are expected to be lower than for parking lots because the minimum power output specified to qualify for the lower business licence fee is higher for gas stations and would require them to install a significantly more expensive type of EV charger," the report said of Dunsky's findings.
The staff report is on council's agenda when it meets April 12 at 9:30 a.m.
Note: This story has been updated since first posted. The original version said gas station owners with EV chargers were paying $20 less for a business licence than those owners without a charger. In fact, the City of Vancouver contacted Vancouver Is Awesome to say the staff report had a typo, and that all owners currently pay $243 a year — regardless of whether an EV charger is available at the station.
@Howellings