A non-profit housing provider that manages buildings for low-income tenants in Vancouver and across neighbouring suburbs has seen the number of suspected overdose deaths double since last year.
Atira Women's Resource Society and its property management affiliate lost 13 of its tenants and guests from January to October 2020 and 27 for the same period this year, according to data shared by the organization.
The rise in deaths is sadly in sync with the most recent statistics the BC Coroners Service released Tuesday that showed 355 people died of an overdose in Vancouver from January to September of this year.
"I'm not surprised because of our own experience," said Janice Abbott, the CEO of Atira, in reaction to the death toll. "I'd like to say I'm shocked, but this is what all of us doing this work had expected. The kinds of adulterants they're finding in street drugs are increasing every day."
Most of the deaths at Atira buildings occurred in Vancouver, where the organization manages or owns 34 properties, including single-room occupancy (SRO) hotels and modular housing.
Of the 27 deaths this year, four were guests and another four died outside of a building or at another building, according to Abbott, whose organization also manages properties in Surrey, Burnaby and Richmond.
The total tenant population at Atira's buildings is roughly 2,800 people.
Drug deaths in and outside of its buildings far outweighed the four COVID-19 deaths recorded between September 2020 and October 2021. A total of 48 tenants died of chronic health conditions during that same period and two to violence.
The deaths occurred despite Atira providing space for tenants to use drugs and supplying them with harm reduction supplies and training on how to use the overdose-reversing drug, Naloxone.
Support workers also operate in the buildings.
The reasons for the increase in deaths, which Abbott described as drug poisonings, point to what public health experts have concluded for some time now: a tainted drug supply being accessed by vulnerable people who use alone.
Added to that deadly combination is that 81 per cent of Atira's tenants use drugs or alcohol, or both, and 48 per cent use alone most of the time, according to an internal survey of tenants living in single-room-occupancy hotels such as the Hazelwood, Colonial and Arco in the Downtown Eastside.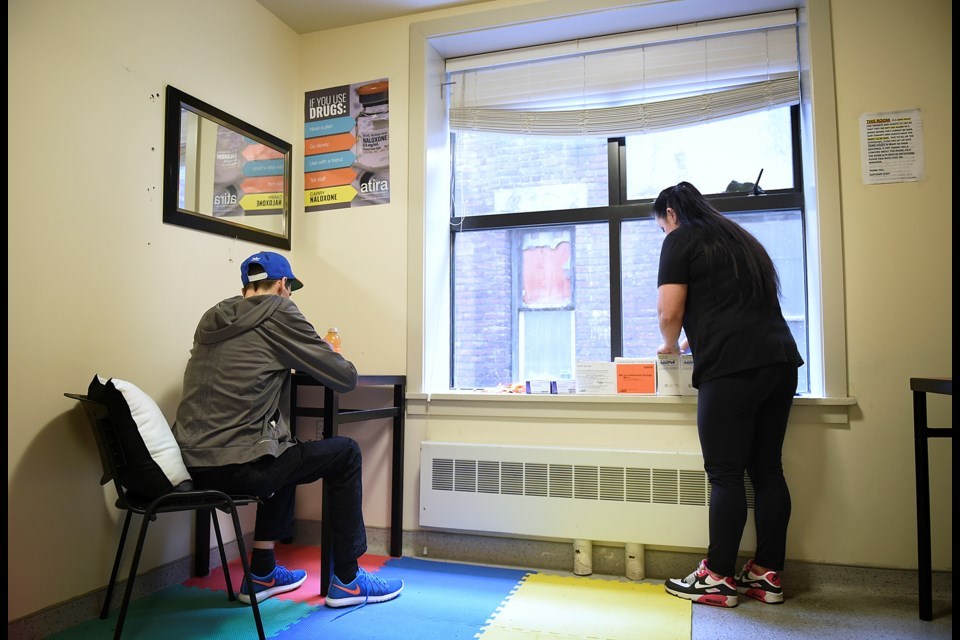 The call from Abbott to reduce deaths "is not just for decriminalization, but legalization and regulation and an end to prohibition and a safe supply of drugs," she said, adding that more safe, secure housing is also needed to replace single-room-occupancy hotels.
$1 billion needed to buy hotels
Data collected by Vancouver police over the past four years shows 50 per cent of suspected overdose deaths in the city have occurred in single-room-occupancy hotels and in other low-income housing.
From February 2017 to Sept. 5, 2021, police recorded 1,578 overdose deaths, with 33 per cent in single-room-occupancy hotels and 17 per cent in "supportive housing," where tenants can be connected with health care and other social services.
"Common sense tells me that with better housing, people might be able to make different choices about things like substance use," Abbott said. "But if 81 per cent of our tenants who use substances had better housing, would that reduce the number of deaths by 10 or 20 per cent [in single-room-occupancy hotels]? I don't know. People are still going to use."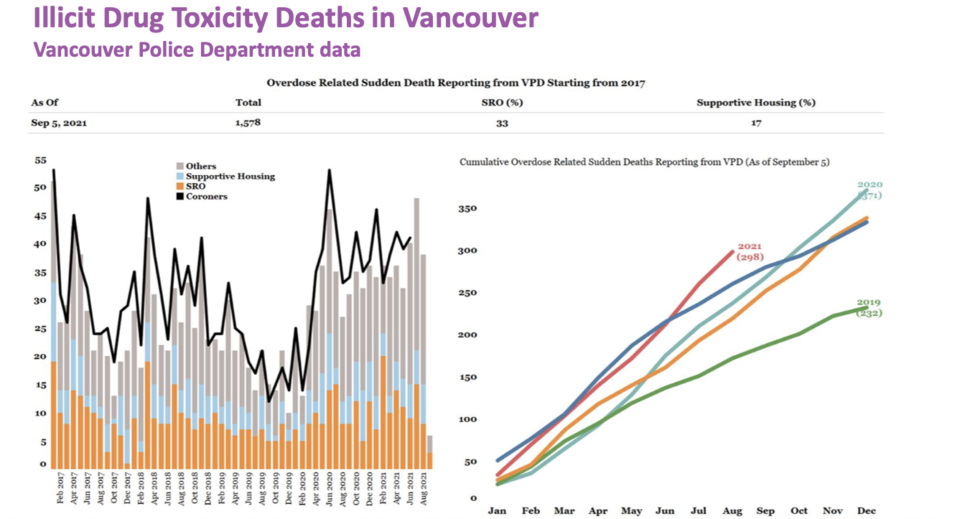 Still, the city is pushing to have the provincial and federal governments buy up to 105 privately owned single-room-occupancy hotels in Vancouver and renovate them for social housing.
A city staff report that went before council in October 2020 said discussions were taking place with senior governments to create a joint investment fund to buy hotels, which would be expensive.
"Staff analysis suggests that the long-term vision of Housing Vancouver to replace all [single-room-occupancy hotels] with shelter-rate social housing would require government investment of approximately $1 billion," the report said.
Rent jumps 16 per cent at private hotels
That report included data on how average rents at privately owned hotels had jumped by 16 per cent in four years, with number of rooms available at the shelter rate of $375 per month plummeting from 1,700 in 2003 to 77 last year.
Dr. Mark Lysyshn, deputy chief medical health officer for Vancouver Coastal Health, said some of the privately run hotels have adopted overdose prevention services — including tenant-led interventions — but more need to get on board.
"In terms of overdose, privates SROs are not a good place for people to be living — that's clear — because they are dangerous environments and there's no real opportunity to create housing overdose prevention services," Lysyshn said.
"The supportive housing environments are preferable because although there's still an overdose risk in these environments, we can work with providers who are willing to implement these probably life-saving interventions."
The BC Coroners Service report released Tuesday showed again that fentanyl was detected in more than 80 per cent of the deaths in B.C. between January and September.