Canada's most expensive rental market has seen its third consecutive monthly increase this June.
The Metro Vancouver region has seen average rental prices climb since March, which was the last time the region saw a decline in soaring costs. In June, the average cost to rent a one-bedroom, unfurnished unit has risen by $12 to $2,330, according to the latest report from Liv.rent.
June saw prices for three-bedroom, unfurnished units increase in every Metro Vancouver municipality.
And since June 2022, the average rent for these units has increased by $274 in Metro Vancouver.
In the City of Vancouver, rent now costs an "average of $4.02/sq. ft. per month compared to the region-wide average of $3.06/sq. ft," notes the report.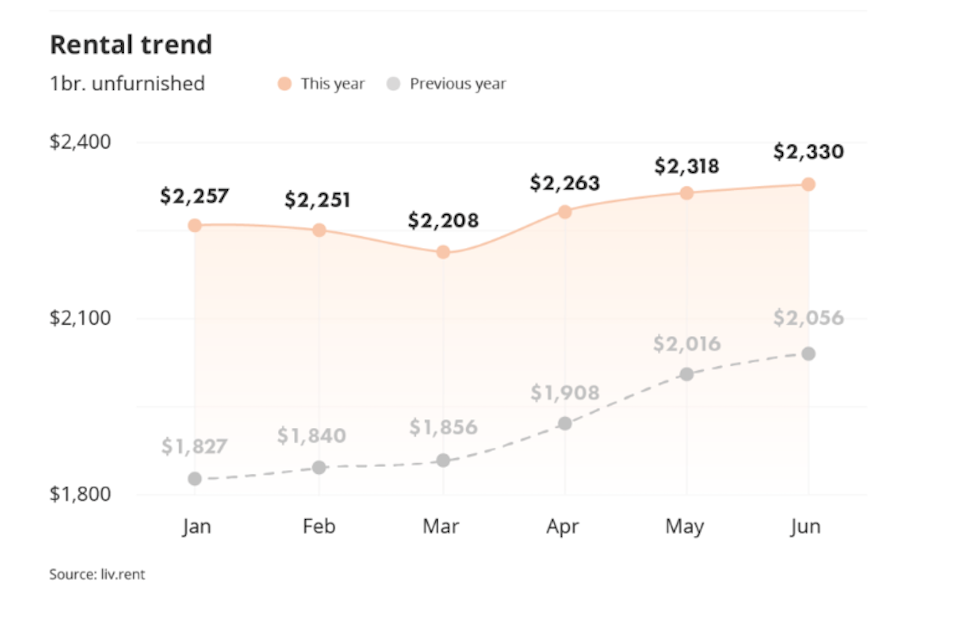 Metro Vancouver apartments for rent: Average rent by listing type
West Vancouver remains the most expensive city in which to rent in the Lower Mainland. The city has the most expensive unfurnished one-, two-, and three-bedroom units this June.
The City of Vancouver saw also saw prices increase, climbing by $71 from $2,541 to $2,612 for the average one-bedroom, unfurnished unit. Burnaby was the third-priciest market for one-bedrooms, with prices averaging $2,470 for unfurnished units.
While Vancouver has the second-priciest market for one-bedroom rentals, its two-bedroom, unfurnished units cost less than ones in North Vancouver. For a one-bedroom unit in North Vancouver, renters will pay an average of $2,462, which is $150 less than in the city. But for a two-bedroom unit, tenants in Vancouver will pay an average of $3,638 compared to $3,796 in North Vancouver
At the other end of the spectrum, Langley had the least expensive one-bedroom, furnished, and unfurnished units this month, at $1,911 and $1,983, respectively.
Surrey had the least expensive unfurnished two- and three-bedroom units at $2,376 and $3,276.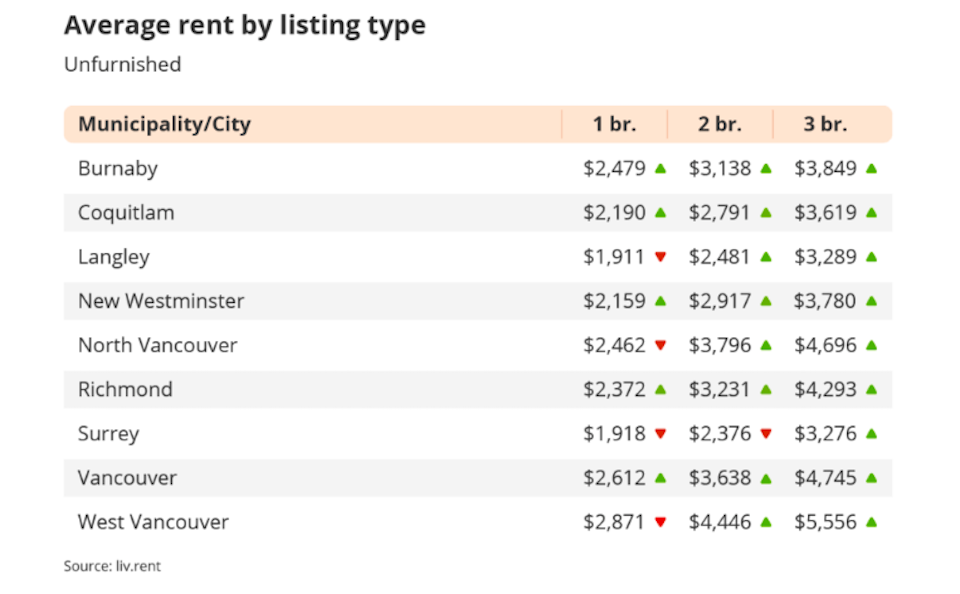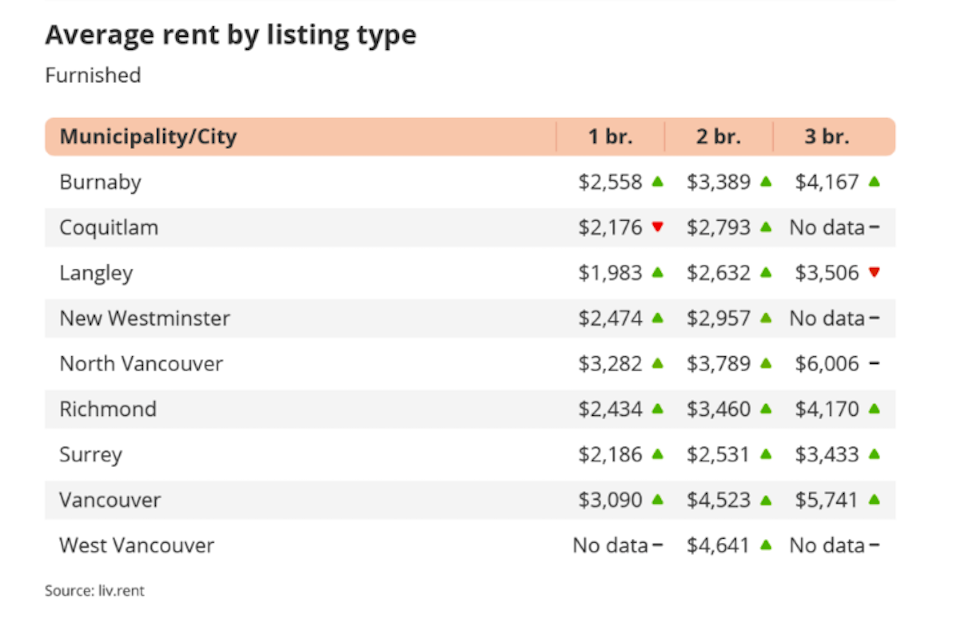 Vancouver rent by neighbourhood in June
Locals looking to rent an apartment in the City of Vancouver for under $2,000 won't find very many options this month.
Downtown Vancouver has the highest prices, with one-bedroom, unfurnished units averaging $2,741. Several other neighbourhoods feature high average costs, such as $2,659 in Mount Pleasant or $2,608 in Kitsilano.
While Renfew-Collingwood is the cheapest neighbourhood, renters face averages of $2,237 per month for a newly-listed one-bedroom, unfurnished unit in the area.