Vancouverites are expressing safety concerns about sidewalks and roads as a potent winter storm created treacherous conditions in the city.
Eddy Elmer is a long-time advocate for improved conditions on Vancouver's streets and sidewalks. As a member of the Seniors' Advisory Committee for seven years, he tells Vancouver Is Awesome that they discussed sidewalk-clearing several times over the years.
After Tuesday's snow event left the city's streets dangerously icy, Elmer slipped on some black ice as he was passing by water that had overflown from a fountain and froze.
"This was the slick of ice, right on West Georgia. The water is from a fountain on the left. Even if you walk very slowly, it's dangerous because it's on an incline -- and it's hard to get around it," he described in a tweet, adding that the photo has been significantly brightened to show the ice.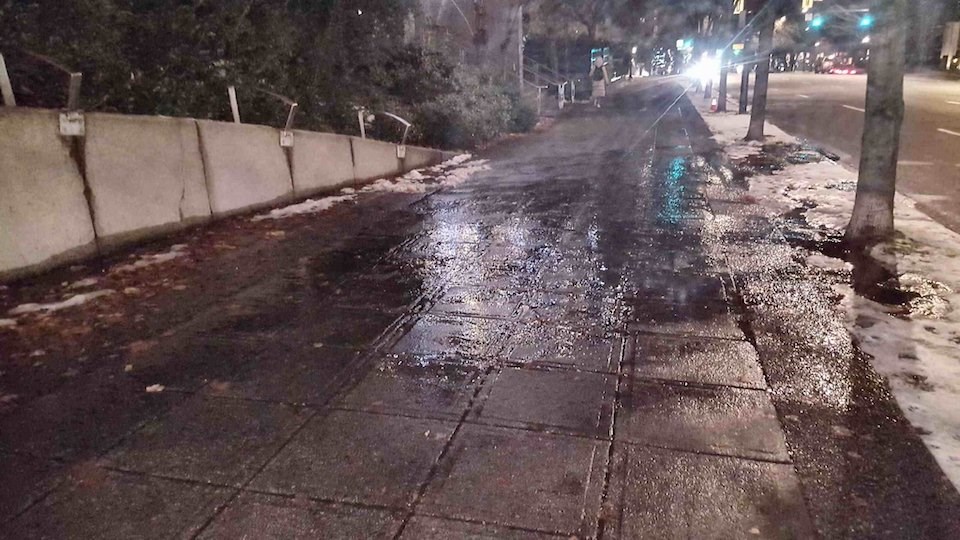 Since falling, the local man still has some back, neck, and shoulder pain -- but he is concerned about seniors.
"As a young person, I can likely survive a slip and fall. But for an older person, even a small slip and fall can be deadly," he told Vancouver Is Awesome.
He mentioned curbs and intersections need particular attention in inclement weather. "I find myself having to walk like a penguin when trying to cross an intersection [with packed snow and ice] because I know how easy it is to slip.
"If it's difficult for me, it can be treacherous for an older person or anyone using a mobility device like a walker or wheelchair."
The poor sidewalk conditions may prevent some seniors from leaving their homes due to a fear of falling, increasing social isolation, he added.
Vancouver weather wreaks havoc on roads, sidewalks
Vancouverite Ken Ohrn shared a picture from outside of the Esso gas station at Davie and Burrard, which he says "made no effort to clean its sidewalks."
"They are a frozen slush mess. No shovelling or salt. Shame on one of the world's most profitable corporations," he wrote in a tweet.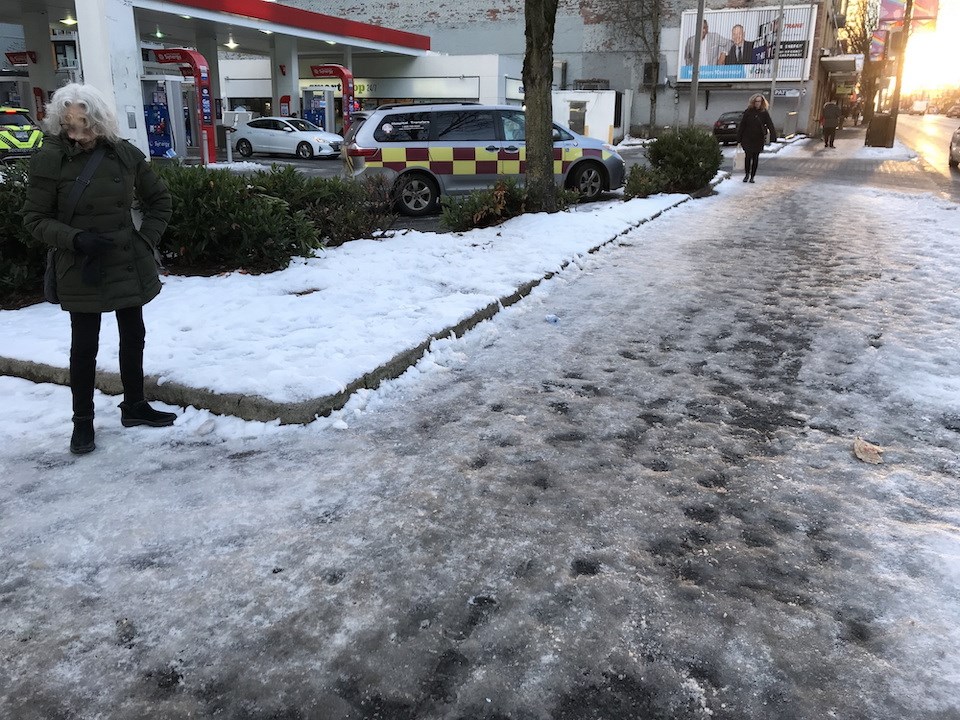 Marsha Lederman, a columnist for The Globe and Mail, also chimed in on the discussion, noting that she lives at the bottom of a hill in the city and has been seeing "car after car slide down out of control, honking before they get to the intersection to alert any oncoming traffic that they won't be able to stop."
In response to the concerns, the city told V.I.A. in a statement that it has "continued to focus on salting and clearing priority routes including hills, bridge decks, and emergency routes."
Major routes and arterials are prioritized to ensure emergency vehicles can operate safely during a major snowfall event. Some of the places people have pointed out that need to be cleared are not included in the "prioritized response plan," which is the immediate focus of its crews, the city noted.
The public must also help keep Vancouver's sidewalks and storm drains clear and many of them are adjacent to private property. All Vancouver property owners and occupants (tenants) are responsible for clearing snow and ice from the full width of the sidewalks that surround their property.
By 10 a.m. on the morning following a snowfall.
In effect seven days a week.
Failure to remove snow and ice may result in fines
This year, the city purchased two new machines that will assist with doing salt, brine, and plow treatments on sidewalks on the Granville, Burrard, and Cambie Bridges.
If you're on the roads, the city asks that you travel with caution and give way to, or stay at a safe distance when following a plow, salt, or brine truck.
There is a city-endorsed Snow Angel program that matches volunteers with homes of people with mobility issues who aren't able to shovel their walks.
With a file from Allie Turner.