A man says he experienced a nightmare commuting from Vancouver to Surrey during a winter storm that wreaked havoc across the Lower Mainland.
Surrey resident Lim Buidon left his workplace in the Mount Pleasant neighbourhood just before 3 p.m. Tuesday (Nov. 30) to make his way back to his home in Panorama Ridge, Surrey.
Typically, the commute takes him under half an hour — but the potent winter weather drastically altered his journey.
In total, Buidon spent upwards of 12 hours in traffic after he got caught in a mammoth traffic jam on Highway 91.
When he first left the office, there was only about 10 cm of snowfall on his car and some traffic in the city. He noticed minor congestion on the Oak Street Bridge but didn't find it unusual due to the inclement weather.
After he passed the merge lane, however, he says "traffic just stopped" around 4 p.m.
"And we were stuck there for, I want to say an hour, maybe until around 5 p.m.-ish...and then it started moving," he tells Vancouver Is Awesome.
As he was travelling down Highway 91, roughly where it merges with Westminster Highway, Buidon says traffic stopped again around 5:54 p.m.
"And it was stuck for three hours up until maybe [8 p.m.] before we saw any incremental movement. And I was scared," he describes. "Being in a car where you're probably not going to have a blanket, probably not going to have any food, probably not going to have a full tank of gas to keep the engine running and keep you warm...that's pretty scary."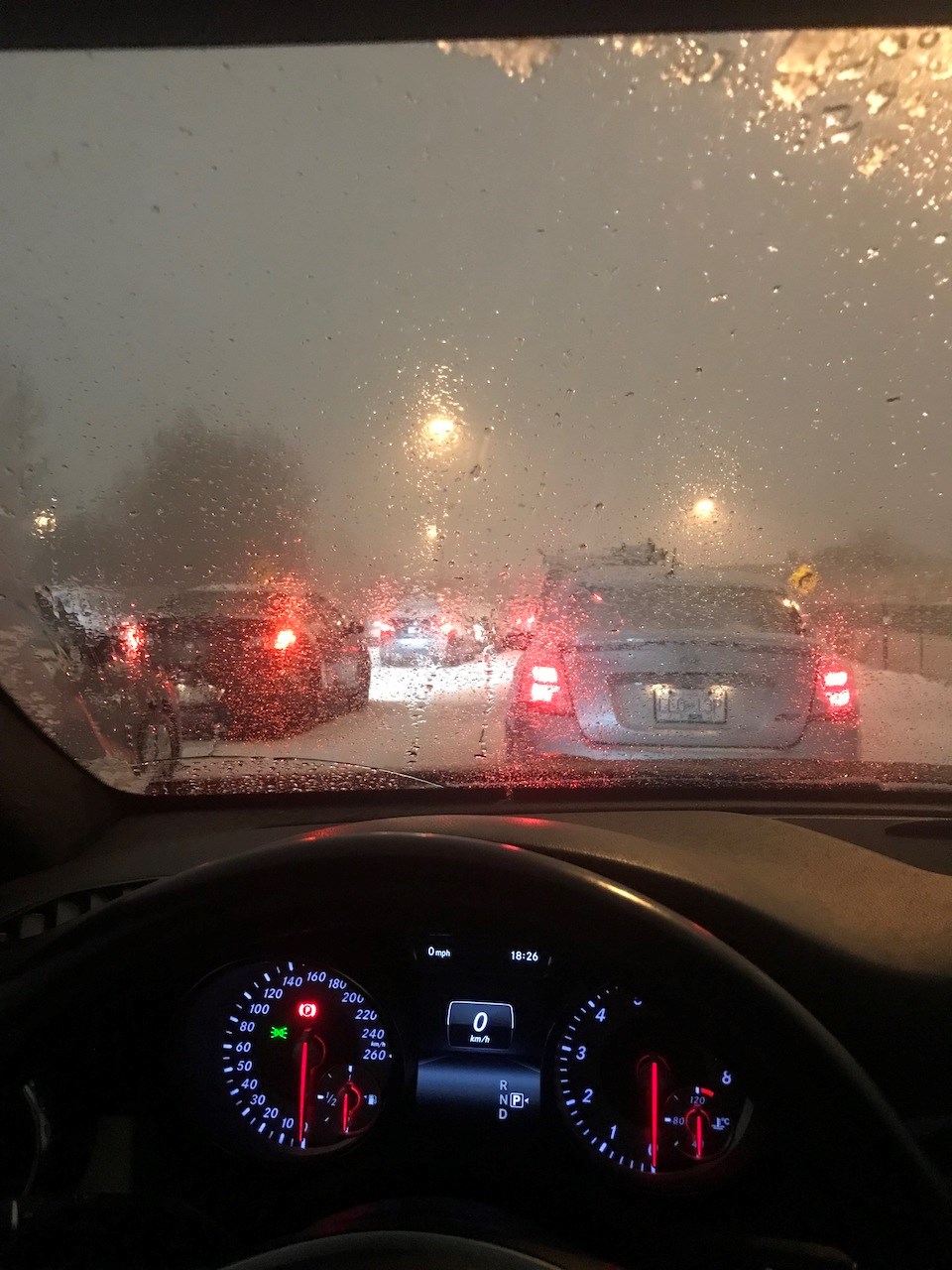 Snowy Vancouver weather causes commuter chaos
From around 8 p.m. to 9 p.m., there was about one metre of movement on the highway and then traffic stood still until 1 a.m. To keep warm during the frigid weather, Buidon turned his engine on and off to conserve gas but also to run the heat in his car.
Several semi-trailers and other large vehicles had attempted to travel up inclines and their wheels had spun out, blocking lanes of traffic on major arteries on the highways.
Buidon also observed several fender benders along his treacherous commute. "I probably saw about 15 of those."
While he made it home safely, the Surrey resident says the experience has made him reconsider how prepared he is for winter storms.
Environment Canada says icy conditions from the snowstorm will create poor travel conditions during Thursday morning's commute.