Everyone enjoys a good self care day but when do you take one? A 13-year-old pug on TikTok is making that decision easier for millions.
Jonathan Graziano is the owner of Noodles, the dog that provides a daily horoscope with two options: "bones day" or "no bones day". With echoes of Groundhogs Day, the decision is made depending on if the senior pug stands up in the morning or simply plops back down again as if he has no bones.
Put simply, a "bones day" is a day to treat yourself, buy the thing you've been eyeing, eat the treat you've been saving, ask for that raise at work. A "no bones day" on the other hand is a day for self care, taking the time to do what you need. Get those extra hours of sleep you've been missing, wear soft pants, put on a face mask and otherwise recharge your social interaction battery.

Noodle's daily mood forecasts have become quite popular on TikTok with each prediction receiving millions of views from adoring fans. Among those fans are two of Metro Vancouver's top TikTok creators, Abbotsford's own Kris Collins of @kallmekris and the West End's Ben Kielesinski of @benkielesinski.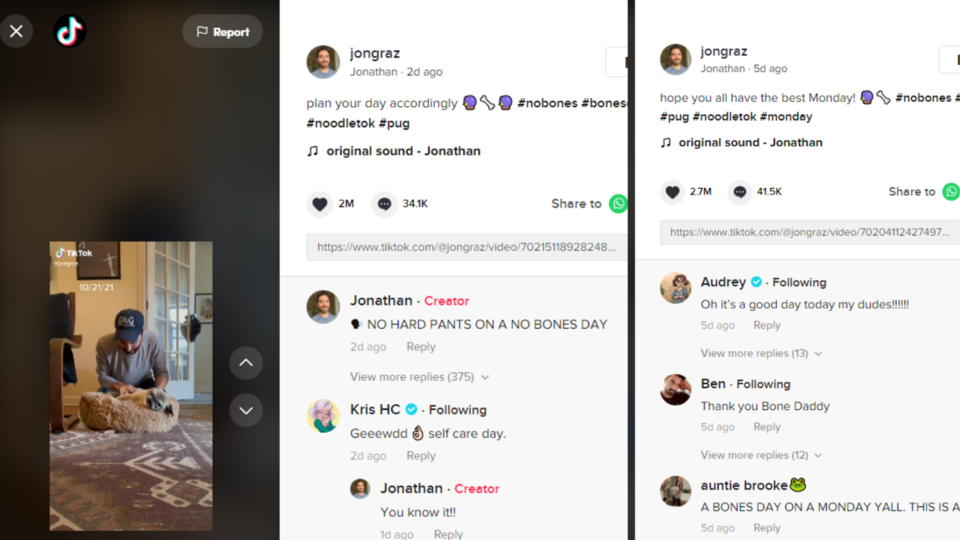 The Vancouver Public Library also hopped on the trend earlier this week, calmly explaining exactly what the bones craze was all about.
The Canucks' mascot Fin shared a video showing how the anthropomorphic Orca spends a "no bones day" at Rogers Arena.