The city's development permit board postponed a decision Monday on whether to approve construction of a 111-unit condo building in Chinatown because it ran out of time to hear all of the 73 registered speakers.
The board will reconvene June 12 at which time Beedie (Keefer Street) Holdings Ltd. is expected to learn whether its years-long fight to get its nine-storey development built at 105 Keefer St. will get the green light to proceed.
The decision — either way — will be controversial, as all but six of the 48 speakers Monday urged the board to reject the proposal, which was before the board because of a B.C. Supreme Court ruling in December 2022.
The board heard from citizens in English, Cantonese and Mandarin that the proposal doesn't include social or seniors' housing, that the design was too big and bulky and that it was not reflective of the deep history of Chinatown.
Some called for a land swap, or for the city to purchase the property.
The site's proximity to the Chinatown Memorial Plaza, where there is a monument to Chinese-Canadian veterans and railway workers, was mentioned by several speakers, including Peggy Lee, who said an adjacent condo building would not fit in what is widely considered a cultural area.
"To have a massive structure towering over it contributes to the ongoing erasure of Chinese Canadian history," said Lee, a lawyer who visited Chinatown weekly when growing up in Vancouver.
"The style of this building is like Yaletown-style condo luxury architecture; it does not belong in this significant historic Chinatown site."
Throughout the afternoon and into the evening of the six-hour meeting, speakers stressed the importance of the site's location, noting it is across the street from the Dr. Sun Yat-Sen Classical Chinese Garden and Chinese Canadian Military Museum.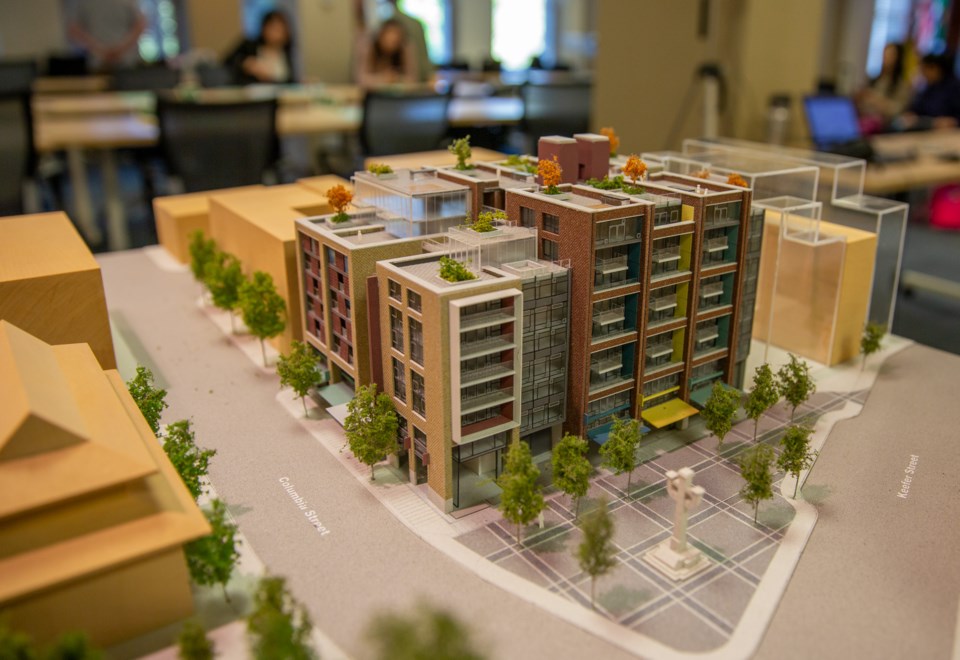 'Please listen to the seniors'
Karine Ng, a public school teacher who lives in a highrise on the edge of Chinatown, said she moved to the area in 2015 because she was drawn to the community's cultural assets. But over the years, Ng said, she has noticed many traditional shops close.
Ng spoke after the board heard from several seniors worried about gentrification, increased rents, lack of affordable housing and public space to meet with friends and residents in the neighbourhood.
"I've seen Chinese seniors in the neighbourhood having to travel further and further away from the neighbourhood to get their basic needs met," Ng said. "Please listen to the seniors who have spoken before me — they're my living ancestors."
Added Ng: "By saying no to this [condo proposal], we're saying yes to a future opportunity to something else, maybe a land swap, maybe a land trust that was proposed by another speaker earlier. But by saying yes to this proposal, we're foreclosing any opportunity to do the right thing, or at least a better thing."
Devon Knight, who has lived adjacent to Chinatown for 19 years, said too many large-scale developments have already been allowed in the community. A new nine-storey condo building would dominate the neighbourhood, she said, noting its difference in scale to the narrow lots throughout Chinatown.
"No amount of vertical design elements or setbacks or bays will mask the massiveness of this development," said Knight, noting she is a regular patron of Chinatown's restaurants, shops and cultural attractions and studied Cantonese at one of the community's benevolent associations.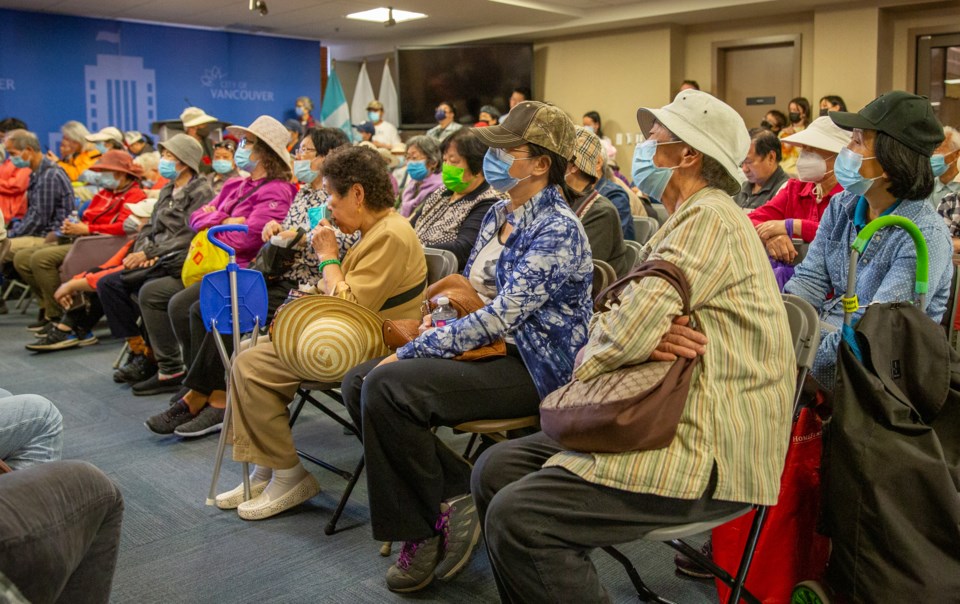 'Neighbourhood politics'
Lewis Hart was among the few people to support Beedie's project at Monday's meeting.
Hart owns Blind Tiger Dumplings on East Georgia Street and Bagheera on Main Street in Chinatown, where he described himself as a newer voice in the community.
"I am aware that where I do lack nuances, or previous neighbourhood politics, I offer a fresh perspective on the neighbourhood's needs and challenges it faces in order to fulfil its revitalization efforts," said Hart, arguing that Chinatown's economy was struggling.
"The 111 apartments within walking distance of the local businesses will offer 200 to 250 extra residents who can support both the new and legacy businesses both directly and indirectly."
Jordan Eng, president of the Chinatown Business Improvement Association, issued a news release last week saying his organization and six others, including cultural associations, supported Beedie's proposal.
Eng elaborated on that support during his time at the microphone Monday.
He said the Chinese Benevolent Association of Vancouver, Chinese Freemasons of Vancouver, Dr. Sun Yat-Sen Classical Chinese Garden Society, Chinese Cultural Center of Greater Vancouver, Vancouver Chinatown Merchants' Association and Vancouver Chinatown Foundation represent "the deep fabric of the neighbourhood and a broad base of constituents."
He addressed comments made by previous speakers about the need for social housing at 105 Keefer St., saying community representatives have made it clear with city staff and others in the community that affordable housing is needed and should be included in the Northeast False Creek plan.
He also pointed out that Beedie's rezoning application was for a private development.
"It is unreasonable to think that a private developer should be expected to provide significant social amenity, if not required when working within the rules," he said. "Any threat or attempt of expropriation of those rights is not an acceptable solution."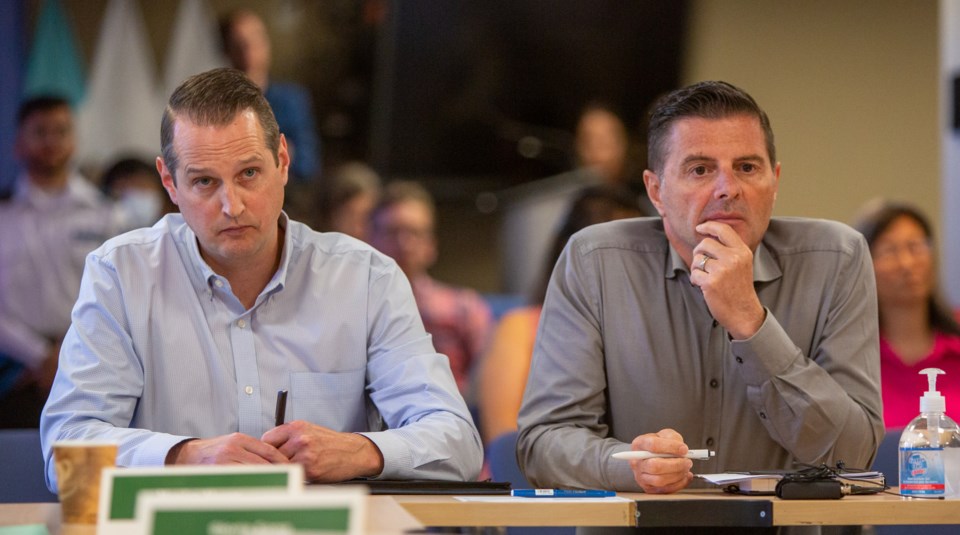 'Remove the red tape'
Chris Gardner, president of the Independent Contractors and Business Association, said he supported Beedie's proposal and told the board about the need to build more housing in Vancouver to meet the demand from people who want to live in the city.
"My message to you is very simple: we have to remove the red tape, the regulation and the roadblocks," Gardner said.
"We have to act boldly, and we have to act quickly. We have 500,000 new people coming to this country every single year for the next five years. They need to live somewhere, whether it's rental housing or market housing. And if we don't start building and start building fast, the housing affordability crisis is going to get worse."
Monday's meeting was a bit of déjà vu for Beedie and others who attended a development permit board meeting in November 2017, when the developer's identical proposal was rejected in a 2-1 vote.
That meeting also brought out dozens of speakers in opposition.
The board's rejection in 2017 came after city council shot down a 12-storey version of the proposal in June 2017. Beedie took successful legal action, with a B.C. Supreme Court ruling in December 2022 that allowed the developer to make another pitch to the board.
This time around, the board has three new voting members: Theresa O'Donnell, the city's director of planning, Lon LaClaire, the city's chief engineer and Andrea Law, general manager of development, buildings and licensing.
Rob Fiorvento, managing partner at Beedie, Curtis Neeser, vice-president of development at Beedie, and Greg Borowski of Merrick Architecture were present at Monday's meeting. They addressed some questions from board members about design, but did not deliver a presentation on the project.
Since the court ruling in December, the Vancouver Tenants' Union and organizers in Chinatown have mobilized seniors and others in the community, with a rally held last week and one Monday prior to the development permit board meeting.
Past and present members of the Chinatown Legacy Stewardship Group, which represents Yarrow Intergenerational Society for Justice, Chinatown Today Society, Hua Foundation and Union Cooperative Initiative have also sent a letter to the board in opposition of Beedie's proposal.
"We have been here in Chinatown long enough to know that newer developments such as those at 189 Keefer St. (Solterra, 2014), 188 Keefer St. (Westbank, 2016), 183 East Georgia St. (Bosa, 2016), 231 East Pender St. (Porte, 2016), and 303 East Pender St. (GMC, 2017) did not bring with them the promised increased business for our legacy, heritage, cultural and family-owned businesses," the group's letter said.
"Instead, they increased development pressure on the surrounding neighbourhood, and we watched as beloved neighbours continued to close their shops for good."
Editor's note: Glacier Media posted an in-depth story in June 2021 on issues facing Chinatown, which can be read on Vancouver Is Awesome.