The Vancouver Police Department released a controversial report Wednesday that says an estimated $5 billion is being spent annually by governments and charities on services and supports to address needs of vulnerable citizens.
The dollar figure reached in the report authored by HelpSeeker Technologies — a Calgary data analytics company — was based on public data for 2018 and 2019 and collected from several local and national agencies.
Data from the police department, Government of Canada, Canada Revenue Agency, the City of Vancouver, the Canadian Institute for Health Information, Vancouver Coastal Health and Statistics Canada was used in the calculation to arrive at $5 billion.
Dr. Alina Turner, co-founder of HelpSeeker, cautioned at a news conference Wednesday that the data was incomplete and had its limitations but said it was a starting point for understanding the investment in social services and community supports in Vancouver.
"All I have is what we know from the public data," Turner told reporters from the VPD's Cambie Street precinct.
"The purpose of this initial step is to look at the system as a whole and use publicly available data to do so. What's presented in our report doesn't comment on any one entity, its efficacy or its capacity."
Nor does it, she continued, comment on the experiences of people that come into contact with the city's social safety network, or the expertise from frontline workers — feedback that Turner acknowledged was essential.
"It's up to you as a community to decide whether you're getting the outcomes you want for the efforts and investments that are being made — not me," she said.
"At the same time, I'm aware of the community-wide sadness and anger over the preventable loss of human life through the opioid epidemic. My brother was included in one of those deaths in Vancouver two years ago."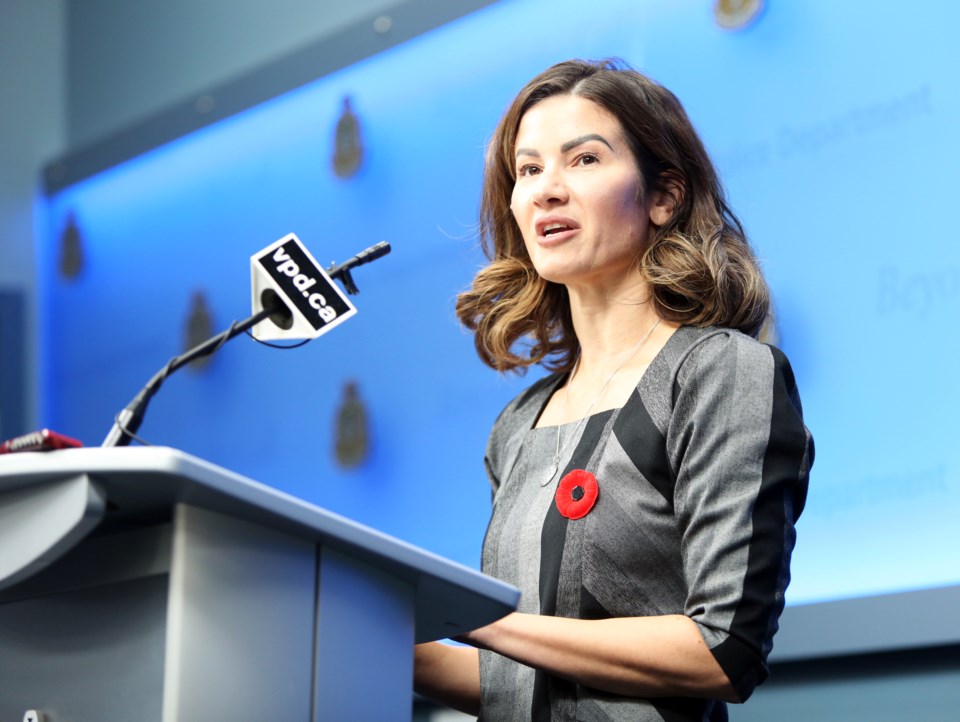 Report leaked to media
Turner said the second phase of the report was to include community consultation, which Staff Sgt. Eugene Lum told reporters was already in the works. Reporters were told the news conference was held prior to full completion of the report because some of the findings was leaked to media.
How the $5 billion breaks down is as follows:
• $2 billion in direct transfers from the federal government to support individuals and families, including social assistance, employment insurance, Canada Pension Plan and Old Age Security.
• $1.4 billion allocated to registered charities and nonprofit societies whose primary mandate is to address community and social issues such as homelessness and poverty.
• $139 million from the City of Vancouver to social-related services.
• $680 million from public and private foundations.
• $317 million in spending from the Vancouver Police Department.
• $315 million going to mental health and addiction services.
• $181 million in allocations to non-charities from grants from the federal government.
• $17 million going to charities delivering mental health and addiction services.
Canada Pension Plan, Old Age Security
Understanding how the money was spent and who was receiving it was the focus of reporters' questions to Turner.
Asked why the Canada Pension Plan and Old Age Security, among other government grants, was included in the $2 billion transfers, Turner said:
"The social safety net doesn't include just people that are the most vulnerable. We have to think about folks that are living in parts of Vancouver that are not on East Hastings. We have to think about the experiences that are not just the ones that we always report on, as well."
Added Turner: "There's much, much more out there when it comes to social needs, and if we miss that, we're missing the big picture."
At the same time, the report — or social impact audit, as Turner called it — didn't include the budget for Providence Health Care, which includes the operation of St. Paul's Hospital, which is the primary hospital for Downtown Eastside residents.
The Downtown Eastside is referenced frequently in the report, with its authors finding that $406 million in charitable investments was directed to organizations with addresses in the community.
That investment represents more than $1 million per day.
Although the $5 billion figure is new information, a succession of Vancouver police chiefs have questioned government inaction on the city's social issues, leaving police in many cases as first responders to people in crisis; recent VPD data shows officers apprehended 3,305 people under the Mental Health Act this year, between January and September.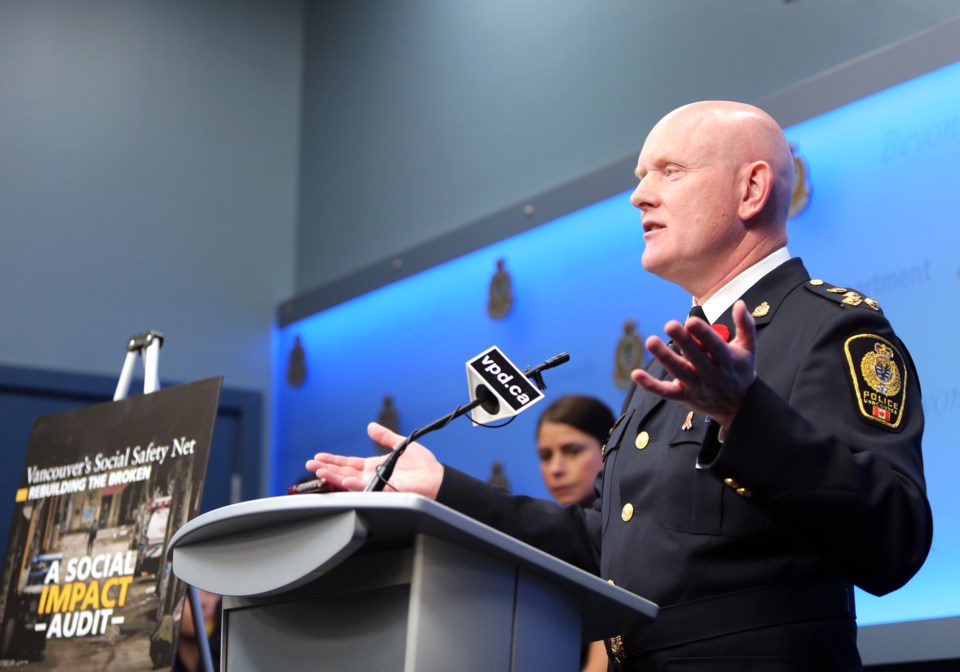 'Nobody's in charge,' says police chief
As recently as April, Police Chief Adam Palmer expressed his frustration with the lack of government leadership at a city-council hosted forum on public safety.
Palmer criticized the provincial government for not putting someone in charge to ensure agencies are working together to address social issues in neighbourhoods.
At the time, he pointed to the Downtown Eastside, including Gastown and Chinatown, as neighbourhoods where poverty, addiction, homelessness and mental illness aren't being addressed in a comprehensive manner.
"We need to have better coordination at the provincial level and have either a minister or a deputy minister — somebody at a high level of government — who can coordinate all of those responses and have a holistic safety plan because we don't have it right now," he said. "Nobody's in charge, like nobody's in charge of the grand picture."
Palmer delivered the same message Wednesday when he joined Turner at the news conference. In doing so, he noted several reports the VPD had done dating back to 2008 when the department identified the lack of mental health supports in Vancouver.
"We have seen some improvements and positive steps in the right direction," the chief said.
"However, despite all the money being spent, our research has found a lack of transparency, lack of coordination between agencies and a lack of accountability from various levels of government to make sure the money is spent on the people who need it the most."
The VPD commissioned the report at a cost of $149,000 and Palmer said the purpose of the audit was to attach a financial cost to the social services provided in Vancouver to add evidence to the department's repeated calls for governments to better serve the city's vulnerable population.
"This HelpSeeker's analysis suggests that there was already lots of money in the system, and by their analysis $14 million a day is spent just to fund Vancouver's social safety net," the chief said.
"But there's also an increasing body of evidence that suggests this money isn't being used in a way that best serves the people who need it the most."
Critics question timing of HelpSeeker report
Critics have questioned the timing of the report's release, which comes three days after Ken Sim was sworn in as Vancouver's new mayor and a week before David Eby is to be crowned B.C.'s next premier.
Both politicians have vowed to work to address homelessness, poverty, addiction and mental health issues.
Also, in less than a month, Vancouver council is expected to review the city's 2023 budget, which includes a $300 million-plus police budget.
Sim's party — ABC Vancouver — has promised to hire 100 police officers and 100 mental health nurses. The estimated cost to fund the 200 employees over the next four years is $80 million.
Asked about the timing, Palmer dismissed accusations the report's release was meant as a political wedge to boost the VPD's position at budget time.
"This report doesn't make the argument that you need more police or less police in Vancouver," he said.
"It's not about getting more money for the police. There were certain political promises that were made, and that's a whole different lane that's got nothing to do with this report."
Critics of the HelpSeeker report said in interviews and direct messages Wednesday that the $5 billion figure further stigmatizes the city's vulnerable population, specifically Downtown Eastside residents who use drugs, live with a mental illness and don't have a home.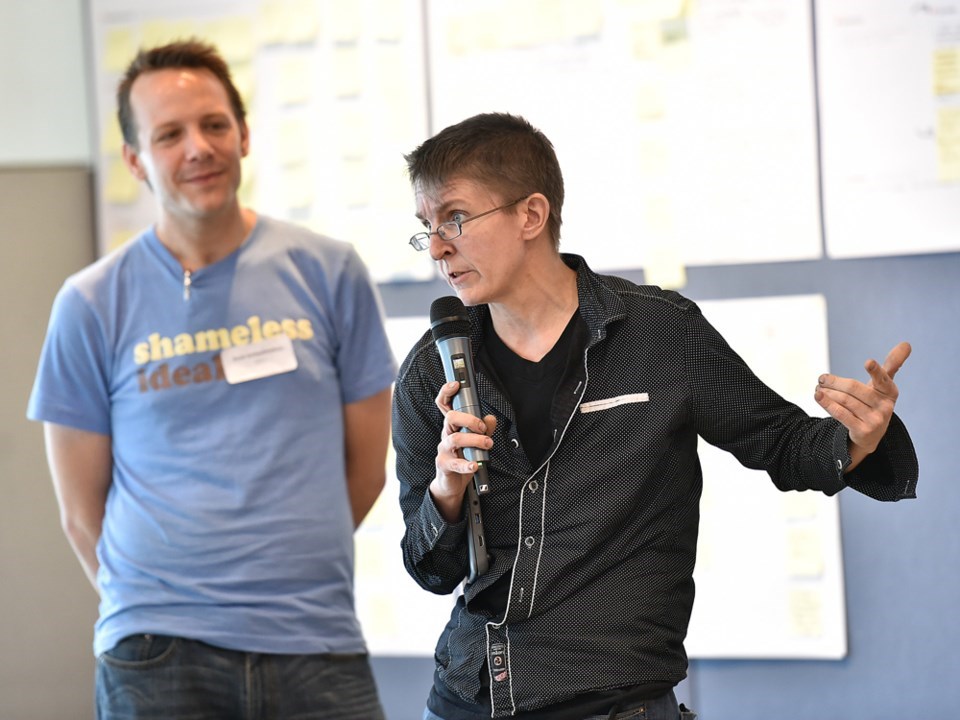 'It's so distorting'
Longtime Downtown Eastside resident Karen Ward, who has been a drug policy consultant for the City of Vancouver, said the implication of the report is that social service agencies are defrauding the public and misspending money from governments and charities.
"It's implying that they're ripping people off," said Ward, noting frontline workers she spoke to are upset by the implication.
"It's hurtful and is really, really a misrepresentation. People could actually talk to us like adults. This is not a respectful way to address or approach the situation at all. It's ramping up rhetoric about the neighbourhood, and it's so distorting."
Shane Simpson, the B.C. government's former minister of social development and poverty reduction, described the report as "an incoherent mess."
He said there was disparate information included in the findings related to the Canada Pension Plan, Old Age Security, immigrant settlement services and general health care spending.
"A waste of money," he said in a message to Vancouver Is Awesome. "There is legitimate discussion that needs to occur surrounding how we move forward in the Downtown Eastside and with our street-entrenched population. This adds nothing to that debate and, sadly, probably further discredits the VPD role in that discussion."
Simpson said the $5 billion estimated by HelpSeeker sounded like "a grossly inflated fabrication of what really gets spent." As minister, he said his ministry examined how much money was spent on supports and services in the Downtown Eastside.
"It was not a deep dive, but was credible I believe," said Simpson, who announced in 2020 that he was retiring and did not seek re-election in that year's fall election. "About $500 million annually all in."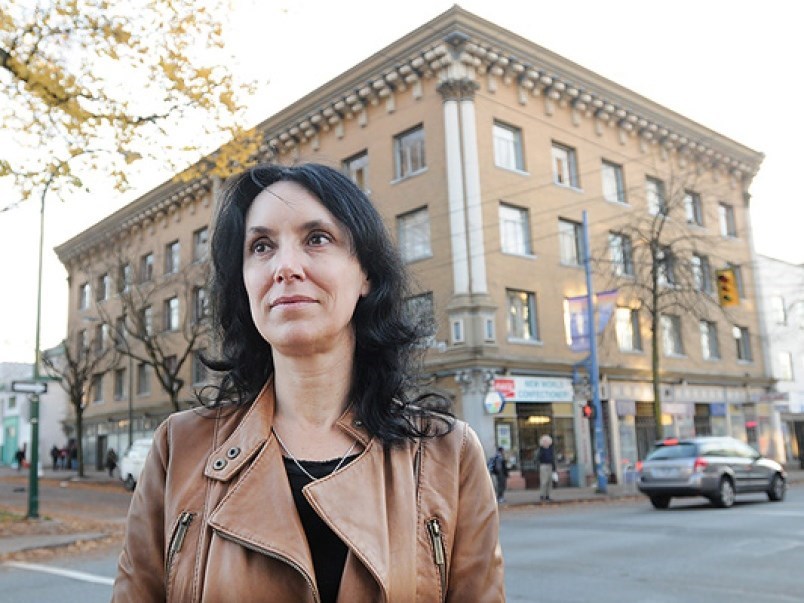 'That is so offensive'
Janice Abbott, CEO of Atira Women's Resource Society, said information she reviewed related to the report didn't accurately reflect the number of housing units the agency operates by a factor of three.
Abbott said the agency oversees more than the 800 units identified in the report; it's 2,472 when including single-room-occupancy buildings. She said she was not contacted by HelpSeeker or the VPD about number of units and how it matches up to Atira's operating budget.
"The VPD know this — they go into our buildings," Abbott said. "We have 800 units of housing in five buildings in downtown, and they know the buildings we operate. So I find it hard to believe that [omission] wasn't purposeful."
Abbott said no one can deny "that we've got a system that's failing right now," but argued that a guaranteed livable income, more housing, a widespread supply of safe drugs and prohibition would be more effective than appointing a government coordinator for social services.
Like Ward, Abbott believes the $5 billion figure further entrenches conservative views about the Downtown Eastside and its residents.
"It provides fodder for people to continue to point at individuals and agencies for failing, instead of looking at the system," she said, addressing accusations from critics about nonprofits benefiting financially from human tragedy.
"I've been doing this for 30 years and I have never met one person in a nonprofit organization in 30 years who has said to me, 'I hope people continue to die because I need my job, I hope women continue to get murdered because I need my job.'"
Added Abbott: "That is so offensive. I would love to see a day where we're not needed. I would love to see a day where no women are being murdered, no women are being assaulted and our services are irrelevant."
@Howellings