West Vancouver council says it's time to make discriminatory land covenants that forbid racial and religious minorities from buying land history.
Coun. Marcus Wong won unanimous support for a motion Monday night directing municipal staff to work with their lawyers and the Land Title and Survey Authority "to determine the process, resources and time required to achieve the cancellation and striking of discriminating covenants."
Wong's motion originally targeted his own neighbourhood, the British Properties where people of "African or Asiatic Race" where barred from buying homes. After some amendments by council, however, the plan now extends to all of West Vancouver.
The covenants excluding people based on race or religion can be found in older developments all over B.C. They have been unenforceable since the 1970s.
Since news of his plan spread last week, Wong said he'd received a deluge of emails. Some were from people who shared their own traumatic stories of exclusion because of their race. Others questioned why he would want to unnecessarily open up old wounds.
"I would counter that we have so many issues and challenges in the community – transportation, housing – and we're doing what we can to address those. But when it comes to belonging in this community, we have to, as well, do what we can to address that issue," he said. "And so I believe that this motion will create the first step to help make this community one where everybody can belong."
Wong said he was particularly heartened by the number of people writing to offer to help.
"That this is that kind of community that we are," he said.
Coun. Nora Gambioli questioned whether the municipality had either the jurisdiction or the funds to be intervening in privately held, third-party contracts, especially when the offending clauses are already deemed null and void and tucked away where so few people would see them.
But Coun. Craig Cameron retorted that scrubbing the racist covenants from the public documents was a matter of principle.
"If there was anti-Semitic sentiments written on the back of that wall and nobody saw it, you'd still get rid of it," he said.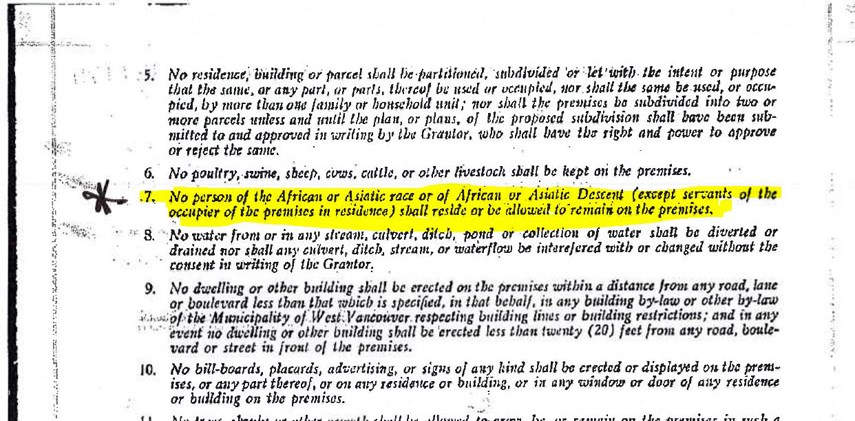 Cameron added a paragraph to the motion calling on the federal government and the province to support a "multi-agency initiative to document and examine the history of restrictive covenants in the region, with the co-operation of academics and non-profits," so they won't be scrubbed from public memory.
"The way to move past this racist history isn't to pretend it didn't happen or wish it away but to learn about it, and learn from it," he said.
Mayor Mary-Ann Booth supported the motion enthusiastically.
"I can't state strongly enough how offensive these covenants are to our community. Unfortunately, removing them may not be something that we can do alone but I am hopeful that the provincial government will assist us and other municipalities as we seek to have them stricken from the title," she said.
The Land Title and Survey Authority issued a statement shortly after Wong's motion passed, saying the body supports council's motion. But, it added, the LTSA "relies on the assistance of homeowners, local governments, and other property professionals to identify the land title records that need to comprehensively reflect that any discriminating covenant is void."
And, even after the racist rules are found, homeowners may have to settle for seeing the offending clauses crossed out rather than removed completely from the title as the "registrar is expressly prohibited from erasing or rendering illegible the original words on a record."
West Vancouver Realtor Calvin Lindberg welcomed news of Wong's motion, saying the covenants have been an embarrassment for decades. Lindberg said they especially became an issue with the wave of immigrants that came in the run-up to the 1997 handover of Hong Kong to China.
"Good. Finally, somebody's doing it," he said. "It's not easy; otherwise, they would have been wiped out years ago."
Andy Yan, director of the City Program at Simon Fraser University, called the covenants "reminders of a less enlightened time," when excluding people based on race took many forms – professional restrictions, voter rights suppression, over policing, and census undercounting.
"These are testaments of who we were and it's not a very proud moment in history in the region," he said. "Certainly, I think when you look at who lives up in West Vancouver, and throughout the region, now, it's incredibly multicultural. … I'm much more curious or more focused about who we are and what kind of cities are we building? Should cities be exclusive? Or should they be inclusive?" he asked.
If West Vancouver council is committed to inclusivity, then they also need to show it with contributions to affordable housing and rapid transit, Yan challenged.