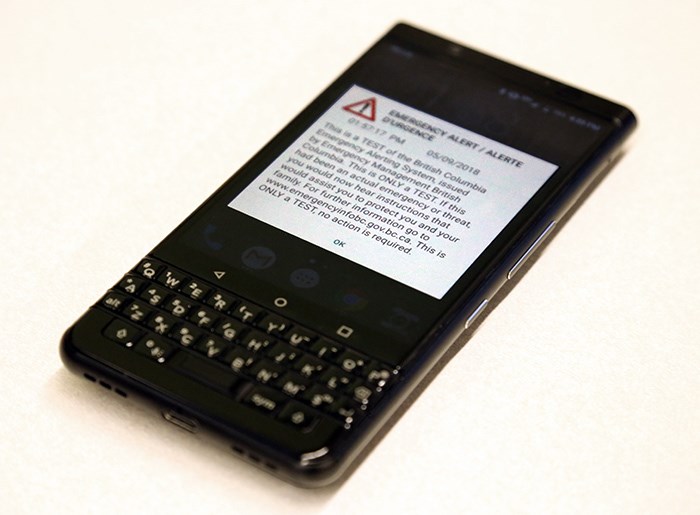 At 1:55 this afternoon most members of the V.I.A. editorial team were hovering over our phones, which were all lined up here at the office, waiting to see what would happen on them.
As we let you know yesterday, the Alert Ready system in B.C. was to be tested at this time on cellphones and other wireless devices.
1:56 came and went and no action. 1:57, still nothing. Then at 1:58 my Blackberry KeyOne started making wild noises and then a voice started speaking, telling me that this was a test. Below is the video I tweeted out.
Dear everyone who makes fun of me for having a @BlackBerry (including 80-year-old William B Davis aka The Smoking Man from the X-Files last week): mine was the only one of three in the @viawesome editorial department that got the #EmergencyAlert. pic.twitter.com/uPTR6wPBrL

— Bob Kronbauer (@BobKronbauer) May 9, 2018
I professed my love for this phone back in September of last year and am still smitten with it. It's the underdog in the market but a godsend for people like me with large thumbs who can't type fast on iPhone or Samsung screens. People thought I was being paid by Blackberry for the endorsement. I wasn't; I have big thumbs and I like the Android OS and I am confident enough to not give af what anyone else thinks of my phone.
It's become a running joke that Old Man Kronbauer is stuck in the past. In fact when we interviewed 80-year-old William B Davis ("The Smoking Man" from the X-Files) last week he mentioned that he didn't think they made these things anymore. My coworkers were delighted.
However I'll be the one getting the last laugh. While you guys are unaware that a cataclysmic event is about to occur, Liking Erin Ireland's Instagram photos of some form of Vancouvery dessert on your iPhones, I'll be listening to an Emergency Alert. I'll then be sailing away into the sunset with my huge thumbs intact while you fall into a sinkhole (or whatever) caused by an earthquake.