This past Sunday our outgoing mayor Gregor Robertson sent out an April Fools' tweet that landed with an audible thud.
Shown below, in it he joked that he's decided to run for a fourth term, citing concern over the candidates who have announced their intentions of running. I've got a few things to say about it.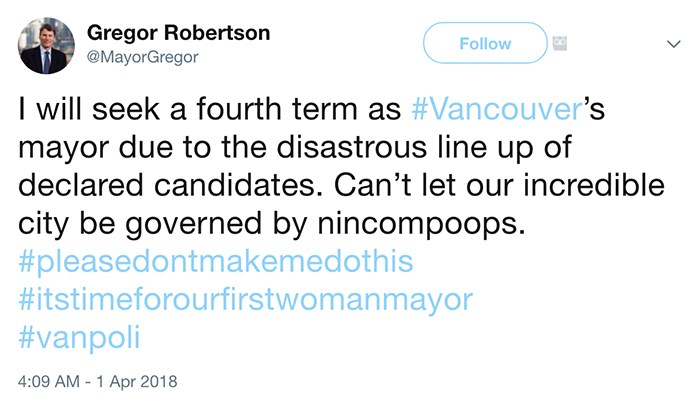 1. It illustrates how Vision Vancouver has basically run out of ideas.
Ten years ago to the day, former mayor (and Vision Vancouver co-founder) Larry Campbell made the exact same joke. Only Larry's was hilarious, and it wasn't recycled [insert Greenest City recycling zinger here].
Campbell called in to Rick Cluff on CBC's Early Edition on April 1st, 2008 to let him know that he was going to give up his seat in the senate in order to come back and run in the municipal election. He got Al De Genova to corroborate the joke by pretending he was dropping his own bid and would be endorsing Campbell. Cluff then got then-NPA-mayor, Sam Sullivan, on the phone to talk about how he was looking forward to running against Campbell.
It was legendary. It was one of the most memorable gags that have ever come out of politics not only in this city, but our province. But it was a once-in-a-lifetime thing that could never work again.
2. His tweet was mean-spirited and could discourage young people from getting involved in politics.
Again going back to Campbell's successful stunt, his wasn't meant entirely as a dig at a group of specific people. Larry wanted to ruffle some feathers and get people's attention, and mostly just have a laugh. Anybody who has ever met this jovial character would know that.
Gregor calling a wide range of fresh faces "disastrous" doesn't strike me as humorous, even if the joke was supposed to be in that he would never say something like that. And especially because he most definitely would, ala "Who are all these fuckin' hacks man?".
It would be one thing if Robertson were known for his humour. He's not. This April Fool is telling a group of mostly-young candidates that they suck. That's a pretty lame way to treat folks who are putting their hands in the air hoping to take a run for public office and making their city a better place.
3. "Nincompoops".
NINCOMPOOPS. Are we living in a Bugs Bunny cartoon? Who says nincompoops?
4. It's not just my opinion that his joke was a flop.
The majority of voters in this city will be happy to see a new mayor this year. Below are some responses to Gregor's tweet from a few of them. I'll let them speak for themselves.
Nincompoops would be an upgrade.

— Richard (@richpas101) April 1, 2018
Please please dont. You have destroyed our city's livibility. Under your direction the city has become a satellite Haven for wealthy corrupt people. The infrastructure is a disaster and the cost of living is one of the highest in the world

— dustin fluff (@DustinFluff) April 2, 2018
You actually should run though, would love to see your face as they read the results.

— Justin. (@fraudcouver) April 1, 2018
April 1, 2018
If you've read this far we'll see you at your Voting Place in October! You obviously care enough about civic politics to get out and vote.