Former NDP MP turned Vancouver mayor, Kennedy Stewart, has launched his re-election campaign a whole two years before the election is to take place.
Perhaps sparked partly by a longing to join his NDP brethren running in the provincial election happening right now, our mayor seems to have been provoked into action in a huff after a housing motion he threw together was referred to city staff in a council meeting yesterday.
In a morning press release sent out by Stewart's Director of Engagement, Mark Hosak, "Team Kennedy Stewart" unveiled their new logo (shown below) along with some campaign messaging.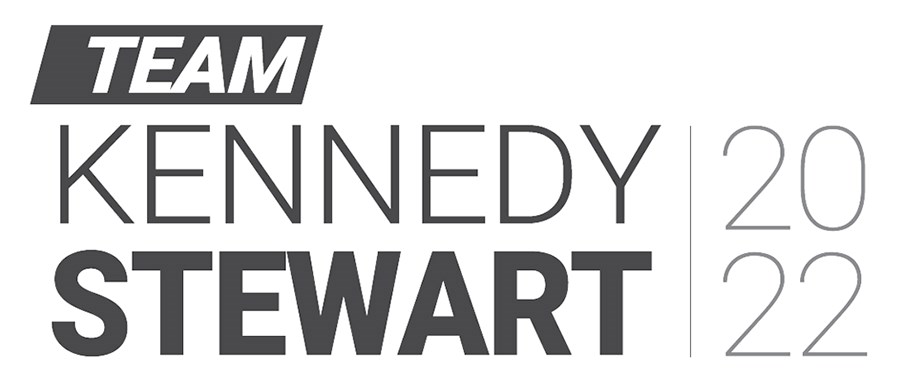 The Coles notes is that they're not playing nice anymore, and Stewart has initiated a fight between himself and the NPA. Their leader will be the one to beat in the Fall 2022 election; he won by less than 1,000 votes to the NPA's Ken Sim a mere two years ago.
The subject of the release was "NPA kills Mayor's plan to make homes affordable for middle-class families", and it expands on what Stewart told Mike Howell for this piece we ran.
It attacks the party, saying they "betrayed" the hardworking people of this city, but that "I [Stewart] will keep fighting to make housing more affordable, even if the NPA won't."
It conveniently leaves out the fact that it was both the NPA and the Greens on council (3 councillors from each party) who voted against his motion that was supposed to make housing more affordable in Vancouver. The only people who voted to not refer it were the mayor himself and Christine Boyle of One City.
Stewart says he was "flabbergasted" by it, as he thought that it would be a "defining moment" for council's 4-year term. He sees the vote as a "line in the sand" that has been drawn between his camp and the NPA.
It would perhaps be his defining moment, seeing as we haven't really seen him do much of anything in the two years he's been the leader of this city.
We can only hope that mayor Kennedy Stewart has more than one idea, and that instead of going into full campaign mode for the remainder of his term he goes back to the drawing board on housing affordability.