We got this great letter from Alan Ranta yesterday. There's reference to buying stocking stuffers in it but I assure you he just wrote it...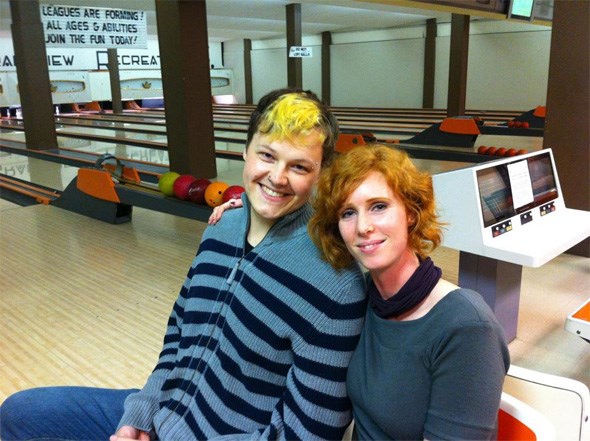 Alan Ranta and friend at Grandview Lanes
As the Waldorf transitions into nothingness, and Vancouver's art scene is forced to re-evaluate its approach and standing in the community, it is important that we should take a look not only at protecting but cherishing the cultural institutions we have left. Places like the Biltmore, Rickshaw, Media Club, Venue, Electric Owl, and Commodore Ballroom have a rich, storied history if you do a little digging, and they are constantly booking amazing acts.
Need a cool stocking stuffer or a cheap, easy gift that'll give more than a passing chuckle? Get someone you like a ticket to a show you think they will like. There are tons of great local shows with internationally recognized talent available all year 'round in Vancouver, at dirt cheap prices. Just check this listing of tickets at Red Cat. There are literally dozens of shows available for $12-$15 over the next few months.
Why not take that old friend or amicable relative you don't get to see very often out for a night on the town? Take them to something you love or take them to something you've never heard of before. For the price of an average meal, you can make a new experience to reminisce about for years of family gatherings to come. It is, quite literally, the gift that keeps on giving, not only to you and yours but to the entire artistic community at large.
Here is a list of upcoming shows in Vancouver which I think may be a steal for the price range:
Feb 13: Growlers @ The Electric Owl $13.00
Feb 14: Buke And Gase @ The Media Club $12.00
Feb 21: Matmos @ The Media Club $13.00
Feb 21: A Tribe Called Red @ Fortune $15.00
Feb 23: Kishi Bashi w/ Shugo Tokumaru @ The Biltmore $14.00
Feb 28: Rangda w/ Blackout Beach & Nurse @ the Rickshaw $13.00
March 01: Blues Control @ Electric Owl $12.00
March 03: Psychic Ills @ Electric Owl $12.00
March 06: Thao w/ The Get Down Stay Down @ Fortune $15.00
March 07: Trust / Eraas @ Venue $14.00
March 09: The Fugitives @ The Biltmore $12.00
March 14: Efterklang @ The Biltmore $15.00
March 22: Veronica Falls @ The Media Club $15.00
March 23: Unknown Mortal Orchestra @ The Media Club $13.00
Apr 5: Daedelus @ Electric Owl $15.00
+++++++++++++++++++++
Alan Ranta