It's been nearly four months since the floods in Abbotsford laid waste to the livelihood of many people who operate and work on farms in the area, and Premier John Horgan was finally able to make his way there this week after recovering from cancer treatment.
This morning, Horgan tweeted out photos of himself taken at a couple of farm properties yesterday. He checked out the damage at a blueberry farm and posed next to a cow while hearing, in his words, "incredible stories of resilience and hope in the Fraser Valley."
The political message, also in his words, is that "we're [the BC NDP government] supporting them [flooding victims] to recover and rebuild stronger."
The premier was decked out in a Carhartt work vest and leather work boots, and the photos were reminiscent of the hundreds of times we saw former Premier Christy Clark of the BC Liberals posing in a hard hat at this announcement or that.
It was a very deliberate decision for the leader to wear a brand which is commonly worn by working class folks all across the continent, and it brought a chuckle to think of the popular Carhartt meme that's been going around recently.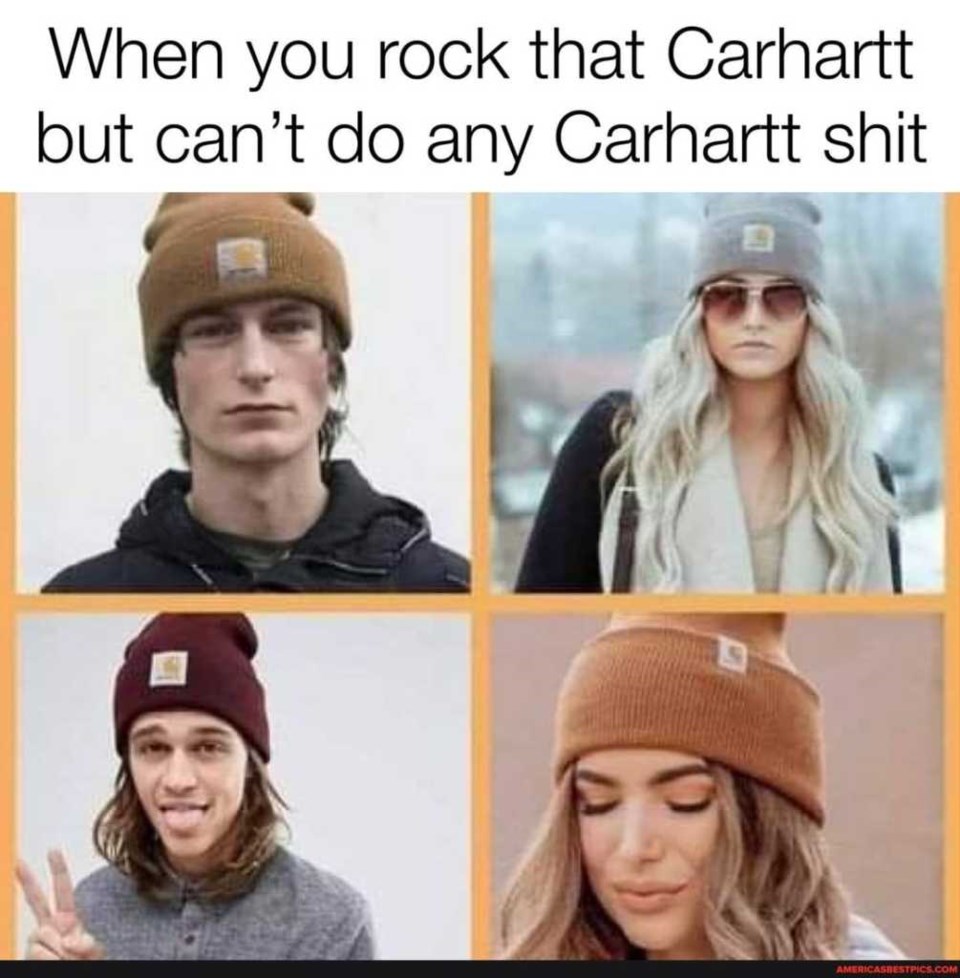 I shared that sentiment on Twitter and it seems to have rubbed a BC NDP spokesperson and John Horgan communications representative the wrong way.
In a tweet, the BC NDP's Mike McKinnon offered me "Thoughts and prayers for the offense the Premier's choice of clothing has caused you. Please advise if he should have gone in the middle of the the disaster, taking resources away from the recovery, or in the middle of his 35 radiation treatments instead."
Mr McKinnon, please consider this column my personal apology to you and everyone in your party and the premier's office who may have been offended by my tweets which acknowledged the fact that the man had undergone cancer treatment and that's why he didn't go to the valley sooner.
Also, please accept my apology for comparing the frisbee golfer with calloused hands to an urban hipster posing for a cute Instagram photo.
As penance, from this moment on I will abandon my responsibilities as a journalist and simply write fawning puff pieces (and tweets) about what a great dude Horgan is, and how he and his government are doing a perfect job. I will no longer offer my observations on politics and riffs on pop culture, as I vow to only share the facts as the BC NDP sees them.
I will advise my staff of reporters to abandon any Freedom Of Information requests which they have previously filed, as the government you work for keeps sending signals (beyond tweets like yours) that they feel the press should simply fall in line and work as its stenographers.
That's how this all works in a democracy, right?