As Vancouverites take out their paddle boards and head to English Bay Beach, heralding the arrival of summer, so too starts the wild Vancouver summer property selling season.
Just released, the Vancouver Real Estate Board's most recent figures underline a formidable growth of 30.7 per cent in residential sales, a stark contrast to the preceding year's statistics.
Putting a spotlight on May 2023, a rather pronounced escalation of 15.7 per cent in residential real estate transactions was noted. This increase brings the total count to 3,411 transactions, a figure which stands taller when placed side by side with the same month from the previous year.
Nonetheless, the bulk of property transactions has marginally missed the ten-year seasonal average, which stands at 3,458 transactions, registering a nominal dip of 1.4 per cent.
Vancouver property values
This swift climb in Vancouver property values caught even the Vancouver Real Estate Board off guard. Few experts could foresee the sharp incline that marked the commencement of 2023, where residential property prices in Vancouver took an approximate leap of 6 per cent across all categories.
Shifting our attention to the detached homes sector in metro Vancouver, sales data for May 2023 boasts a robust figure of 1,043 units sold. This signifies a vigorous upswing of 30.7 per cent from May 2022's count of 798. The current benchmark price for these homes looms large at an imposing $1,953,600. Although this figure rests at 6.7 per cent less than its corresponding value in May 2022, it does indicate a positive trend of 1.8 per cent since April 2023.
The aspiration for affordable housing in greater Vancouver seems to be slipping away if it ever existed in the first place. There seems to be no chance of a large pricing drop on the immediate horizon, painting a grim picture for prospective homeowners.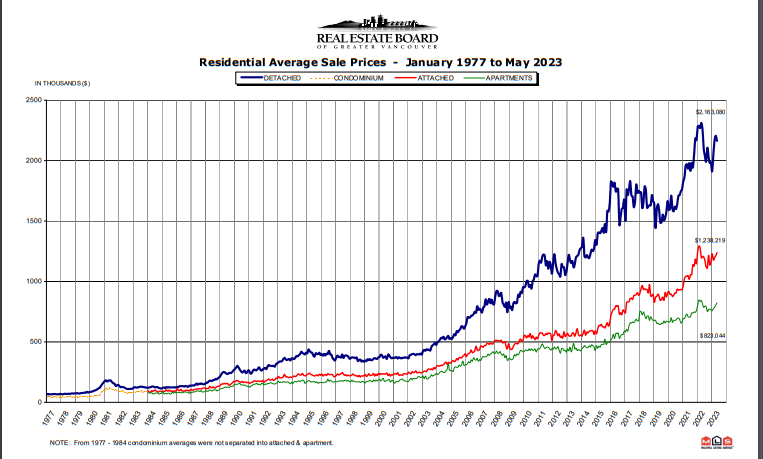 The implosion of Vancouver's housing market
As you can see in the graph above, it's apparent that the long-anticipated implosion of Vancouver's housing market, a prediction dating back to 1977, is yet a distant mirage. Impressively, the market's tenacity remains unscathed.
Throughout this month, a surge of 5,661 fresh properties surfaced on Realtor.ca. This melange of detached and semi-detached houses, as well as apartments, marks an 11.5 per cent downtrend compared to the previous year's count of 6,397 new listings in the same month. Furthermore, it falls short by a slender 4.3 per cent against the ten-year seasonal average of 5,917 new introductions.
There are now a total of 9,293 properties awaiting new owners in Vancouver. This tally displays a noticeable slump of 10.5 per cent in comparison to the May 2022 figure of 10,382. More so, it plummeted by a significant 20.6 per cent relative to the decade-long average for this time frame, set at 11,705 properties.
Sales to active ratios in Vancouver
May 2023's data unveils a sales-to-active listings ratio of 38.4 per cent for all property categories. Detached homes have a ratio of 28.5 per cent, while townhomes and apartments flaunt significantly higher ratios of 45 and 45.5 per cent, respectively.
In Metro Vancouver's real estate history, a persistent sales-to-active ratio below 12 per cent has typically signalled a downslide in housing prices. On the flip side, a consistent ratio of over 20 per cent for consecutive months often leads to a surge in property values.
In light of these ratios, it seems logical to anticipate an ongoing ascension in Vancouver's real estate prices.
Persistent upward thrusts in property prices continue to exist, a trend primarily driven by an imbalance between the pool of prospective homeowners and the limited inventory on offer.
Despite the influences of escalating mortgage rates, property transactions in Vancouver have managed to stay close to the 10-year average.
The residential real estate average remains steady at $1.19 million. Interestingly, this corresponds to a 5.6 per cent drop compared to the same period in the preceding year but simultaneously denotes a modest monthly upswing of 1.3 per cent.
---
Alistair Vigier is the CEO of ClearwayLaw, an online legal marketplace in Canada and the UK that connects people who need lawyers with law firms.