The Tik Tok algorithm is sharply attuned to give me the kind of content I crave on the social media app's "for you" page, which is why I'm seeing plenty of cute cats, New York apartments, and Canadians giddily driving across the border for the first time in months to shop at Trader Joe's. And it's the last kind of video that grips me the most - it's like a gut punch from a friend who smiles while they do it, leaving me overwhelmed with emotions.
Cue the footage: The packed aisles with the handwritten shelf tags proclaiming "Bloody Mary Salsa - $2.99" or the bakery trays loaded with English Muffin Bread, the gift packs of seasonings, the frozen Thai green curry, the Candy Cane Joe-Joe cookies. My eyes widen at the new and unfamiliar, my heart pounds when I see products I recognize as having once held tenancy in my fridge or pantry, too.
My first introduction to Trader Joe's came in the late 1980s when my mother had remarried and left Toronto for Los Angeles. On my visits to see her and my step-dad, my mother would take me to this quirky store she'd fallen in love with where they had pasta with jokey labels saying it was made by "Trader Giotto" and things like peanut-butter filled pretzels and blue corn tortilla chips. It was utterly fascinating. In 1990, I made the move to L.A. to join them there, and I came of age as not only a Trader Joe's shopper but also as a Canadian expat finally having access to all the idealized American stores and products that were so hard to come by in Canada at the time.
Even in the early 1990s, long before online shopping and the arrival of dozens of big U.S. brands in the Great White North, as a kid growing up watching the Buffalo or Seattle U.S. channels on my TV in Toronto or Vancouver, there were so many "things" Canadians couldn't have. When I was a teen, living in California, any of the Canadian "things" I yearned for, like Shreddies, ketchup chips, or Purdys Mint Melties would show up in my Christmas package from my grandparents, or I could acquire them on my regular trips over the border to visit family. (Please give me grace when I say "things" - I was a child, so I don't mean "universal healthcare" or all the other myriad ways Canadians are, broadly speaking, cared for by government better than Americans; I would come to understand those concepts firsthand some 20 years later.)
I lived in Los Angeles for over 20 years, and Trader Joe's naturally became part of my routine. First, it was doing family grocery shopping with my mom. Then it became what I did on my own. The sturm und drang of falling in love with a product that would end up discontinued (there's a coconut "haystack" treat I still look for, well over a decade after it was taken off shelves) was expected. The Fearless Flyer landing in my mailbox. Drinking "Two Buck Chuck" wine was just what you did - though there was the time the counter clerk asked me if I needed a box for all my bottles and, seeing as it was just for my regular weeknight consumption, I realized I should probably cool it with the wine. Once, a Trader Joe's moved into the former west Valley location of the bookstore chain I'd managed before the company shuttered - sometimes that's just what happens. Ditto for when I went to culinary school and my classmate worked for the Trader Joe's in-store sampling program. Trader Joe's was all part of life - my life - in Southern California.
In what turned out to be my last couple of years living in L.A. I wasn't going to Trader Joe's as often. Part of it had to have been absolute fatigue of their notoriously awful parking lots - does any TJs have a decent one? Because my local store - shout out to Toluca Lake - was a nightmare, as were all the others I'd frequented in L.A. - and another part was that I was crushing on a new-ish grocery store, the now-defunct UK import Fresh & Easy.
When I moved from L.A. back to Canada in October 2013, the decision was both vital and immediate, backed by complex reasoning tied to the fact that I was the single mother of a newborn not getting the support I needed where I was. My mom and step-dad had retired to Point Roberts, and helped me settle in South Delta. But because the departure was necessarily swift, there were no ceremonial lasts - no last dinners out, no last day on the job, and, of course, no last trip to Trader Joe's.
It would be months later, when the undiagnosed postpartum depression and the shock of having left behind a life established after 23 years in one place subsided, that I grasped what I had left behind, what perhaps I'd taken advantage of, assuming it would always be handy to me, from my longtime friendships to an actual sense of possibility that it turns out does come with living in America, despite the rampant hardships. Count among those left-behinds: shopping at Trader Joe's.

Of course, I'd never romanticized popping into Trader Joe's on my lunch break to pick up a packaged Chinese Chicken Salad (do they still say Trader Ming's, I wonder?) or braving the parking lot on a Saturday while stocking up on appetizers for a party. Though that was now no longer an option, on this side of the 49th parallel, I was still just an hour or so drive from Bellingham, right? I could easily pop down often to do a shop. Failing that, my Point Roberts-living parents made the trek regularly and would bring me stuff back, so there was that option.
Only, the thing is, with an infant (who became a toddler, then a school-age child,) the trip wasn't such a breeze. The border waits could be gruelling, the agents' questioning anxiety-provoking, the exchange rate punishing. My mother passed away a year after we moved up north, and by then I was also working full-time. Life happened. Quick cross-border shopping trips did not.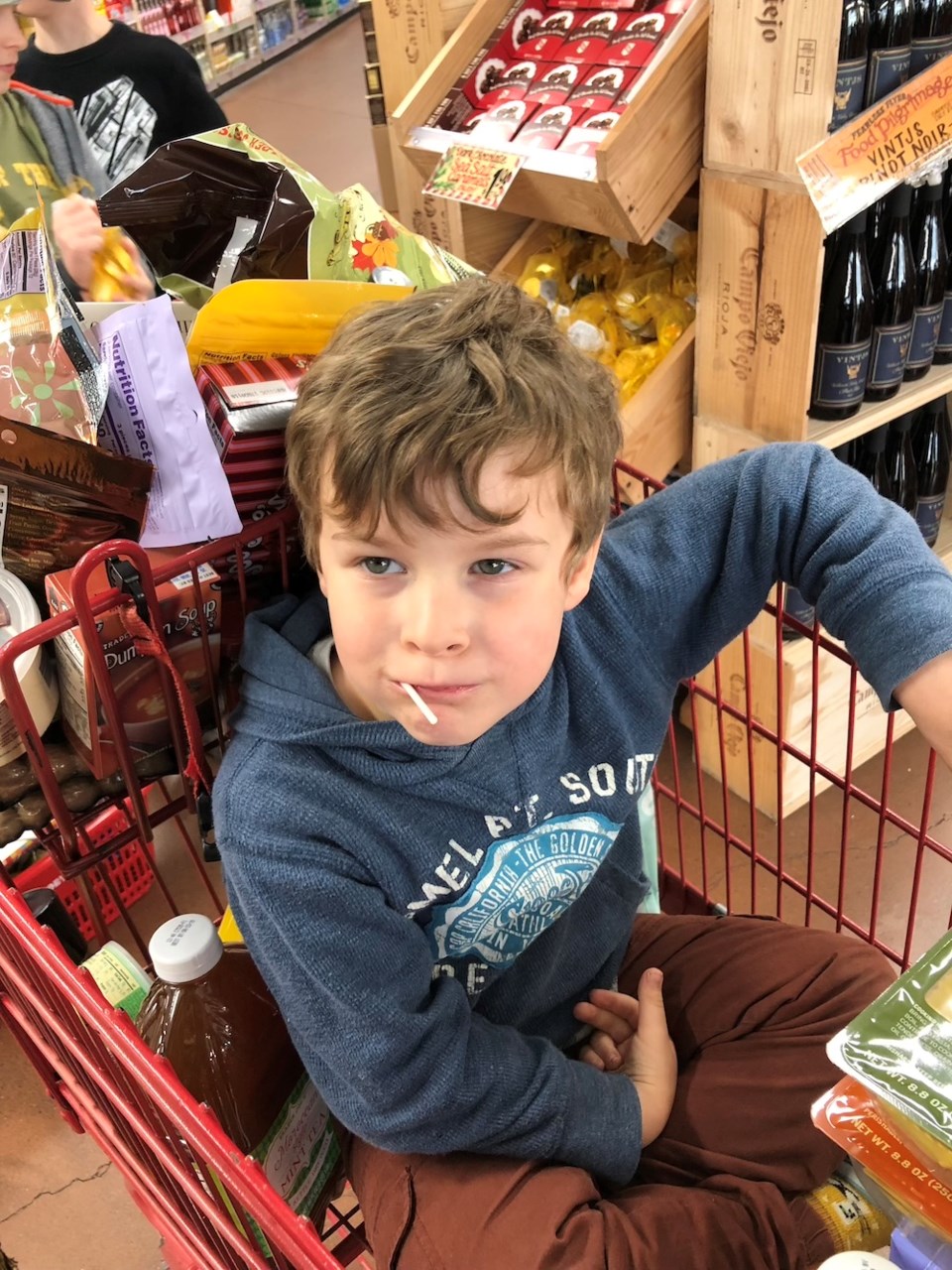 But that was okay because trips over the border still could happen if I made the effort. So long as I had some bucks and our passports and the time, I was free to go. We often went every November at the minimum, as a way of marking the anniversary of my mom's passing. Somehow I always felt she would love that we honoured her with a day trip to (what she called) "B'ham" to hit up good old Joe's. Or, when I travelled to California I could do my new usual routine of loading a box with non-perishables and shipping it to my step-dad's address on the Point; either I'd pop over and pick it up or he could drive it over for me. It wasn't the same, but it worked. That Everything But the Bagel seasoning bottle packs up just fine.
Then in early 2020, the pandemic made even my silly workarounds impossible. The borders were closed. And they stay closed for a year and a half, an unprecedented experience for this Canadian-American dual citizen, dual expat.
Soon, though, I ran out of my Trader Joe's Chile Lime seasoning. Then I started following influencers who specialized in Trader Joe's content. Sometimes I would burst into tears thinking about the fact that I was literally not allowed to drive to Bellingham, or fly to Los Angeles, and push that red shopping cart through the crowded aisles and fill it with Chicken Apple Sausage, cookie butter, or cauliflower gnocchi. And I don't even like cookie butter all that much.
I wasn't actually bawling over groceries, was I?
It was - and it is - a form of grief. It is the loss of an identity I didn't intend to give up. It was the me who was never referred to as just someone's mom instead of by my own name. It was "Lindsay who has a home and career in Los Angeles" and "Lindsay who shops at Trader Joe's." It was me, with that very real sense of possibility that comes with living in America. It was me, cursing under my breath in a poorly designed parking lot armed with a shopping list of things that, in my current reality, I simply no longer had access to.

Leaving L.A. the way I had to left a massive hole in my heart, and in my life. While I am deeply, and profoundly grateful for and in love with the life I've built for me and my now eight-year-old son in Vancouver, I still left over 20 years of my identity behind on the other side of the border. To some extent, Trader Joe's became emblematic of that identity, and during the pandemic, it was more out of reach than ever.
My last visit inside a Trader Joe's was over the Christmas holidays in 2019. It was on a trip to L.A. that I had nervously booked, fretting over the cost, but in hindsight am so glad I splurged on, since it turned out to be a real "last" in the light of what was to come. And believe me, I had learned to romanticize being able to pop in to pick up some snacks from Trader Joe's and load up that box I was sending to myself by mail to Point Roberts. I assure you, I will never romanticize those parking lots.
As fall 2021 arrived, I watched the news for an official opening of the U.S. border, then was crestfallen to learn Canada would still require us fully-vaccinated travellers to do the COVID-19 testing for just a quick one-day shopping trip. So close.
But once the testing requirement for trips of under 72-hours lifted on Nov. 30, I knew I had to get across sooner than later. Whereas old me could just zip over to Trader Joe's after work, current me has to take a day off work to make the drive down; that's because as the single parent of a school-aged child if I take my partially-vaccinated 8-year-old into the U.S., he is still mandated to stay home from school and after school care for two weeks upon return. With limited babysitting resources for a one-day shopping cross-border road trip, it's got to be on a school day.
That day is coming up, and I'm already brimming with emotions and anxiety. Will the border guards pepper me with questions on my one-day spending and ask me to pay duties? Will I get selected for a random COVID test at the border and set in motion more logistical challenges? Will I be able to relax and take my time combing the aisles and find all my holy grail Trader Joe's products?
I already know that once I get home and unpack all the groceries I don't need, I just want, that I paid too much for when factoring in the exchange rate, that I will still look at every Trader Joe's label in my fridge or pantry with wistful longing. I will have to reconcile wanting to consume everything immediately, and yet leave it all untouched out of fear of scarcity. I will be saying a conflicted hello to who I used to be. I will have gotten a few hours to slide into the life I'm not okay with having had to leave behind. I will be instantly sad again that I can't go back anytime soon with relative ease and pick up a few more things from Trader Joe's.
So it's not really about the groceries for me. I've started to understand it never really was.