You might have noticed that Vancouver Is Awesome didn't endorse any politicians or parties in the federal election like traditional media and newspapers did, and always do. I took Thomas Mulcair out for a coffee and wrote nice things about him then encouraged Trudeau and Harper to ring me up so I could give them the same treatment and humanize them, but neither campaigns took me up on it. We encouraged you to get out there and vote, then we announced who your new prime minister was. Honestly, when I hit the Publish button on that announcement last night I expected that'd probably be the last time we'd be touching on federal politics for a few years, maybe even until the next election. But it wasn't.
As I left the house this morning my city felt different. People on the street were smiling. At me. At each other. I swear I wasn't the only one with a skip in my step; there is a significant change not just in the number of seats that each party holds but in the general vibe of this city, and this country. It's hope. It's day one. And it even followed me to the Taco Bar where I had lunch...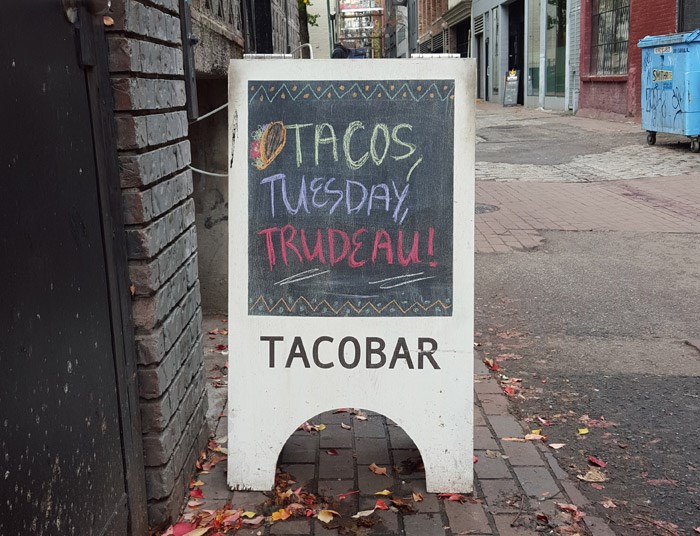 Trudeau's victory speech touched on a lot of things but centred around the fact that "A positive, optimistic, hopeful vision of public life isn't a naive dream - it can be a powerful force for change", which is what V.I.A. has been about for the past 8 years. We shine a positive light on people and things in your city, with the hope that you'll come to appreciate it even more, and protect it. Of course that isn't the way politics works - they tackle real issues and make the country a better place with good policy while we just write about the positive results of things - but it's the spirit of our new leader that's captured me, and which (in part) brought out the largest percentage of voters in 22 years.
Our new leader closed his speech with a phrase I'd never heard before: "Sunny ways, my friends, sunny ways!". I imagine this is a common phrase to political science majors but I had to look up what the heck that means. It turns out it's a reference to Wilfrid Laurier, Canada's prime minister from 1896 to 1911. His positive and "sunny ways" of doing politics was inspired by an Aesop fable where the sun and the wind are arguing about who is stronger. The wind tries to prove it's mightier by attempting to blow the jacket off of a passerby, blowing with all his might. The more he blows, the more the person clings to their coat and keeps it on. The sun steps up and beams down softly onto the person and they take their jacket off. Nice.
Sunny ways are spreading across this rainy city and across this country today, with hope for the future. It's been a long decade of division and as Steve Burgess so elegantly tweeted, it's time to peel all those Harper stickers off of the country's stop signs and move on, move forward. Again, here's hoping we don't see Trudeau's name popping up on them any time soon. And maybe we'll see him pop in for coffee?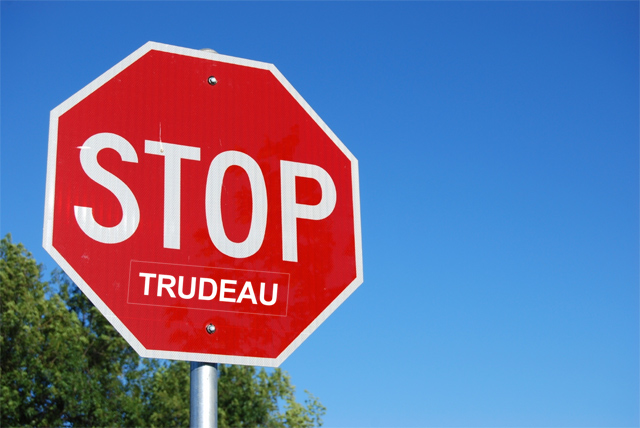 HERE is the full story and reference of "sunny ways" c/o Marianopolis College