If you're confused about who to vote for in the upcoming election, you're not alone. Heck, more than 60% of people in our city didn't vote in the last election and while I won't speculate on all of the reasons why, one of them is certainly a lack of education.
Leading up to every election CBC British Columbia works on sharing information about all of the candidates, moderating debates and of course doing radio and web features and TV news stories educating us on the potential candidates. This weekend they released an interactive "Make My Mayor" mini site where you can see what the 3 front runners for mayor are all about and where they stand on the issues. Use it as a jumping off point to learn more about the parties they represent, as well as the other parties who aren't running mayoral candidates, and make sure your vote counts on November 15th. If you don't vote you don't have the right to complain about politics, which is a popular Vancouver pastime!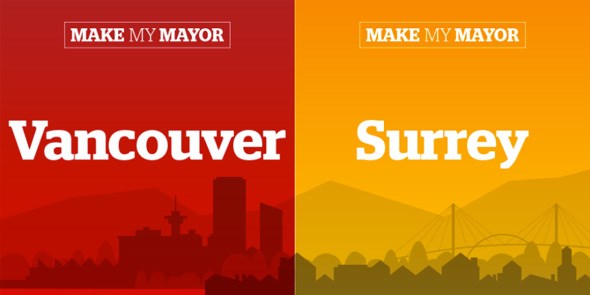 "Make My Mayor" is available for Surrey and Vancouver. Check it out HERE and put the pieces of your voting puzzle together.