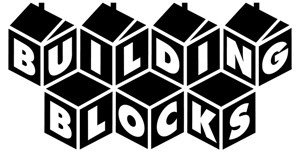 This sponsored feature takes an intimate look at real estate projects in Greater Vancouver, bringing you stories about the developers, the neighbourhoods and the homes themselves.
One of the more exciting new developments to hit the Lower Mainland, River Park Place is being seen as a chance to redefine what a Richmond riverfront home can be. With a development as complete and forward-thinking as this, it's certainly earned itself that chance.
The new development is an excellent representation of one of the most dynamic communities in the Lower Mainland. It's an injection of energy into an already vibrant new area and its lush third level rooftop pavilion courtyard, community greenways and garden plots continue Richmond's green tradition.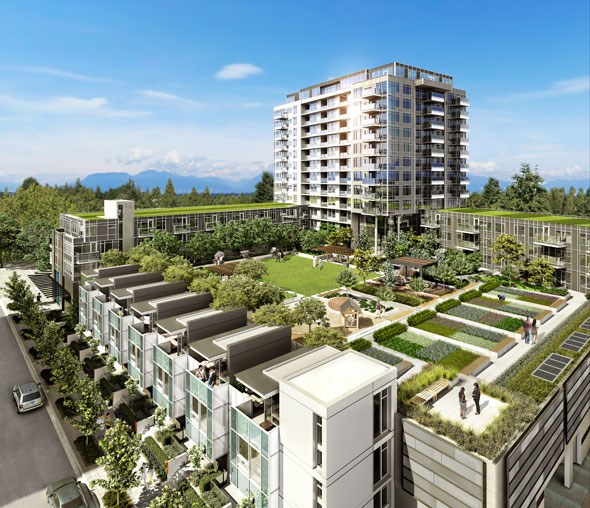 And in case you need any more incentive to check out River Park Place: anyone who registers for the project at the River Park Place WEBSITE before April 6th will automatically be entered to win a 2013 Range Rover Evoque as part of The New Luxury contest.

Then there's the building itself. The 15-storey concrete building with glass and steel highlights will offer 219 homes, and the attention to detail throughout leaves seemingly no stone unturned. Its elegant sophistication takes the approach that quality homes result in an even better quality of life. The emphasis has been placed on the 'Whole Home' concept, which means just that – River Park Place is bringing suburban living to an urban setting.
You'll have the choice between a bright interior and a more traditional decor. Living spaces are smartly laid out and feature family-style kitchen with top-of-the-line appliances and incredible finishes. Spacious balconies and patios provide views of the Fraser River and North Shore mountains.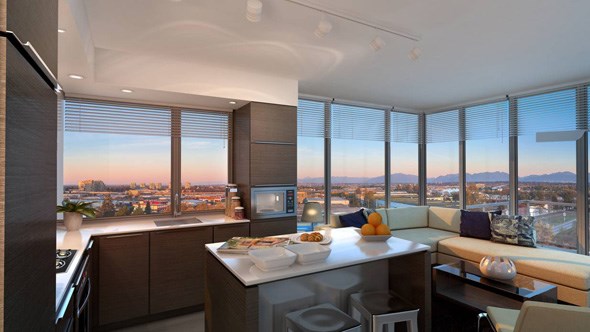 There's a vast array of interior amenities – everything from a double-height training court for basketball and badminton, and yoga mezzanine for those who want to keep their bodies active, to study and rehearsal rooms for those who want to flex their mental muscles. State-of-the-art environmental systems in every home provide low-cost, energy-efficient heating and cooling to keep you comfortable regardless of the weather.
The streetside entries for townhomes help lend it a neighbourhood feel, and River Park Place will be the heart of the vibrant new Oval Village surrounding the Richmond Olympic Oval. The building will become a landmark in the area thanks to its distinct architecture – its twisted glass architecture bringing to mind the sail of a great ship washed ashore and sitting on the banks of the river.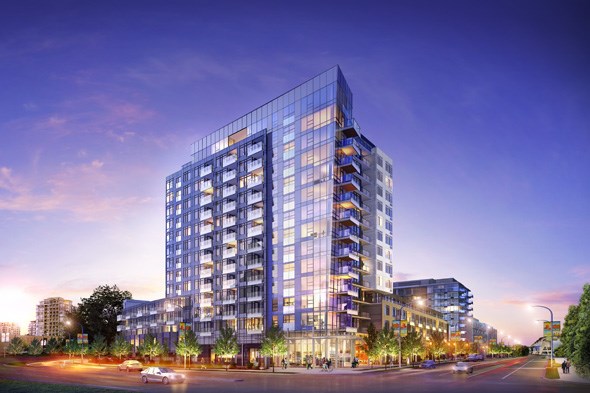 River Park Place is another shining example of how collaboration and partnerships can produce fantastic results. The project is led by Canadian-owned builder and developer Intracorp Projects Ltd, responsible for creating projects across the Lower Mainland, including MC2 and Spruce in Vancouver and MetroPlace and Silver in Burnaby. Intracorp has partnered with Mo Yeung International Enterprise Ltd., and the team is rounded out by architects IBI Group, landscape architects Durante Kreuk, interior designers Insight Design Group and Feng Shui master, Sherman Tai.
April 6th marks the grand opening of the sales centre where you will be able to view two fully furnished display homes showcasing the best of River Park Place. For more information on Intracorp and their projects, check out their pages on Twitter, Facebook and Youtube.