Looking to score a cheap deal on an apartment this month?
You might have to move to a different city.
Vancouverites continue to see the highest rental prices in Canada in January 2022 despite a slight drop in prices this month over last.
Liv.rent, a rental platform based in Vancouver, creates monthly rent reports for the region and finds that Metro Vancouver has seen a significant increase in prices.
"Following last month's dramatic price action, rental prices in Vancouver have held their lofty highs into the new year, with average rent just $4 below its December levels," explains the company.
Despite a sudden jump from $1,791 in November to $1,831 in December, rental averages have held their ground in many Metro Vancouver cities and now sit at $1,827 overall for an unfurnished one-bedroom apartment heading into the new year.
Victoria has the second-highest rent for an unfurnished one-bedroom apartment, at $1,811. Following Victoria is Toronto, with one-bedrooms costing $1,1678. Ottawa has the fourth-highest rent, at $1,495.
Average rent across Metro Vancouver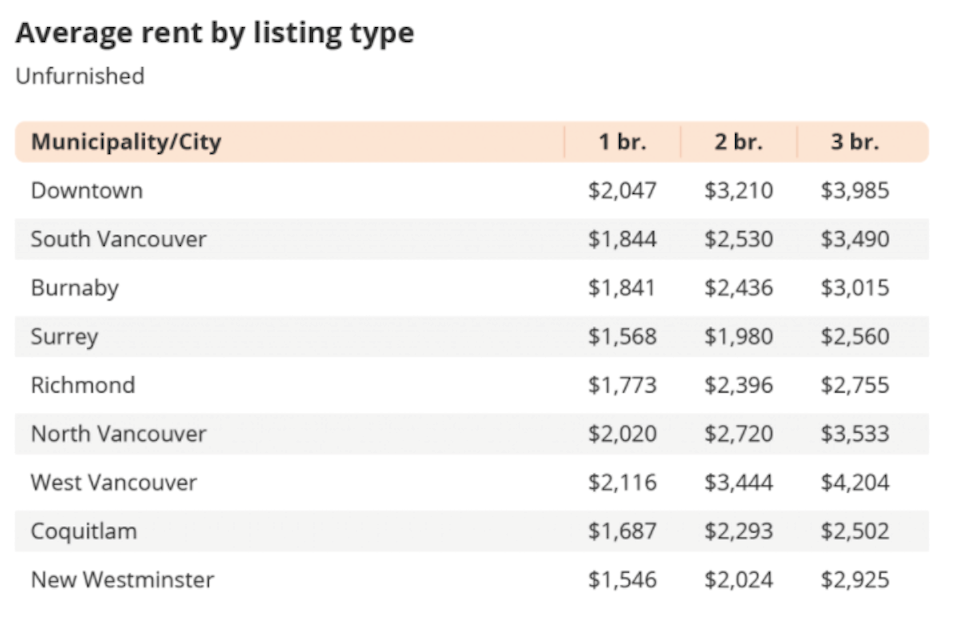 In Richmond, renters must now fork over a great deal more money for a furnished apartment, with the average price of units rising a whopping 68.4 per cent since last month. West Vancouver and Coquitlam also saw huge increases for furnished units, gaining 33.26 per cent and 20 per cent respectively.
For unfurnished one-bedroom units, Surrey saw the most significant increase this month with a 9.6 per cent rise in price. In contrast, New Westminster prices fell 7.16 per cent.
Prices mostly held steady in Downtown Vancouver heading into the new year, with rent for furnished units only dropping slightly (0.41 per cent) and unfurnished units decreasing just 6.11 per cent.