Words: Yuri Artibise
Jane's Walk is a series of free neighbourhood walking tours that helps put people in touch with where they live and with each other, by bridging social and geographic gaps and creating a space for cities to discover themselves. Since its inception in 2007, Jane's Walk has happened in cities across North America and around the world on the first weekend of May (to coincide with Jane Jacobs' birthday).
The walks honour urban activist and writer Jane Jacobs who championed the interests of local residents and pedestrians, and encouraged planning that would build relationships between a city and its traversers. Intended to be 'walking conversations,' Jane's Walks vary thematically from architecture to street food, tied together with a common thread of fostering dialogue among neighbours and urban enthusiasts.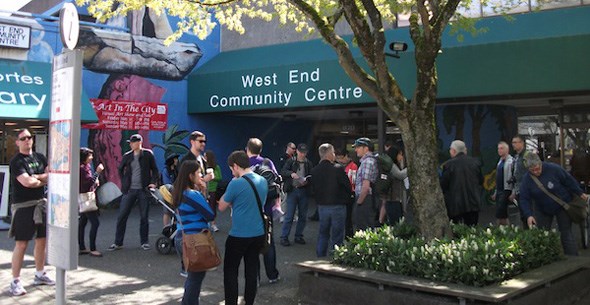 The 2012 Jane's Walk in the West End started at Denman and moved through to Burrard. Photo: Brendan Hurley
Want to lead a Jane's Walk in your neighbourhood?
Do you have a story to tell? Do you know your neighbourhood like the back of your hand? or perhaps you're a newcomer and want to share your experience of learning about your new neighbourhood? Do you have an idea for a fun, informative, unusual way of looking at cities and neighbourhoods? You could lead a Jane's Walk!
There are only two rules: walks should be taken and given for free, and they should be walking conversations. The rest is entirely up to you and your walkers; the conversation topics are as varied as the people taking part—from art and architecture to potholes and shortcuts and from video surveillance to the urban forest. Anything that helps you and others better understand our cities and neighbourhoods as places and spaces is a potential walk theme.
If you are nervous about hosting a walk on your own, recruit a friend or neighbour to co-host with you.  More perspectives often lead to more interesting walks.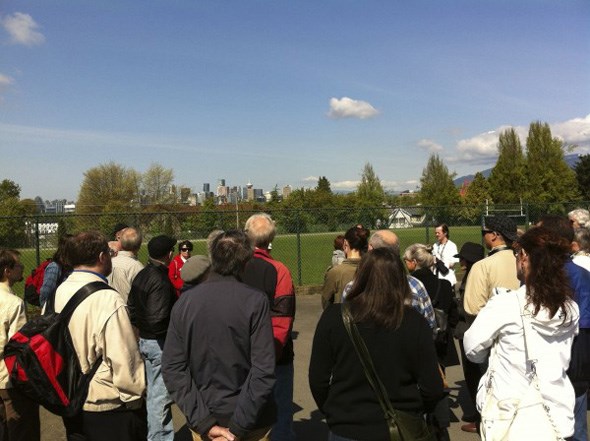 A selected image from Jane's Walk Vancouver 2012—Home: An Exploration of What Makes Grandview-Woodland Unique. Photo: Yuri Artibise
Expert support provided 
The Jane's Walk Project Office is here to help you plan, promote and share your walk. We provide you with resources, put you in touch with local organizers in participating cities and answer all your questions about leading a Jane's Walk.
Submit your walk today!
You can learn more, and submit a walk directly on the Jane's Walk website, or get in touch with me, the Vancouver area co-ordinator (yuri@janeswalk.net), or national Operations Director Denise Pinto (denise.pinto@janeswalk.net).
Volunteers needed as well
If you are not up to leading your own walk this year, but styill want to be involved, we are always looking for volunteers to help make the walk weekend a wonderful experience for everybody involved.
Volunteer' roles include assisting Walk Leaders with managing large groups, circulating sign-up sheets, taking pictures and answering general queries about Jane's Walk. This year, we'd also like to use social media to connect people during and after the walks and we will collect feedback in the form of vox-pop videos.
If you want to offer your assistance in one of these areas, you can sign-up on the Jane's Walk website or get in touch with  me at yuri@janeswalk.net.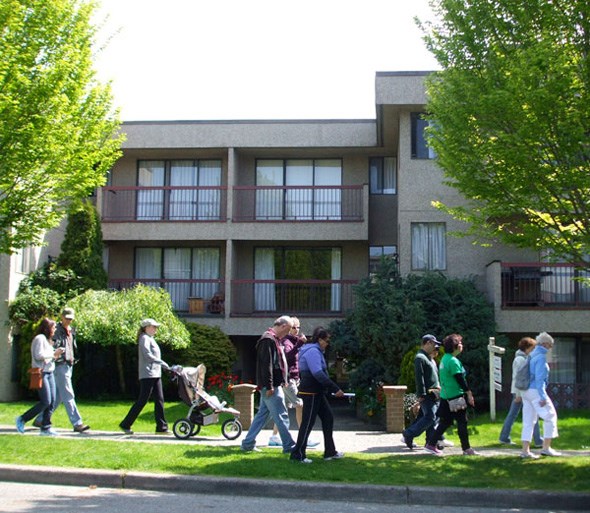 Walking the streets of Marpole in 2012. Photo: Ren Thomas