If you're looking to buy a home in the City of Vancouver for under $200,000, you are completely out of luck.
But according to a new report, locals looking outside of city limits may have some options — but they will have to be a little flexible.
Point2, an international real estate search portal, notes that only 10 per cent of all homes currently on the Canadian market are priced under $200,000.
The report also shows that 38 of Canada's 50 largest, most expensive cities — which are all in Ontario and British Columbia — showcase zero listings for less than $200,000.
Only one larger city, Kawartha Lakes in Ontario, has more than 1 per cent of all homes listed below $200,000.
On the other end of the spectrum, populous cities across the Prairies have the most homes that cost under $200,000, particularly Edmonton, with 1,300 homes, and Regina, with 400.
If you're looking to find a dwelling for purchase in B.C. in a larger city, your best bet is Surrey. That said, the pickings are markedly slim, with only 0.46 per cent of the listings selling for under $200,000. The choices are fewer in Abbotsford, with only 0.26 per cent of listings asking for under $200,000. Richmond also has a few options — with an emphasis on few: a meagre 0.17 per cent of listings are asking for under $200,000.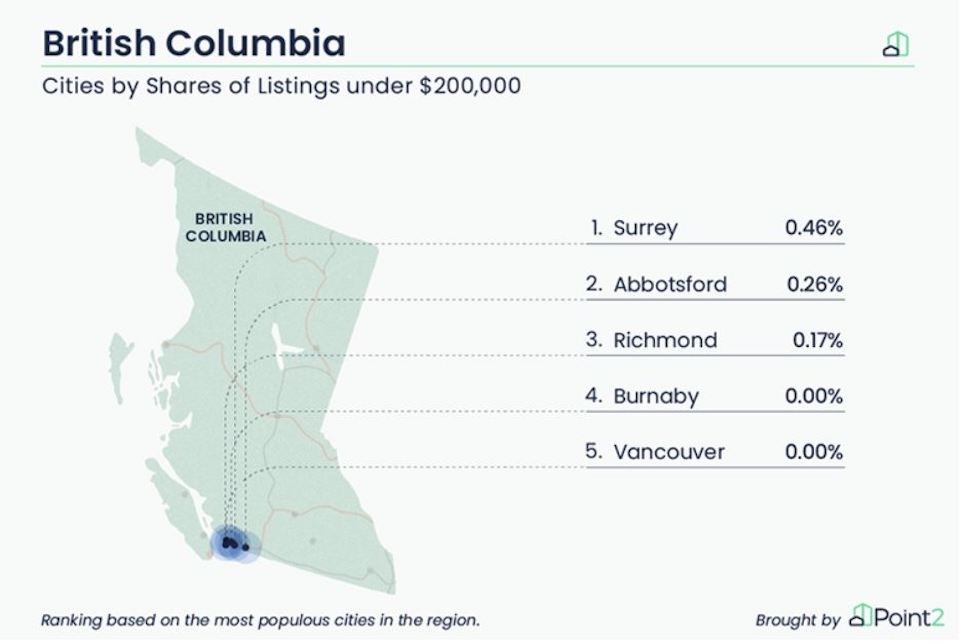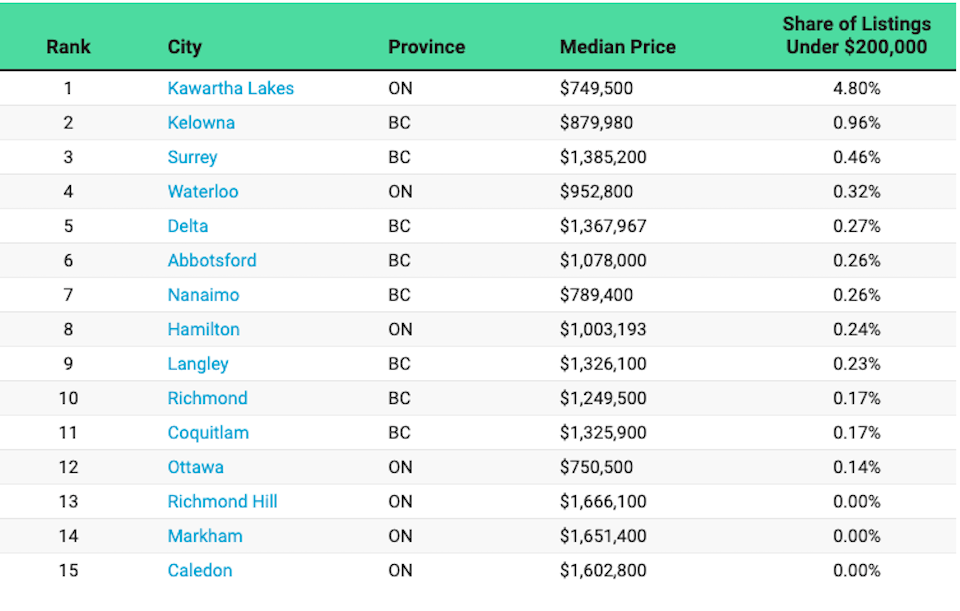 Real Estate across Canada
Folks who are willing to settle in the Prairies have numerous affordable options. In Regina, 36.50 per cent of its listings are for under $200,000, while Edmonton has 25 per cent of them for under 200k.
Other cities with significant shares of homes for sale for $200,000 or less are: Lethbridge, AB (26.10%), Saskatoon, SK (23.47%), Winnipeg, MB (23.45%), Red Deer, AB (22.80%), and Airdrie, AB (8.43%).
In Atlantic Canada, 44 per cent of properties in Cape Breton, Nova Scotia are asking for under $200,000.