Having an open dumpster in your alley can be a blessing and a curse.  The potential for fires, rats, and just generally sketchiness, are definitely some of the cons.  The ability to throw anything away, and for me, the entertainment, are the pluses.
I'm trying to keep my glass half full lately so I've embraced the open dumpster but unfortunately, it became the 'locked dumpster' last Thursday at approximately 1pm.  I saw a shiny nice new one being unloaded from a truck and I know the jig was up.
I knew that the lock would drastically change the ecosystem known as my alley, but it was part of life, I'm guessing it's even a city bylaw to lock your dumpster now.
Saturday if you remember,  was a beautiful day, the type that really makes you glad you live in Vancouver.  I worked out, made pancakes, squeezed orange juice, watched the Canucks, went skateboarding, had dinner with my family.....but you know what really put a smile on my face.....
This: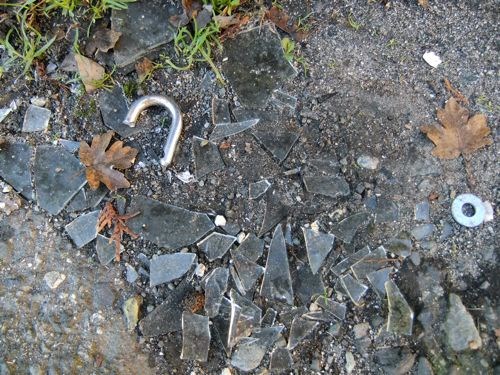 Looks like someone enjoys an open dumpster even more than I do, to the point where he or she resorted to vigilante-ism to liberate this dumpster.  SNIP!  I don't endorse initiating this type of behaviour but I know from now on, I will enjoy my open dumpster that much  more.