Each week we'll uncover some unusual and (hopefully) interesting facts about the city. This week we take on the Dominion Building. 
1. It was Vancouver's first skyscraper
Completed in 1910, the Dominion Building was not only the tallest building in the city, it was the tallest in the British Empire! It measures in at a mere 53m. The building is now a provincially designated Class "A" heritage structure.
2. The city asked that the public chip-in
The building's original owners, Imperial Trust Company, set out to construct the building following the Vancouver's economic boom at the beginning of the 20th century. Stuck with a $600,000 bill, Imperial Trust asked the public to pitch in funds for the so-called, "object of pride to every loyal citizen". Not quite as loyal as anticipated, Imperial Trust was forced to merge with the Dominion Trust Company to complete the building.
3. The thirteen-storey building was designed in the Second Empire Style
Architect John S. Helyer designed the building in the Second Empire style, named for the architectural elements in vogue during the era of the Second French Empire. Also considered "Beaux-Arts", the Dominion Building's defining features include its arched windows, ornamental detailing and mansard roof. It's also recognized for its terracotta colour and marbled entryway.
4. You might recognize it from your favourite TV show or movie
The Dominion Building has been featured in the Neverending Story, Battlestar Galactica and Blade Trinity.
5. Its history is ripe with rumours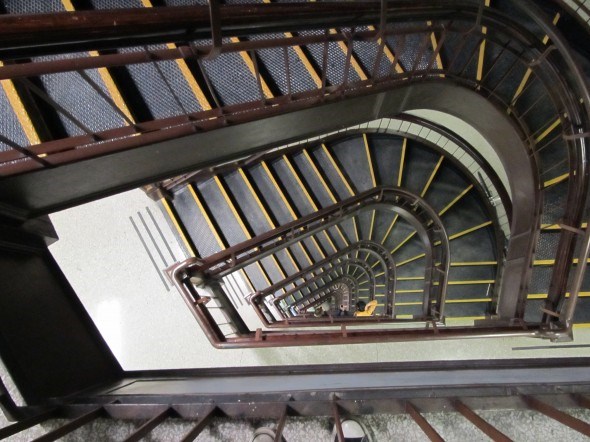 What's a heritage building without a few ghost stories? Ghosts of Vancouver states that ghostly footsteps have been heard on the interior staircase between the seventh and eighth floors while an apparition of man, rumored to be architect John S. Helyer, has been seen throughout the building. Legend has it that Helyer died after throwing himself down the staircase during the building's opening party, but he actually died from a stroke in 1919. Other rumors include the building being funded by German Emperor Wilhelm II to mock the British Empire for having its tallest building built by its greatest rival.