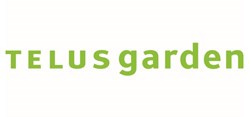 In this very special 4 part series we're taking you inside one of V.I.A.'s longtime Community Sponsor's upcoming downtown headquarters and residential towers, TELUS Garden. Making up an entire city block bounded in by Robson, Georgia, Seymour and Richards, it's currently under construction with residents, TELUS and other businesses all expected to be moved in by 2015.
In the first post I SHARED the re-imagined laneway which will not only be nice to look at thanks to a lighting installation by renowned artist Martin Boyce, but it'll also make for a sweet shortcut.
As the first North American office tower aiming for LEED Platinum under the newest standards, TELUS Garden will reduce C02 emissions by over 1,000,000 kilograms per year. That's equivalent to planting 400,000 trees every single year. Whoa.
One of the pieces of the LEED puzzle is a subject I wrote about previously in my In the Village series (HERE), and which is catching on in cities around the world: district energy systems. TELUS Garden will have a district energy utility which will repurpose heat from the data farm (where their servers etc are kept on site) and put it into the residential tower and the office tower. It's a partnership between TELUS and the developer, Westbank, and by my logic it's basically taking the energy produced by web sites, emails, and other digital transfers and repurposing it to heat homes and office space. Watch this video below for a better explanation.
http://www.youtube.com/watch?v=kLEX9vtnf9g
This is just one part of how TELUS Garden will consume about 80% less energy than the average commercial building in Vancouver. A rainwater capture system, triple glazed windows, a sun tracking system that automatically changes the blinds and so much more... click HERE to learn more.
And stay tuned for Part 3 of this series where we'll be talking all about location (location, location).