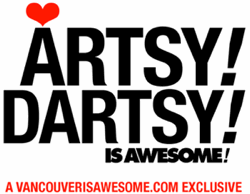 Greetings Vancouver is Awesome readers! We here at Artsy-Dartsy are proud to be new contributors to VIA.A brief background on us: We are Linus and Denise. So pleased to meet you! We love art and design, hence we started a website called Artsy-Dartsy.com to help people like us find out about art and design events in our awesome city of Vancouver!
This week there are tons of great events happening. For the full listing please head to Artsy-Dartsy.com.
This week the art community has tons and tons of stuff going on, not to mention have you noticed the number of public sculptures and art works going up? Everytime we walk down a street we see a new art piece. Way to go Vancouver! This week, the Shudder Gallery is pleased to present the works of three Vancouver artists, Ahbyah Baker Jason Froese and David Hucal in the upcoming exhibition, Phantom Terrains. Opening reception is this Thursday, Feb 4, 7-11pm.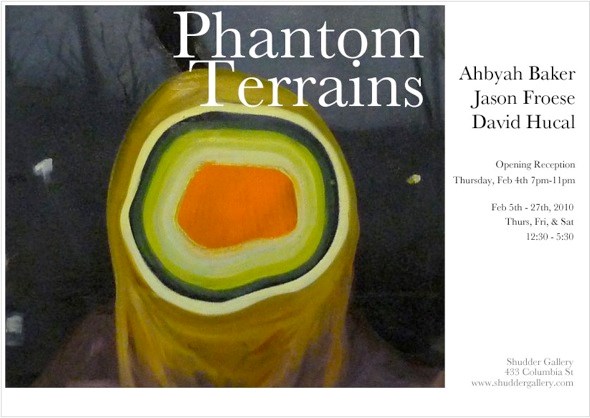 Phantom Terrains presents a collective body of work that addresses issues of mass media, perception and narrative patterns and possibilities inherent in the act of painting. All three artists relate visual information to the use of abstraction, recalling both memory and universal experience.
Ahbyah Baker's series of drip paintings are concerned with the development of unanticipated arrangements of colour. She utilizes the medium's ability to obscure and abridge colour onto a singular plain of perception. This series can be seen as a reference to colour field painting and post-painterly abstraction with her concentration upon staining and her recognition of the flat picture plain. Colours are dripped and stained onto the surface, situating layers of colour to confront and claim their space.
Jason Froese's pieces, selected from a series of paintings entitled Epilogues, construct abstract patterns out of specific narrative content. Reinterpreting the cultural inheritance of cinema through the assemblage of painted film stills, Froese is directly quoting a universal memory bank. Recognizable tropes within the imagery are re-contextualized by a hard edge abstract painting approach.
David Hucal's practice is concerned with the overlapping of genres and distinct pictorial histories. This combination of separate discursive trajectories effectively makes an image within an image. This dichotomy of painting styles and languages will open the work to multiple historical and aesthetical readings. The work often references mid 20th century abstract expressionist and post-painterly abstraction, the work then isolates these languages as a central motif, creating an autonomous figure which transcends any representation and yet functions figuratively. This places these pictures within the context of portraiture. The use of memory and the mediation of abstraction are central themes in this series
Other notable on-goings: Gallery Jones shows James Nizam, Elissa Cristall Gallery presents Ana Kubis, AFH-Vancouver screening a great documentary, One Piece at a Time, and the VAG opens Leonaro da Vinci. See Opening Receptions for all the details!