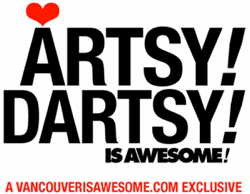 Vancouver has a vibrant art and design scene. It is our mission to make this stimulating world accessible to everyone.Artsy!Dartsy! is Vancouver's online Art & Design event guide. Offering comprehensive event listings since 2008, the site is updated daily to promote current and upcoming exhibits, lectures and shows. It is a resource for casual art-goers, industry professionals and tourists. With a user-friendly format, information is sorted by media, venue, schedule and location as well as handy street maps.For the full listing please head to Artsy-Dartsy.com.
.
Coast Modern Film Fundraiser hosted by Ouno Design
Fundraiser: Thursday, Jul 28, 6-late
We're fortunate in Vancouver to have a great history of West Coast Modern Architecture. Filmmakers Michael Bernard and Gavin Froome are making a documentary film that takes us inside some of the most renown modernist homes, we would normally not have access to. This week they're having a fundraiser to push for the finish of the film! Get your tickets here: http://coastmodernfundraiser.eventbrite.com/
The event is being hosted in Ouno Design's incredible converted church in Vancouver's Strathcona neighbourhood. Watch the trailer after the jump...

From the CoMo Blog:
Filmmakers Michael Bernard and Gavin Froome will take us on a journey from Los Angeles to Vancouver; from 1922 up to the present exploring modernist architecture on the West Coast. A core group of architects embraced the Coast with its particular geography and values and they have left behind a legacy of beautiful and inspired dwellings. Today, architects have picked up the thread and they continue to explore and celebrate the principles established by their predecessors.
Intimate interviews and unprecedented access to architects in the film include Barry Downs (Vancouver), Fred Bassetti (Seattle), Hernik Bull (Berkeley), Ray Kappe (LA), Michael Folonis (Santa Monica), Dion Neutra (Los Angeles) -son and partner of Modernist pioneer Richard Neutra- , Barbara Bestor (LA) and others. They will all share their insight into the Modernist Movement, and its relevance in our lives today.
.
Other Notables: If you are interested in our city's architecture AIBC Architectural Walking Tours are happening all summer for $10! See website for schedule. Check out our Opening Receptions post for more goodness this week.