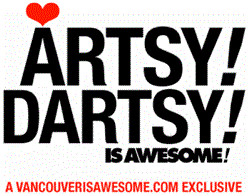 Greetings Vancouver is Awesome readers! We here at Artsy-Dartsy are proud to be contributors to VIA. A brief background on us: We are Linus and Denise. So pleased to meet you! We love art and design, hence we started a website called Artsy-Dartsy.com to help people like us find out about art and design events in our awesome city of Vancouver!This week there are tons of great events happening. For the full listing please head to Artsy-Dartsy.com.
The Eastside Culture Crawl is an annual free 3-day visual arts festival. This event involves artists in their studios who work on the east side of Vancouver, BC, Canada in an area bounded by Main Street to Commercial Drive and from First Avenue north to the waterfront. On this site you will find complete information about the event, including a 2009 printable map and a list of our participating artists.
The mission of the Eastside Culture Crawl Society is to promote Vancouver's east side artists and their work by fostering excellence, encouraging visibility and forging partnerships.  The Eastside Culture Crawl Society brings arts to the community through the ongoing creation of events and programming that support the growth of east side artists.
Please note: Most artist participating can only take cash or checks.
Some of the artist participating:
Keith Weiss at 901 Main St.
Rocio Grahm at Georgia Jackson Studios, 505 E. Georgia St.
David J. Robinson at Parker Street Studios, 440-1000 Parker St.
Louise Francis-Smith at the Factory, 738 Heatley Ave.
Other Notables: Walrus is showing Drawing in Vancouver, Charles H. Scott Gallery presents Vintage Dan Graham, and the Vancouver Institute presents a lecture by Moshe Shafdie on Megascale, Order and Complexity.
Please see Artsy!Dartsy! for details on more opening receptions.