The slowdown in B.C.'s real estate market is the "primary drag on B.C.'s economic growth," according to a forecast issued March 14 by Central 1 Credit Union.
The credit union said, "Federal B-20 mortgage 'stress tests' and provincial tax measures that were introduced in 2018 have led to a severe housing retrenchment in the existing home sales market. Retrenchment has been significant in larger urban markets, which will curtail new home activity in 2019. Home sales have fallen to a multi-year low pace. Credit constraints alongside higher interest rates have curtailed the purchasing power of some buyers, triggering price declines and slowing activity in ancillary sectors of the economy [such as renovation spending and the furnishings retail sector]."
Bryan Yu, report author and Central 1 Credit Union's deputy chief economist, told Glacier Media that the federal mortgage stress test has been much more acutely felt in B.C.'s major markets than elsewhere in the country, because of the already-high cost of housing. He said in an interview, "In higher-priced markets, where buyers are already more constrained in terms of their buying ability, the stress test makes them stretch even more to get into the market. The usual way to make up the differential is through a higher down payment, which might be an extra $80,000 in Vancouver compared with an extra $35,000 in Winnipeg – it's much harder to bridge the gap. So buyers in higher-priced markets get pushed out."
The report predicted, "Existing home sales turn higher by mid-2019 as lower prices induce buyers to enter the market, but a substantial rebound is not expected. This downturn will be modest compared to previous episodes, reflecting a policy-induced downturn, rather than economic-recession induced downturn."
Yu added, "We're already seeing benchmark MLS prices come down, and we would expect to see buyers come back. When you look at the economy, it's still pretty sound, so we expect to see a return in demand. The issue is whether the buyers will be able to get financing for their home purchases. And sellers don't have their backs against the wall, so they don't necessarily have to sell for a lower price."
Central 1 predicted that the current slowdown in home sales would continue to pull down on the overall economy over the next year or so, with housing starts and residential investment following the decline in sales.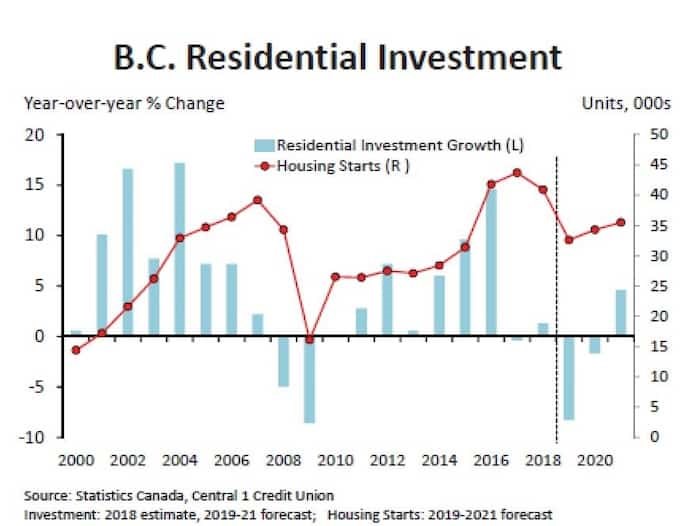 The report said, "Housing starts lag the sales cycle and are forecast to decline by 20 per cent this year to 32,600, before edging higher in subsequent years. The current downcycle in demand leads to higher new home inventory and reduced condominium pre-sale activity, forcing developers to delay construction or cancel projects. Multi-family housing starts will drive most of the decline and be concentrated in Metro Vancouver. Government investment in housing will provide some offset to a decline in private investment. Residential investment spending declines eight per cent this year on fewer housing starts, and a slowdown in renovation spending deteriorates in 2020 before turning higher."
However, the credit union is not predicting an overall recession, as other areas of the provincial economy look strong. "Real GDP is forecast to slow to 2.1 per cent this year before rising to 2.4 per cent in 2020 and 2.8 per cent in 2021… A ramp up in major capital project construction in the private and public sectors will be a strong offset to the decline in residential activity. Moderate population growth is also a persistent source of growth which will underpin consumer spending."