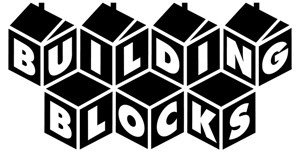 This sponsored feature takes an intimate look at real estate projects in Greater Vancouver, bringing you stories about the developers, the neighbourhoods and the homes themselves.
Pacific Palisades is considered one of the Vancouver's iconic landmarks—a highly regarded example of West Coast Modern design. When it finally closed its doors to hotel guests in 2010, new owner Austeville Properties Ltd. embarked on a two-year renovation to transform the towers from tired has-been to stylish rental complex that pays homage to its international modernist roots.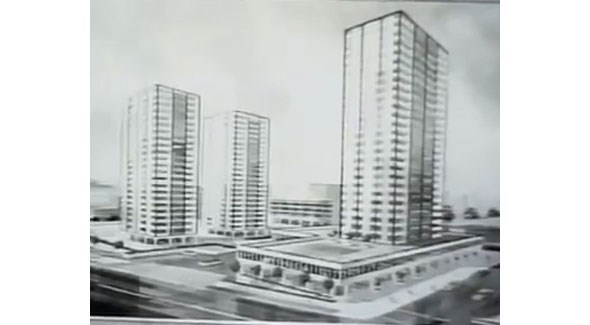 Pacific Palisades in the 1960s.
Built in the 50s "International Style" by legendary developer Mel Zajac, Pacific Palisades was originally a four-building complex. The office building and one tower came down in the mid-90s. The remaining two towers became the Pacific Palisades Hotel, a favourite haunt of celebs like Johnny Depp, Sharon Stone, Tom Selleck and Martin Sheen during the '90s.
Take a look at the transformation below: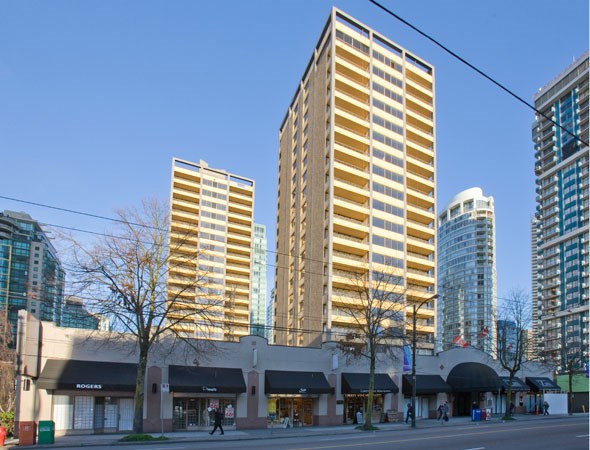 BEFORE: Pacific Palisades in Spring 2010. Note the ugly façade and tacky paint job.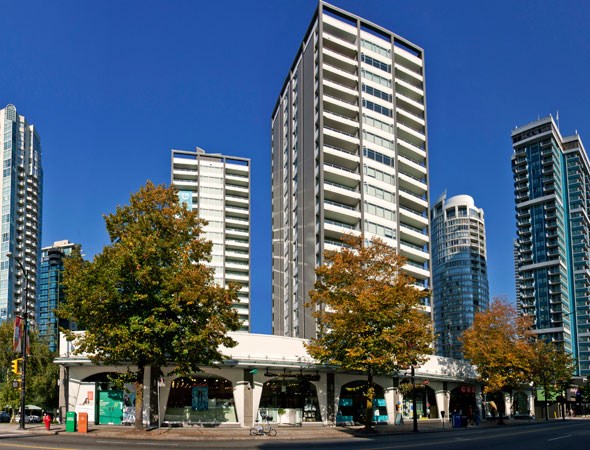 AFTER: PaPa in Fall 2012. Note the return of the buildings' original clean lines and refreshing colour palette.
The façade, a relic from the 80s, was stripped to reveal the glorious arched entryways of the original towers.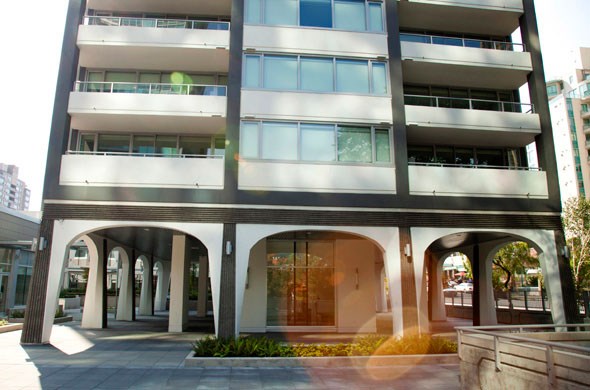 The arched entryways, a defining feature of Pacific Palisades in the 60s, are back.
In each suite the 20-ft window wall was replaced with doubled-paned windows. Many suites capture ocean views and even the 400-sq-ft studio apartments feel light and spacious.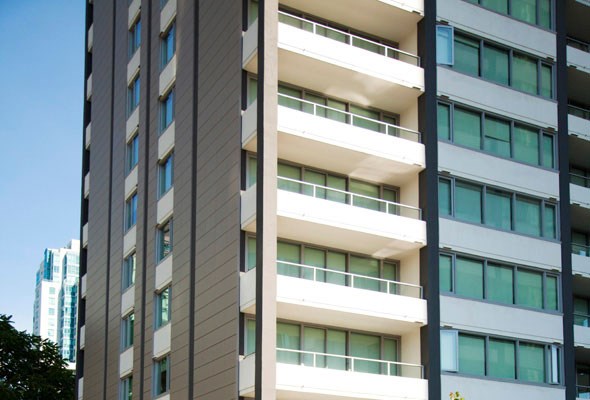 See all those windows? New. And all that cladding? New. Austeville spared no expense in its PaPa rebuild.
Austeville was determined to preserve the historical mid-century design while updating it for 21st-century living. Each suite features high-end durable finishings such as quartz countertops and oak floors.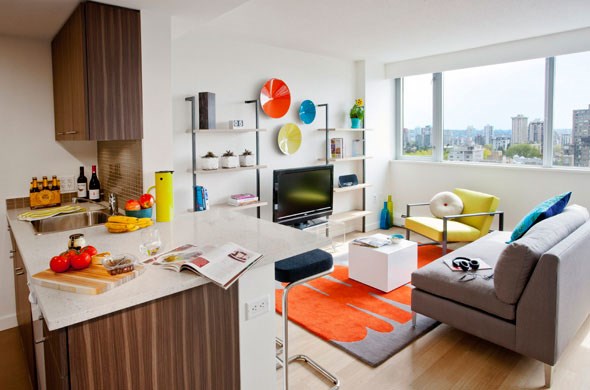 Here's a peek of a PaPa studio. Check out that light and those views!
The arches surround the entire main floor's exterior windows and frame the entrance to modern furniture store CB2, Papa's anchor tenant on Robson Street.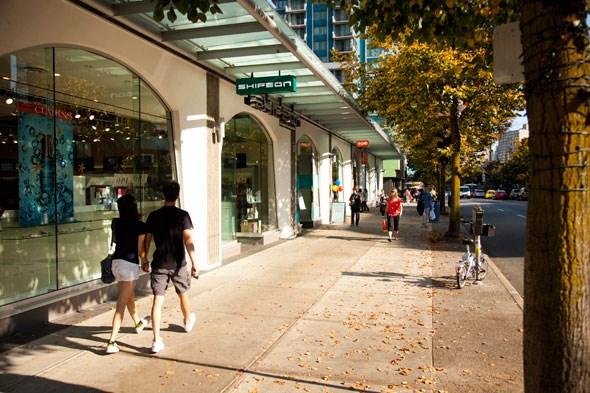 PaPa's tenants CB2 and Shifeon are located on Robson St.
PaPa tenants can now welcome their guests in a designer lobby and have access to secured storage locker, bicycle lockers, underground parking and Zipcars.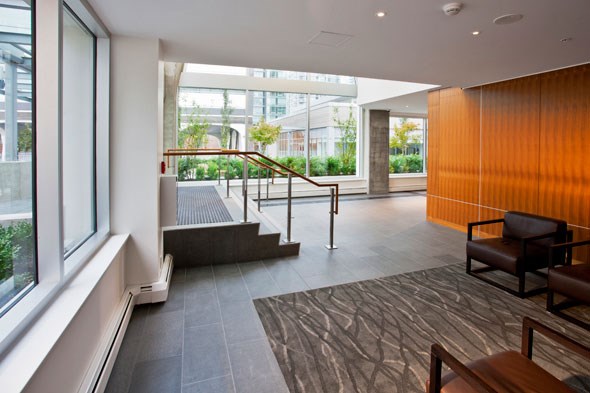 Check out the gorgeous lobby.
The former hotel pool was removed to create The Commons, an indoor social space on the grounds.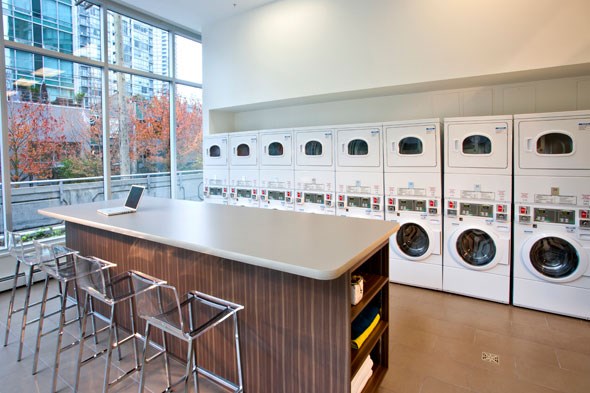 The Commons laundry room boasts loads of light, energy-efficient washers and dryers, plus free WIFI.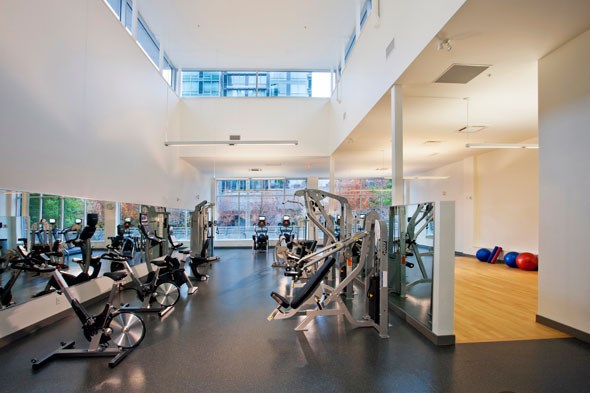 And fitness and yoga room are state-of-the-art.
Outdoor areas for reading and relaxing abound.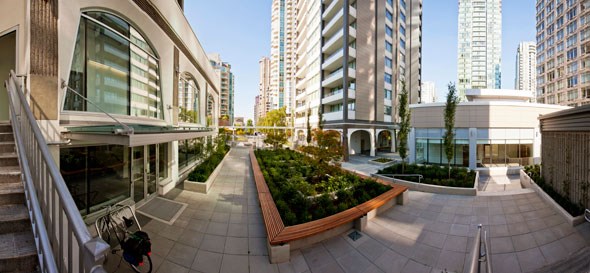 The courtyard, nestled between the towers, is now a tranquil outdoor space.
There's still time to rent a brand-new suite at PaPa. Our Info Centre is open Monday to Saturday, 10 AM to 6 PM and Sunday 11 AM to 5 PM at 1289 Robson St.
604-251-7272
info@pacificpalisades.ca