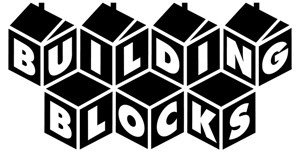 This sponsored feature takes an intimate look at real estate projects in Greater Vancouver, bringing you stories about the developers, the neighbourhoods and the homes themselves.
Pacific Palisades have given their renters the things they dreamed about but never expected to find in a rental. In April 2011, PaPa launched the Imagine it at Papa contest. Pacific Palisades' owner and developer, Austeville Properties, invited Vancouverites to suggest ways to make living at PaPa more fun, more convenient and more interesting — ideas that would help to create a more vibrant rental community. Austeville received over 150 entries before finally narrowing it down to three.
We followed up to see if the ambitious dreams of our city's renters have been realized. Here's what PaPa had to report.
Idea 1: Resident guest suites to book for a reasonable rate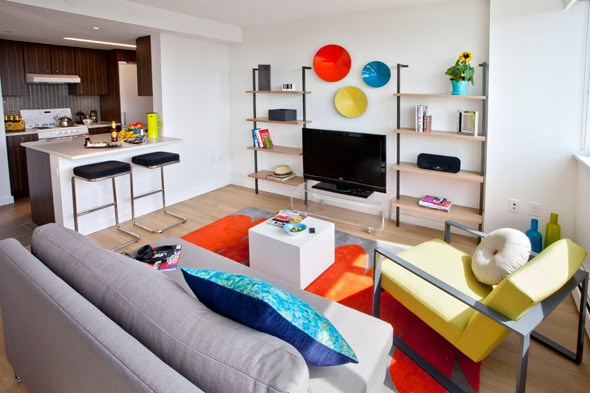 Tenants' guests can eat, sleep and relax in style in our new studio guest suite.
We loved this idea. No more visitors crashing on the floor! At PaPa, when your folks or friends come and stay, they'll be impressed with their stylish digs. The guest suite features classic white-oak flooring, quartz countertops and European-style appliances—just like all PaPa studio suites. There's also a luxurious soaker tub and blackout shades for those times when your guests just want to relax and enjoy some peace and quiet. Tenants' visitors also have access to the state-of-the art fitness centre, yoga area and Zipcar rentals, along with cable TV and free WiFi. We like to think it's as good as any top-rated hotel in the city, except cheaper! Your mama will totally approve of your renting at PaPa — because she'll have a gorgeous place to stay.
Idea 2: A workshop for resident cyclists to tune up bikes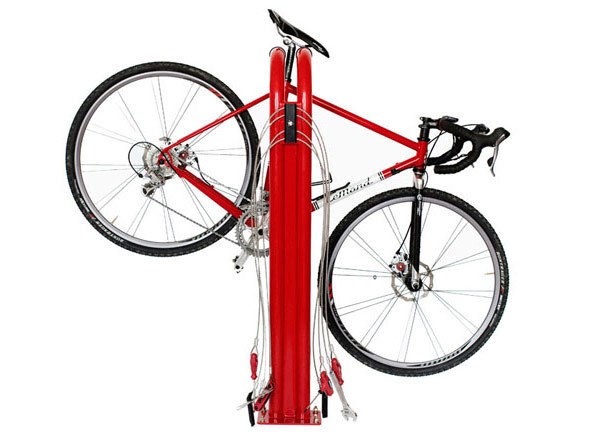 Tune-up your bike before work or pump up your tires at one of two new bike stations.
In a city full of bicycle lovers, it was no surprise that bikes featured highly in many of the hundreds of ideas we received. So, in addition to our secure bicycle lockers, we will also be adding two bike stations, one each in our Robson Street and Alberni Street underground parkades. Each bike station will include a repair stand, tire pump and nearby water supply so that PaPa's resident cyclists can tune up before a long ride, pump up their tires and wash off their greasy hands. PaPa owner and developer, Austeville Properties, is just waiting for the bike stations to arrive from Fixstation in the United States.
Idea 3: Artwork in the common areas that showcases local artists/photographers or highlights the history of area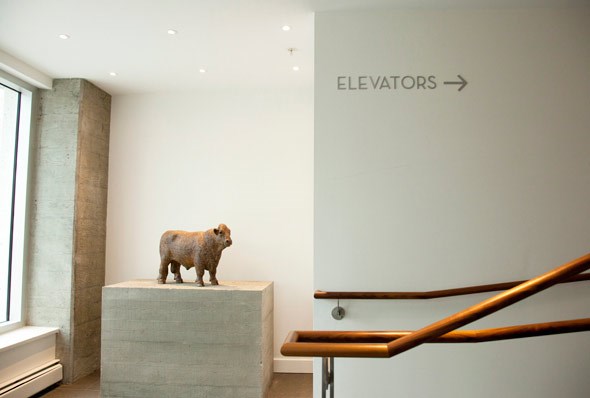 Artwork from leading Canadian artist Joe Fafard takes centre stage in the Alberni Tower lobby.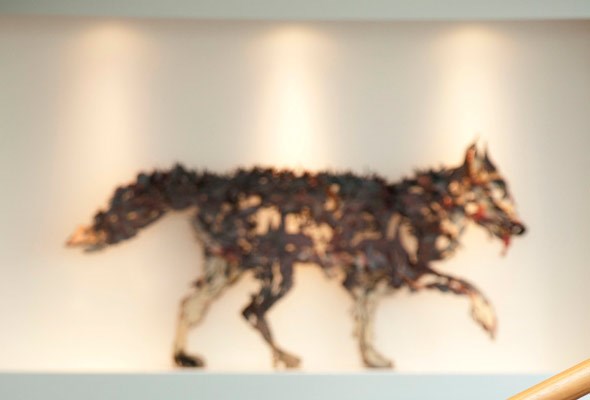 Joe Fafard's fox sculpture greets tenants and guests in the Robson Tower lobby.
Vancouverites wanted more than a rental – they wanted an art gallery. You're an ambitious bunch! At PaPa we never shy away from a challenge, so we designated space in our common areas and lobbies to showcase artwork from Canadian artists and photographers. In order to kick-start the rotating gallery, we decided to feature the inspiring work of Canadian artist Joe Fafard. We'll also be featuring artwork, photography and sculpture from local artists in the coming months. If you'd like to share your work with the PaPa community, email us at info@pacificpalisades.ca
Now it's time to finally stop fantasizing about your dream rental and start renting it instead. There's still time to call one of Papa's brand-new suites your home. Our Info Centre is open Monday to Saturday, 10 AM to 6 PM and Sunday 11 AM to 5 PM at 1289 Robson St.
604 251 7272
info@pacificpalisades.ca