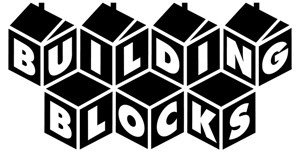 This sponsored feature takes an intimate look at real estate projects in Greater Vancouver, bringing you stories about the developers, the neighbourhoods and the homes themselves.
For over 40 years, Adera has earned its right to be pretty darn awesome. They're one of BC's leading multi-disciplinary real estate organizations, having built a world-class portfolio that includes their newest project in North Vancouver - seven35 - which we'll be showcasing in three parts.
Before we get into the development itself, let's take a look at the developer, Adera. One of their strong points is that they've taken the initiative in leading the province in sustainable building. As a Platinum sponsor of Built Green BC, Adera is the largest builder of Built Green homes in BC, having recently won BuiltGreen BC Builder of the Year (2010 and 2011), Most Energy Efficient & Sustainable Community - Green (2010 and 2011) and Most Sustainable Building Site - Green (2010). Not bad.
Adera's philosophy and call to action is LIVE WEST COAST, which means something different to everybody who chooses to live out here. To me, on a perfect day my LIVE WEST COAST philosophy finds me fishing in one of my favourite freshwater lakes in the morning and back in city by the afternoon to take my family to the dog beach to throw a ball for our pooch, then catching an ethnic dinner (of virtually ANY ethnicity) before finally settling in to watch a Canucks game... right as the rain starts.
But enough about me and my philosophy on Adera's philosophy - on to seven35! What is it exactly? It's an urban townhome development consisting of 60 units located at 735 15th Street West (at Mosquito Creek) in North Vancouver. Construction is well underway and occupancies will start as early as November. They're currently over 50% sold.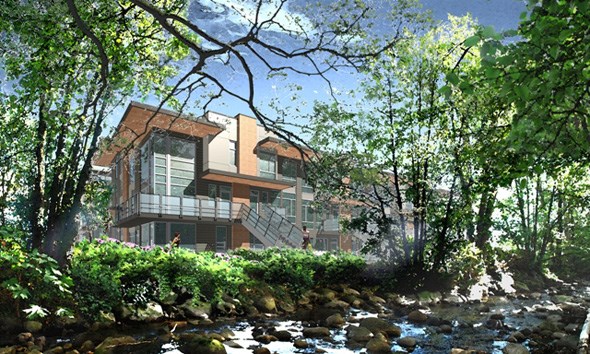 One of the finer point of seven35 is that it's the first Multi-Family LEED for Homes Platinum development in Canada as well as BuiltGreen Gold – meaning when it's completed it will hold the first double certification in the country. Its West Coast modern design by Integra Architecture honours the North Shore's architectural tradition and respect of nature, and interiors by Calvert Design incorporate locally sourced natural materials such as cedar ceiling planks, natural woods, slates and limestone.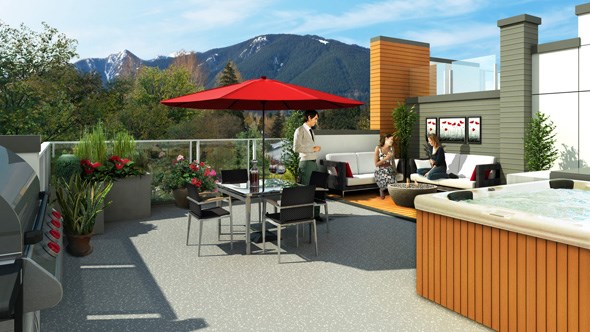 It's indoor/outdoor living, being that it's nestled between the urban amenities of newly revitalized Marine Drive and the hiking trails of Mosquito Creek Park, part of the Trans Canada Trail. The four stacked townhome buildings will be separated by courtyards landscaped with native plants and numerous water features, while ground-floor homes will have large patios, and upper units will enjoy spacious private roof decks or lanais with views to the North Shore Mountains, a signature Adera feature. Think about what you could do with a spacious private roof deck or lanai! Host a BBQ, create a rooftop garden or just relax and take in the view - options are endless.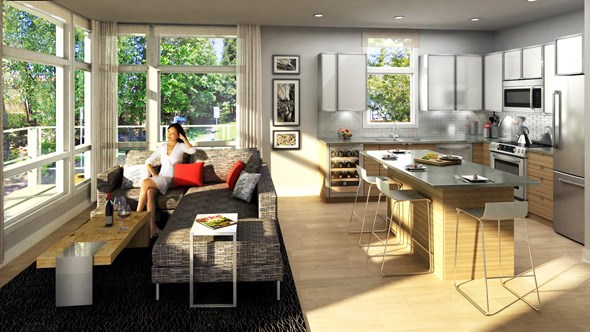 Sustainable features include (but are not limited to): Energy Star windows and appliances, motion sensor light switches, fluorescent light fixtures, low-VOC paints, low-flow faucets, water-efficient irrigation, and first private Waste Water Heat Recovery System. On top of that, each home will have double-size bicycle lockers plus access to a communal bicycle workshop area, urban rec amenity space and community gardens.
Homes start from under $300,000 and range in size from 450 square foot junior one beds to just over 1,000 square foot two-storey townhomes with two bedrooms.
Learn more about seven35 HERE!