It's easy to overlook the 22-storey Georgian Towers at 1450 West Georgia near Nicola Street; its exterior seems unremarkable and the building now blends in with numerous highrises in the dense neighbourhood.
Sometimes, however, a plain exterior masks an interesting past. Dig a little and you'll find Georgian Towers embodies decades of Vancouver's social, cultural and development history.
[caption id="attachment_297761" align="aligncenter" width="700"]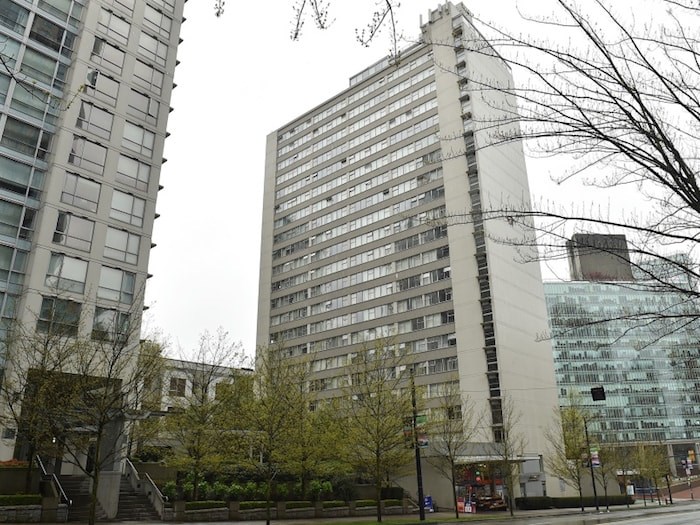 Georgian Towers at 1450 West Georgia St. is nearing the end of its life cycle, according to Wesgroup, which is proposing to replace it with a 49-storey tower. Photo Dan Toulgoet
[/caption]
It's served as both an apartment and hotel-motel over the years. Now dwarfed by other downtown buildings, it used to be one of the tallest in the city.
Soon it may be only a memory. It might be knocked down to make way for new construction — Wesgroup filed a rezoning application to replace it with a 49-storey tower designed by Yamamoto Architecture. Some commemoration plans are being considered.
Wesgroup's proposal indicates that Georgian Towers is at the end of its life cycle and would not withstand a moderate earthquake.
Looking back
Designed by Sharp, Thompson, Berwick and Pratt, it was built by Marwell Construction in 1955.
Jason Olinek, acting assistant director of development planning for the City of Vancouver, describes it as "one of the city's oldest modern-era, high-rise buildings, illustrating the beginning of the remake of downtown Vancouver's skyline."
"It was built a year before the City of Vancouver approved a new zoning and development by-law in 1956 which ushered in sweeping density changes for the downtown peninsula, which would eventually result in many new towers being built through the 1960s and 1970s," Olinek told the Courier in an email.
Opened as a residential building, Georgian Towners was converted into a hotel in 1958. It was converted back to residential units in the late 1970s and has since retained its apartment use.
A vintage 1960s-era postcard posted on Flickr reveals what it looked like in early days before development along West Georgia exploded — a neon "GT Hotel" sign is affixed vertically on the side of the building while colourful classic cars are parked in a large lot beside it.
A "Welcome to Friendly Vancouver" sign appears on the exterior of the lobby entrance — a smaller building attached to the hotel, which is now a convenience store.
David Palmquist, who lived nearby the property in the 1960s and later worked at the hotel, commented on the Flickr photo when it was first posted, recalling the H on the sign had neon tubing that spelled H or M.
"… at night [I] would fall asleep watching the sign alternate between Hotel and Motel," he wrote, adding, "While I was too young to appreciate it, Duke Ellington likely stayed here in 1962 while he was playing at Isy's just up the street. CBC broadcaster Bob Smith interviewed Ellington and Billy Strayhorn at the Georgian Towers for his Hot Jazz radio show on Nov 1 1962. I worked at the Georgian Towers from late 1970 to sometime in 1973 or 1974, so I know it was still a hotel until the mid-70s. Comedian Pat Paulson, the fellow who ran as US President, stayed here and we had other name guests as well — Glen Yarborough and Liberace come to mind. I remember during their Vancouver convention in the early 70s, some Shriners rode their motorbikes through our lobby and down the stairs behind our front desk."
Palmquist emailed the Courier some old newspaper clippings about Georgian Towers that offer another glimpse into the building's history, including instances when it was sold.
In 1959, according to then Vancouver Suncolumnist Jack Wasserman, the hotel became "what is probably the first establishment of its type to have a 'near new' Rolls town car (with 11,000 miles) at the disposal of its guests."
In 1960, Wasserman wrote that partners Frank Bernard and Frank Baker, who was a Vancouver alderman, were preparing to develop a $200,000 rooftop dining lounge in the Georgian Towers called "The Top of the Towers."
In 1964, Bernard bought the Georgian Towers Hotel and surrounding block-square property for $3 million, according to another newspaper piece. Bernard had been leasing the property.
Then, in July 1970, Wasserman wrote that Polish-born Calgarian Karl Surowiec bought the hotel for $4 million a month earlier from Bernard "in one of the largest real estate transactions in modern Vancouver history."
Wasserman, who described Bernard as a "well known civic booster and political backroom boy," explained that the day after Surowiec took ownership, "the hotel's reader signs, which regularly carried Social Credit political slogans and attacks on Suncolumnist Al Fotheringham (spelled "Frothingham" by Bernard), blossomed with the message, 'Give a Prairie Boy a Chance.'"
Vision of the future
The value of the Georgia Street property has, not surprisingly, skyrocketed over the decades.
BC Assessment valued it at just over $128 million on its 2019 assessment roll (based on its value as of July 2018.) The previous year, the site was assessed at almost $92 million.
If the rezoning application is approved, the plan for the new 49-storey tower is to reserve 17 storeys for 162 market rental units and 27 storeys for 193 strata units. Commercial space would be at ground level.
An open house about the project is set for April 30, while the application is being presented to the Vancouver Heritage Commission "for informational purposes" on April 29. There is no heritage retention of the existing structure proposed but there is a commemorative plan, the agenda states.
"The applicant has presented to staff four (4) development scenarios with various levels of retention of the existing building and assessed them for technical and economic viability. It has been found that full or partial retention of a large structure like this, and its integration with new development on site, would not be technically possible or economically viable. As a result, the replacement option was identified as the one which the applicant would like to pursue," the agenda notes.
Wesgroup's plan proposes that the original "Welcome to Friendly Vancouver" sign, which no longer exists, be restored and incorporated as an installation within the water feature on the ground floor public area with a commemorative plaque, while an amenity space would be created on the 22nd storey at the height of the original rooftop, which would be accessible to building residents and feature "panoramic views."
Heritage expert Donald Luxton produced a Statement of Significance (SOS) for the building for the developer.
The heritage value of the building appears to be at issue.
The heritage commission agenda states that the building is not listed on the Vancouver Heritage Register but it has been evaluated as a potential "B" building for possible addition to the register. However, it adds that the Vancouver Heritage Committee Statement of Significance subcommittee has expressed its opinion that the building may actually be an "A" resource on the register.
A spokesperson from Wesgroup declined to comment about its development plans.
The heritage commission meeting gets underway at 11 a.m., April 29, while the open house starts at 5 p.m., April 30.