A timely installation went up at the Canada Line City Centre Station this afternoon, one day after it was ANNOUNCED that the federal government will be restoring a substantial amount of funding for BC's Pacific Salmon Foundation.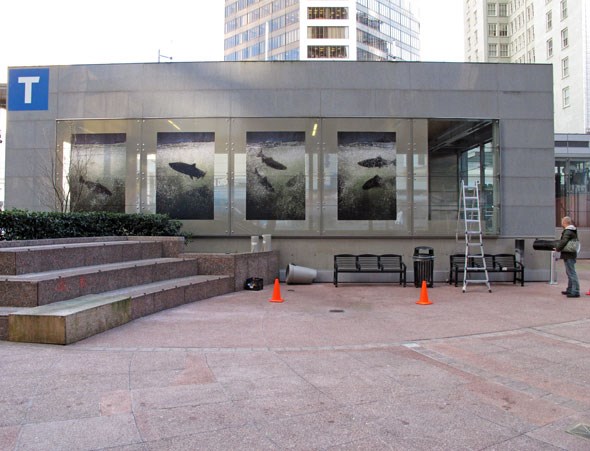 Mid-installation, there was still one photo to go up when I shot this
"Fish Ladder: Salmon in the Capilano" is a series of five photographs by Jim Breukelman commissioned by the City of Vancouver's Public Art Program in collaboration with the Canada Line Public Art Program. It pictures salmon at the Capilano River Hatchery, a place which we have featured here no less than 12 times over the years (HERE!), our most recent POST actually contains an image that captures a similar spirit as these ones but draws back the veil a little bit further with THIS VIDEO.
The work will be up from now through September 2013 and is meant to emphasize the mystery and movement of the salmon within the turbulent flow of water. The fish are depicted in the controlled environment of a fish ladder, or in this case, the frame of the photograph.
"What I find uplifting about these images is that, even though these creatures are being controlled, funnelled through a man-made environment, they retain their aura of wildness," Breukelman says.
"On another level, I like the whimsical idea of this piece being placed on the Canada Line entrance because the site houses a set of escalators, whose purpose is not unlike that of a fish ladder."
You can learn more about it HERE.