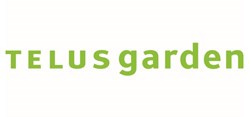 In this very special 4 part series we're taking you inside one of V.I.A.'s longtime Community Sponsor's upcoming downtown headquarters and residential towers, TELUS Garden. Making up an entire city block bounded in by Robson, Georgia, Seymour and Richards, it's currently under construction with residents, TELUS and other businesses all expected to be moved in by 2015.
In the first post I SHARED the re-imagined laneway with a lighting installation by renowned artist Martin Boyce. In the second post I SHARED the crazy - yet entirely real - notion that websites like this one you're reading will actually provide heat for the buildings. Today let's talk about TELUS Garden's location at Robson and Richards being "the most central, walkable address in the city".
Before I expand on that statement, have a look at this map below and note TELUS Garden's location.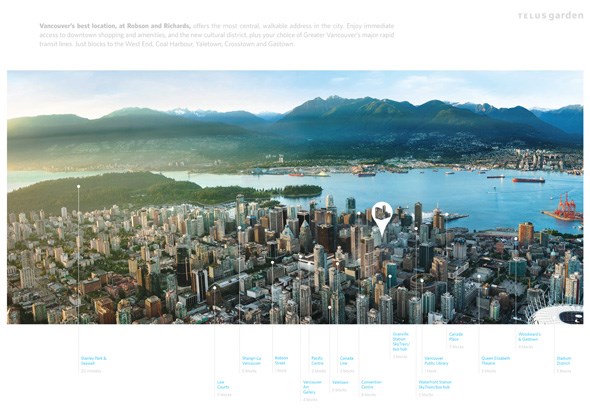 Click for detail
While it's ground zero for commerce its location is emerging as Vancouver's new Cultural District, the upcoming Vancouver Art Gallery move to the corner of Cambie and Georgia being another catalyst. It has immediate access to both major transit lines (Skytrain and the Canada Line) and is mere blocks from the West End, Coal Harbour, Yaletown, Crosstown as well as Gastown. The main branch of the VPL, Pacific Centre, Granville shops, the CBC (who currently are doing their Nooner series of FREE live outdoor music shows), the Queen E Theatre as well as the Vancouver Playhouse... these are all no more than two blocks away - like a three minute stroll. If you're into a ten or twenty minute walk as opposed to three then the entire downtown core is your oyster. Or maybe you'd like to get onto the Canada Line or the Skytrain, opening up the airport and most of Metro Vancouver to you without ever having to get into your car. It's true that it's all about location (location, location) in business, and in life. TELUS Garden's location is perfect (perfect, perfect) for both.
Learn more at TELUSgarden.com