Vancouver Heritage Foundation is a registered charity supporting the conservation of heritage buildings and structures in recognition of their contribution to the city's economy, sustainability and culture.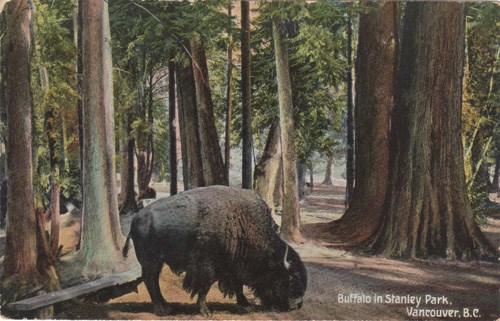 Since 1973, Heritage Day has been celebrated across Canada on the 3rd Monday in February. This year's theme for Heritage Week in BC (running Monday February 15th through Sunday February 21st) is Distinctive Destinations: Experience Historic Places! VHF has put together four fun events where we hope you'll join us but why not also take the week (or year) to discover new heritage and historic places in the city, province and country. Sometimes the most interesting discoveries are those on your doorstep.
Love vintage postcards? The images featured in this post are courtesy of the Vancouver Postcard Club's collection of Stanley Park postcards and you'll see much more at the Sunday, February 21st event during Heritage Week!
Official Heritage Week launch
Free Public Event
February 15th: 12pm - 1pm
Roundhouse Community Centre, Turntable Plaza on Davie St (181 Roundhouse Mews)
Join us outside for this fun, free public launch of Heritage Week. Deputy Mayor, Councillor Heather Deal, will read the official proclamation celebrating Heritage Week in Vancouver. You can also sign up to be part of a group of 30 people to take a 30-minute walking tour of the area with Civic Historian John Atkin. Sign up for the walk will begin at the Turntable Plaza at 12pm on February 15th and will be first-come, first-served. Come celebrate with the proclamation, walking tour and free coffee.
Selling Vancouver to Tourists: 1890-1960
Evening Lecture at Hycroft, by Author and Artist Michael Kluckner
February 16th: 7:30pm - 9:30pm
University Women's Club at Hycroft, 1498 McRae Ave.
Register Here, $15 or $9 with valid student ID
What were the "must-see" sites for tourists a century ago and how do they compare with today's? Author and Artist Michael Kluckner explores both the changes in Vancouver as well as the changes in the tourists drawn to visit. In this illustrated lecture, Michael will look at how Vancouver was marketed by the CPR and others as a tourist destination. He will explore the natural attractions, how people traveled, how First Nations culture was represented, tourist hotels and later auto court hotels, and more.
Spending the Night: Vancouver's Historic Hotels
Walking Tour of Downtown Vancouver
Saturday, February 20th: 10am - 12pm
$15 *Please note this walk is currently at capacity. Please phone 604-264-9642 or email mail@vancouverheritagefoundation.org to be added to the waitlist.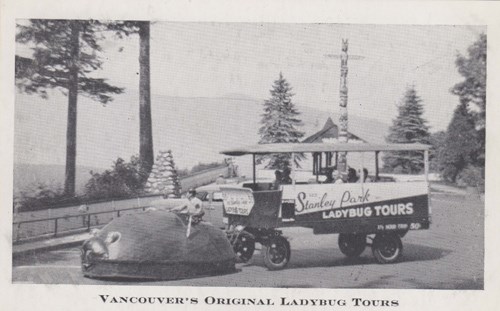 Historic Stanley Park: From British Enclave to Urban Oasis
Walking Tour of Stanley Park and Illustrated Lecture with Historic Postcards at the Vancouver Rowing Club
Sunday, February 21st: 9:30am - 12pm
Register Here $20 or $15 with valid student ID
This event earns 2.5 Non-Core LUs AIBC
After centuries of use by local First Nations, Stanley Park was transformed into an ode to British gardens, where Vancouver's settler population could feel at home. It has become one of the most famous city parks in the world, drawing thousands of tourists every year to its dense trails and expansive seawall. On this walking tour, with historian Maurice Guibord, we'll explore elements of its early First Nations history along with some of the sites that launched the park as an Edwardian recreational enclave including the statues of poet Robert Burns and Governor General Lord Stanley, and Shakespeare's monument in his own rose garden. From there we'll enjoy the comfort of the Vancouver Rowing Club with a warm beverage and a short introduction to the history of the Club from General Manager Keith Jolly. Followed, by an illustrated talk by Maurice with vintage postcards from Vancouver Postcard Club's Collection on the park as a tourism destination, highlighting monuments and buildings, as well as greenery and critters.