Vancouver Heritage Foundation is a registered charity supporting the conservation of heritage buildings and structures in recognition of their contribution to the city's economy, sustainability and culture.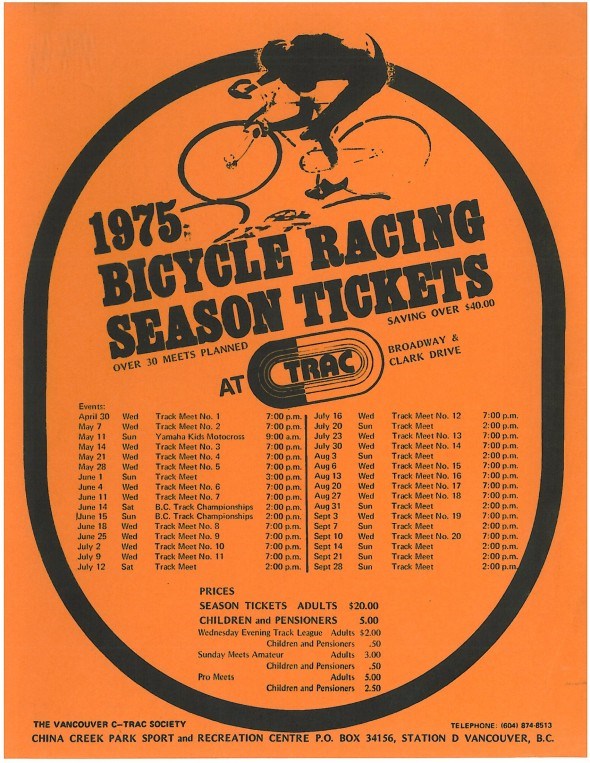 We've been working on the China Creek Cycle Track plaque presentation for the past few months, and it's been a fascinating look back on a place that holds a lot of great memories for many people. We may not be able to watch the "thrills and spills" of live outdoor track racing, but you can be part of a historic reunion, and listen to the history (it's long and layered) and the first-hand stories by racing veterans. Feb 6th at  10am, Vancouver Community College Broadway Campus, 7th Ave entrance, 1st floor atrium and join us 'cause since we've already lost 'Ace', there won't be many more occasions to hear from the guys and gals who rode the track..
We've been posting photos of the China Creek Cycle Track (from local legend Lorne 'Ace' Atkinson's extensive scrapbooks) on social media and folks on Facebook and twitter have left some great comments.  Michael Cooper  posted this photo for us on Facebook with the awesome caption:
"This is the sprint final for a race on the China Creek Cycling Track, probably in 1976 or 1977. That is the Washington State sprint champion Richard Snavely on the bottom, me leading at the top of the banking and Ed McRae behind me. The track was torn down in 1980. Our last full racing season was 1979. I was the last BC Track Champion on this track."
Mike Cleven writes " I remember that track ; didn't know it was still in use as late as '79....close family friends lived on 13th between Clark and Glen, was around that area a lot and of course when you drove Clark it was hard to miss....China Creek gets its name from the winter riots of 1885 when the Chinese were driven out of old Gastown and regrouped in the ravine there.....then afterwards moved down to Dupont/Pender Street.....
Kathy Dunster wrote " I rode on the China Creek Track from 1977-1979 - sweet memories of the sound of wheels on wood."

And Gus Paterson commented on Ace- "Watched him ride this many times on C-Track!Raced against him many times in training APRs, he was crafty, he always beat me in the Sprint, he 1st. moi 2nd."