Vancouver Heritage Foundation is a registered charity supporting the conservation of heritage buildings and structures in recognition of their contribution to the city's economy, sustainability and culture.
Laneway housing is not a new idea in Vancouver. As early as the 1890s there are documented examples of small houses built with lane access in addition to a larger main house. In more recent history, the lane house has become one method of adding density while keeping existing homes that contribute to the character of individual neighbourhoods.
Next Saturday, October 24th, VHF is opening 5 newly constructed laneway homes all built behind existing residences for the 2015 Laneway House Tour. All are distinct in design often drawing on the main house for inspiration. Examples include one with a charming storybook-inspired rounded entry door and character-inspired details inside and another that designed a separate garage in order to preserve a mature magnolia tree. This tour allows you to experience living on the lane, and to see how it can work for heritage.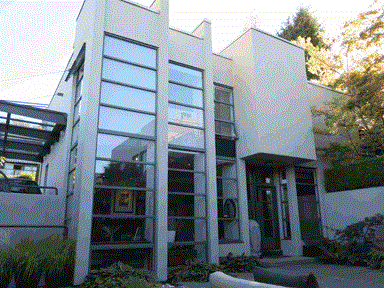 Also open on this tour is an infill project from 1990 (pictured above). Not technically a laneway house, this infill built on the lane is actually part of a creative preservation plan. The main house, built across a double-wide lot, is the 1936 Barber Residence, one of Vancouver's few examples of Art Moderne residential architecture. Since the home spanned two lots, it was under potential threat of demolition until Architect Robert Lemon came up with a plan that would help set a standard for future heritage revitalization projects. In exchange for approval to construct a strata-titled 2,000+ square foot infill house, the A-listed Barber Residence was restored and received heritage designation. Join us to see inside the home as well as experience the clever use of landscaping that ensures privacy for both homes, and exterior design elements drawn from the 1936 architecture.
Tickets are still available for the tour through our website or by calling the office. We will also have an Info Booth set up on tour day where tickets can be purchased. Please check back to our website late next week for day-of-tour ticketing information. All proceeds from this event go towards supporting VHF's educational programming and ongoing efforts to support Vancouver's built heritage. To find out more about Vancouver Heritage Foundation visit our website and visit us on Facebook or Twitter.