Vancouver Heritage Foundation is a registered charity supporting the conservation of heritage buildings and structures in recognition of their contribution to the city's economy, sustainability and culture.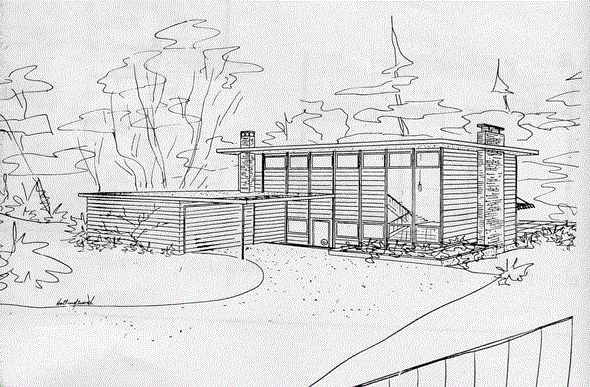 Sketch of Saba House included on 2006 Mid Century Modern tour brochure
Many of Vancouver's historic buildings were influenced by Western European architecture, but how many can be credited for creating a style particular to Vancouver and the West Coast? To educate and inspire, VHF's Mid-Century Modern House Tour takes place Saturday, September 20th from 1-5pm showcasing a distinctly West Coast architectural style and the architects who have become internationally renowned. One house on this year's tour is the 1947 Saba House by Charles 'Ned' Pratt, listed not only of primary significance on the Vancouver Heritage Register but also as one of Canada's Historic Places. Using available cedar and fir, floor to ceiling windows, and designing an interior for maximum livability, Pratt's two level Saba House is functional as well as beautiful and suited to the West Coast climate.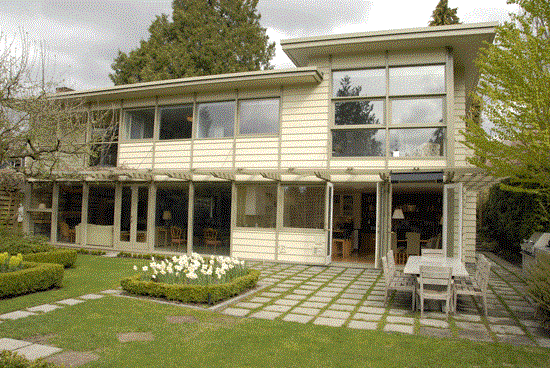 Pratt joined the Vancouver architecture firm of Sharp and Thompson in 1937 and throughout the 1950s-60s, the firm of Sharp, Thompson, Berwick and Pratt designed iconic modern buildings like the BC Electric Building (1957)  and worked with notable Canadian architects, Barry Downs, Arthur Erickson and Ron Thom, until closing in 1990. Pratt was born in Boston but raised in Victoria and Vancouver, and went to the 1933 Olympics for rowing. A recent article on Ned Pratt's 1951 West Van home shows the adaptability of west coast modern design and its appeal today in renovated homes and new modern constructions. Ned Pratt was a key figure in the development of post and beam construction in the Vancouver area.
The home on this years tour was built for the Clarence Saba Family. Do you remember the Saba Bros. ? If you walk north down Granville Street just past the Hudson's Bay, you can imagine in 1925 shoppers passing the elegant Saba Brothers shop. 
 "Saba Brothers opened on West Hastings  in November 1903. Two years later, the store moved to the 500 block Granville. By 1940, Saba's was the largest retail house in Western Canada specializing in silks. Although hit by shortages in WWII, the business survived. In 1942, there was a riot when 500 women stampeded the store to buy 300 pairs of nylon stockings (no one was hurt). In 1947, the company built a new five-storey $250,000 store at 622 Granville. In 1954, opened a Victoria outlet. Alex's three sons, Edgar, Clarence and Arnold, later managed the business." (The History of Metropolitan Vancouver 1954, www.vancouverhistory.ca ).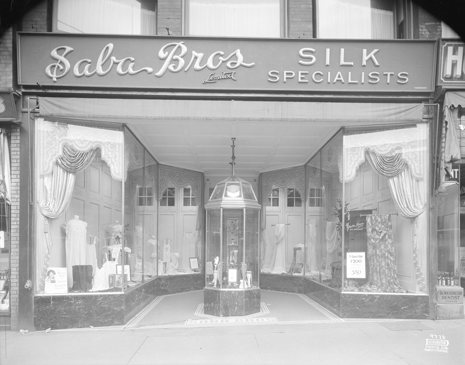 CVA 1399 528 Photograph of Saba Bros Storefront job No 235. C 1925