Vancouver Heritage Foundation is a registered charity supporting the conservation of heritage buildings and structures in recognition of their contribution to the city's economy, sustainability and culture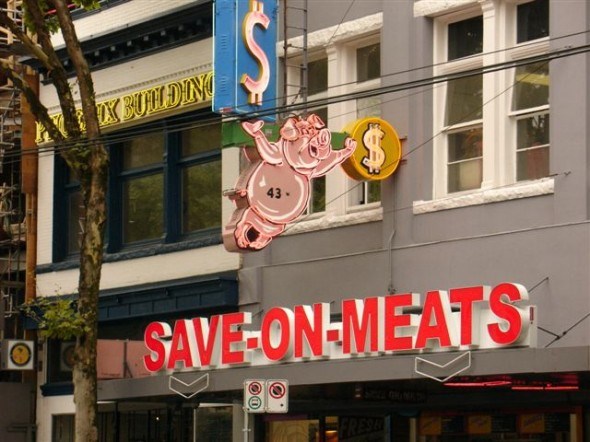 Places That Matter in the city have had long and layered histories, and nowhere is this more apparent and complex than in the DTES historic neighbourhood, Gastown. The challenges of working in the DTES and revitalizing Gastown will be discussed by social entrepreneur, Mark Brand, on his Save On Meats project. He'll explore the associated difficulties of supportive employment and working with a vast network of business people and social enterprises alike. We love Save On Meats 'cause it's also one of the city's 125 Places That Matter.We're excited to have Mark Brand speak at VHF's Brown Bag Lecture this Wednesday, October 24th from 12-1pm + Q&A until 1:30pm. All Brown Bag lectures are at BCIT's downtown campus, 555 Seymour. Check out all other Brown Bag Lectures this fall.  Room number is posted at the main entrance, drop in with $12 cash, bring a lunch and listen to an  insightful presentation on the built environment, Q&A to follow.
Also this week: Places that Matter plaque presentation # 41 Trout Lake Saturday Oct 27th at noon. Meet at the NW dock and bench at the lake, see map. Skating on the frozen lake was clearly a favourite pastime for many in the city in 1929, so much so that photos like these were taken for Star Publishing Co. Trout Lake was a natural peat bog fed by many streams and home to trout, salmon and beaver. From the 1860s until the city built its Capilano water system in the 1880s, the lake provided water, via a flume, for the boilers at Hastings Mill on Burrard Inlet. The lake and the surrounding land were donated to the Park Board in the 1920s (records show 1926), by Aldyen Hendry Hamber, on the condition it be named for her father, John Hendry, one of the industrialists who had owned the Hastings Mill.
Check out more photos from 1929 and 1891!