Vancouver Heritage Foundation is a registered charity supporting the conservation of heritage buildings and structures in recognition of their contribution to the city's economy, sustainability and culture.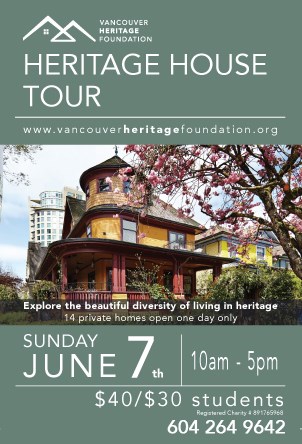 This weekend is Vancouver Heritage Foundation's biggest fundraising event of the year, the Heritage House Tour. With a forecast of glorious mid-20 degree weather, we are looking forward to an amazing day of touring inside private heritage and character homes throughout Vancouver. We have cozy homes with big history, including one with connections to bootlegging and police raids and another with ties to the greatest of summer traditions, the P.N.E. There are apartment buildings, both historic and industrial, and beautifully renovated classic homes with wonderful finishes, including an award-winning West End stunner. You can gather all your friends and carpool, or hop on a bike and cycle the route. This year there are 6 of 9 stops north of Broadway (including the two apartments) so the tour is very bike-able. If you plan well, you can probably even do the whole thing on transit!
If you don't have your tickets yet, come visit us on Sunday, June 7th at one of our Info Booths, both are open from 9am until 3pm on Sunday:
Info Booth #1 - 188 W 1st Ave
JJ Bean False Creek
Show your tickets at this JJ Bean location on June 7th to get 10% off your purchase of coffee and snacks
Info Booth #2 - 6385 Marguerite St
Stop by between 9:30am and 1pm to meet author Eve Lazarus! Two of Eve's books feature one of the tour homes and she'll be selling and signing copies for tour ticket holders. $5 from every book sold will be donated to VHF.
You can also get tickets today and tomorrow online through our website, or at one of our tour partner stores. All the details are on our website.
VHF is a registered charity with all the proceeds supporting our efforts to educate about and promote Vancouver's built heritage. It's a big year for heritage in Vancouver, so come see nine stops, 14 homes in total, that prove heritage homes are worth saving.