Vancouver Heritage Foundation is a registered charity promoting the appreciation and conservation of our city's historic places for current and future generations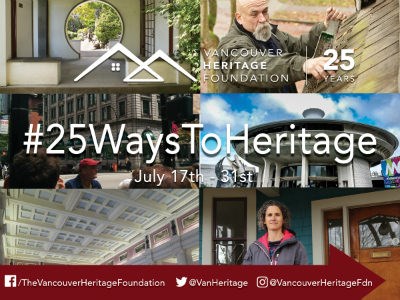 On July 24th, VHF will celebrate 25 years of operations. We're proud of this achievement and to celebrate this milestone, we have created a fun, interactive list of 25 ways you can get involved and explore heritage resources across the city. Bring the family, your friends or get to know your neighbourhood while learning more about our city's built heritage. There are many more ways than our 25 and we'd love to hear what you come up with! Visit our website to see the #25WaysToHeritage to get you started. Then from July 17th-31st you can take advantage of special offers and also participate in our social media contest for a chance to win a VHF prize pack. Join us in celebrating our city's heritage buildings and sites.
The list includes free or low-cost and family-friendly ideas as well as highlighting Vancouver's historic places and organizations. So take a closer look at a heritage building, explore our online resources for inspiration, let the kids explore the Dr. Sun Yat-Sen Classical Chinese Garden or the Vancouver Maritime Museum, take a friend to a new exhibit at the Museum of Vancouver, grab a neighbour and see what interesting bits of history are available at the Vancouver Archives or Nikkei Museum and Cultural Centre, or enjoy a Vancouver passtime like seeing the Canadians catch pop-flies at historic Nat Bailey Stadium. For more information about #25WaysToHeritage and to view the full list of ideas and offers visit our website and don't forget to follow us on Facebook, Twitter and Instagram and enter the contest. Thanks for celebrating with us!