As Jasmine Varsanyi approaches Seaspan Shipyards in North Vancouver, she sees the future on all fronts.
It's a future that provides generational employment stability.
It's also a future that ensures Canadian sovereignty.
And perhaps most importantly, it's a future that is committed to protecting our natural world.
Varsanyi is a newly hired pipefitter at Seaspan, where she works on massive ships that will make a lasting difference: one is a Joint Support Ship for the Royal Canadian Navy, the longest naval vessel ever to be built in Canada, while the other is an Offshore Oceanographic Science Vessel for the Canadian Coast Guard.
"There's definitely a huge sense of pride that you have working on these projects because what we are working on right now will ensure that our oceans remain healthy," Varsanyi says. "These are massive projects that won't just benefit a community or a country, this is helping out the entire world."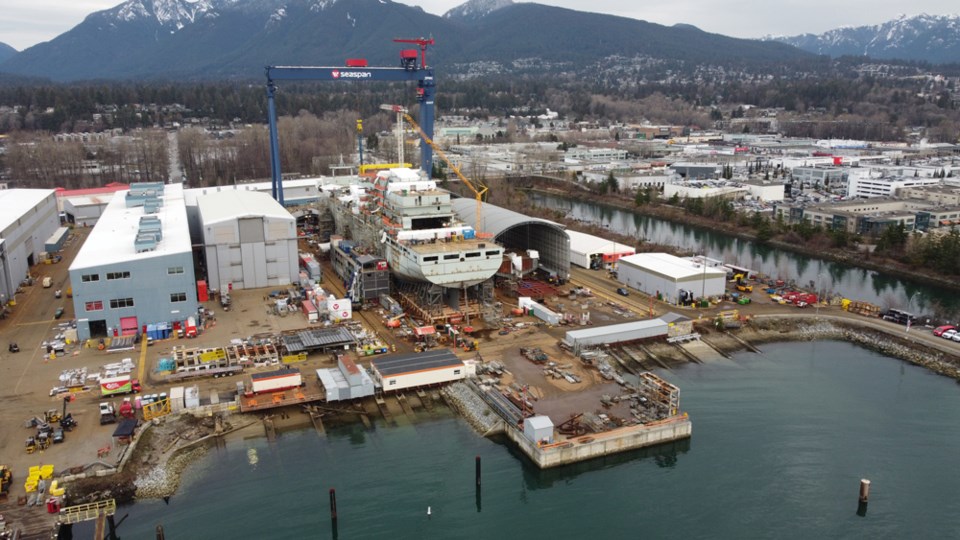 Seaspan Shipyards is currently constructing two Joint Support Ships for the Royal Canadian Navy, which will provide support to naval task groups: the re-supply of fuel, food, ammunition, spare parts and other supplies for Canadian and allied ships at sea.
Seaspan Shipyards is also constructing one Offshore Oceanographic Science Vessel (OOSV) for the Canadian Coast Guard, which will be the primary oceanographic science platform for Fisheries and Oceans Canada. Equipped with the latest scientific research apparatus, the OOSV will be able to meet its crucial mission to increase our overall understanding of the impact that climate change has on the oceans.
These are two examples of the diverse projects Seaspan employees are currently working on. The work is both rewarding and interesting – and there's more of it in the decades to come.
To that end, Seaspan Shipyards is hiring hundreds of skilled trades workers in the Lower Mainland across numerous skilled trades positions: welders, millwrights, electricians, pipefitters and more.
These are career openings that are quite literally a once-in-a-lifetime opportunity.
Why?
Because Seaspan Shipyards projects are in it for the long haul: there is steady work for the next 25 years on projects of importance to Canadians that align with Seaspan's values of protecting the environment and national sovereignty.
These are not remote camp jobs where employees leave families and loved ones for weeks at a time. Instead, Seaspan Shipyards employees are back home at the end of the work day to enjoy their free time.
"The biggest benefit for the people who've grown up and live around here is that they do get to go home every night and they can kick their feet up on their own couch, eat food from their kitchen and be with their partners and kids," Varsanyi says. "Beyond that, this is likely one of the best long-term, good-paying jobs you can get if you live in this area."
Matteo Soriano is in the same boat as Varsanyi – quite literally and figuratively.
He's a 24-year-old electrician who was contemplating leaving the trade altogether before applying for a career at Seaspan.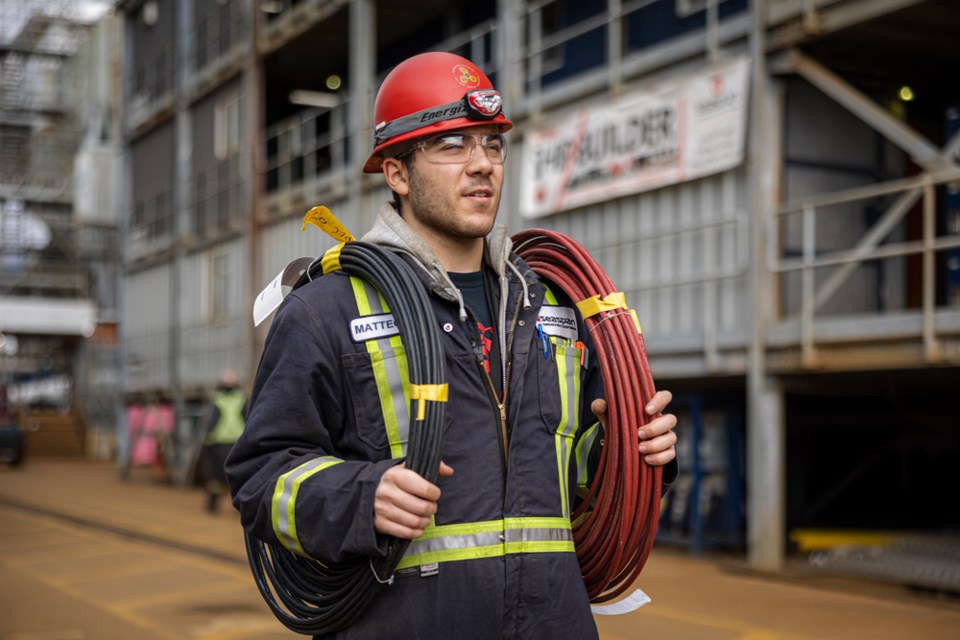 On the job since December 2022, Soriano's passion for the profession has been rekindled. And more importantly, he sees a future full of promise and stability.
"With the job I was working before, there was no way I could see retirement," Soriano says. "Whereas now, there is a goal for my future. I'm still young but I know that if I stick around for a long time, I'm set for my future."
Fantastic benefits, a pension and a high-paying, union job are all perks for Soriano. But like Varsanyi, knowing that he's a part of something much bigger continues to pique his interest in a career at Seaspan.
"Every day when I get to work I look at the whole scope of what we're doing, or the ship I'm working on and it's incredible," Soriano says. "I'm so proud of the work I'm doing. I'm way happier in this job than the one I was working before."
The future is yours to build. For more information on Seaspan job openings, visit www.seaspan.com/the-future-is-yours-to-build/.