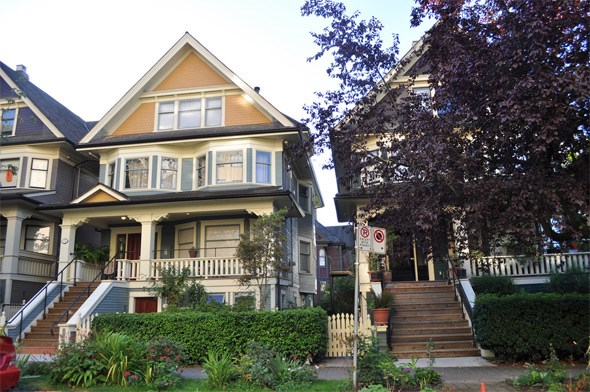 Photo: Joe Mabel
First-time homebuyers might gulp at the thought of taking out a mortgage to buy a home in Vancouver — and who can blame them? Report after report indicates that prices of homes in Vancouver are constantly rising. Add to that the expenses associated with buying a house and moving into it (along with furniture, life expenses and so on), and it's obvious why a new homebuyer would be feeling anxious.
The good news is mortgages in Vancouver aren't just for the incredibly wealthy. There are many programs to help homebuyers —especially first-time homebuyers— take the plunge into ownership. Nowadays, mortgage lenders offer awesome incentives to help homebuyers out, so they don't have to worry about sacrificing their long-term investments—or their future—for the sake of buying a home.
It's not just lenders helping out, either. For first-time homebuyers, the federal government offers the Home Buyers' Tax Credit. Started in 2009, the program provides a non-refundable tax credit to first-time buyers who purchase a qualifying home (basically, a home in Canada that the buyer will reside in within a year of purchasing). Anything helps, right?
First-time homebuyers can also take part in the Home Buyers' Plan, which allows people to withdraw money —up to $25,000— from their RRSP to buy or build a qualifying home. That withdrawn money is not included in the homebuyers' income and there is no withhold tax on the withdrawals—sweet! But there is a catch to be aware of: buyers have to repay the full withdrawal to the RRSP within 15 years, and there are rules on paying that money back.
In addition to programs from the government, many mortgage lenders now offer their own incentives to help with the financial stress of buying a home. Some lenders offer perks including cash back or lines of credit as an incentives for their customers.
Coast Capital Savings, for example, now offers a program called Help Extras™, aimed at relieving some of the financial worry around taking out a mortgage. Homebuyers who take out a Coast Capital mortgage with a term of three years or more receive up to $1,000, while those who settle on one- or two-year terms receive up to $500. Even better, that money can be deposited into the fund of the homeowner's choice—an RRSP, RESP, Tax-free Savings Account (TFSA), or another investment. Help Extras are paid not only at the time of taking the mortgage out, but when it's time to renew your mortgage again; you'll be eligible for more Help Extras.
The incentives offered by lenders, combined with low interest rates, make the financial side of buying a home as close to stress-free as it can be these days. We can't make any promises about the stress that comes with packing and moving, though.