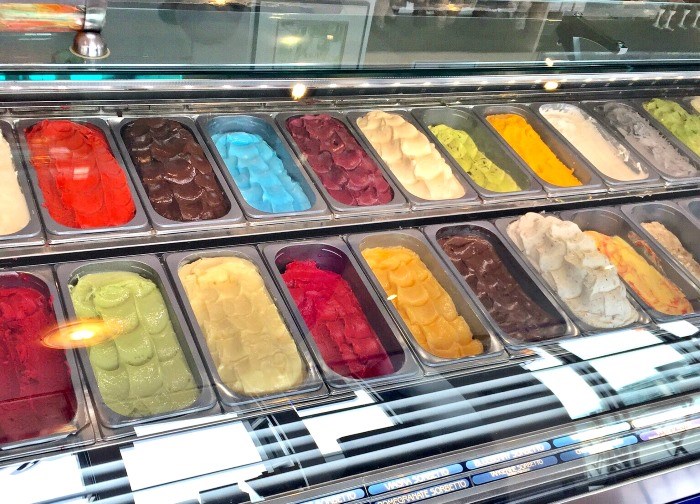 On the corner of East 1st Avenue and Quebec Street is a sweet slice of Italian family heritage, Amato Gelato.
Stepping into the shop, you'll find smiling employees and gelato in every direction. Straight ahead and to the left are six vibrant rows of flavours, proudly displayed in their separate display cases. To the right is a wall freezer full of treats to pick up and take home, from 5.7-litre tubs of gelato to handheld ice cream sandwiches. This store has been serving anyone with a sweet tooth for eighteen years, but their history as gelato-makers goes all the way back to 1929.
"It's my dad's grandfather who started making gelato & sorbetto in Italy," says Elizabeth, daughter of Amato Gelato founder Mario LoScerbo. "The recipes and techniques that are still used today were passed down to him from his Italian ancestors."
After travelling around the world as a chef, Mario decided to settle down in Vancouver and open up a restaurant. There, he began making Italian ice cream as a dessert, but the constant demand for his frozen treats pushed him into the world of wholesale manufacturing under Mario's Gelati. The company has been making gelato in Vancouver for forty years now, and after outgrowing its production facility on 5th and Main, he and his family relocated to the current building on East 1st Avenue where the Mario's Gelati production facility & Amato Gelato retail shop is located.
"Amato Gelato is fondly named after the rural town that my dad was born in, Amato in Italy," Elizabeth says.
She and her brother grew up near Mario's Gelati, and they have been involved with their dad's companies ever since it was opened. Elizabeth works alongside her father, brother, friends, and two-year old daughter.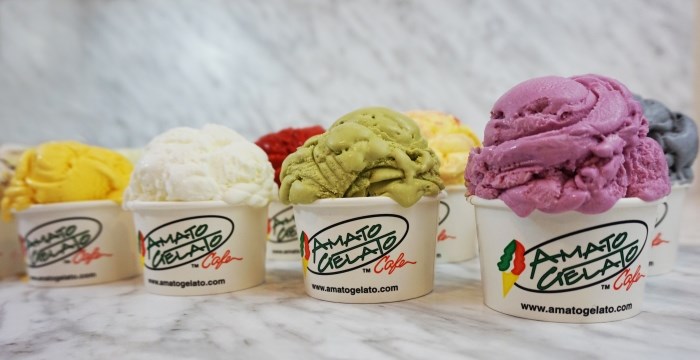 "The one thing that we have kept close to heart is the quality and consistency of our product. We use local BC ingredients whenever possible which is not only better for the economy & the environment, but also better for your taste buds," she says, about the evolution and uniqueness of Amato Gelato. "Wholesome ingredients are the key, and so is sticking to the science behind making gelato. Gelato is a lot denser than your regular ice cream with less air and has a lower percentage of butter fat. The flavours come out a little crisper, and if you were to compare a litre of our gelato to a litre of ice cream, ours is heavier, so you're actually getting more value and flavour out of the same size."
When it comes down to it, authenticity is what makes Amato Gelato stand apart from other gelato shops in the city. They stay true to their Italian roots, family traditions, and holistic approach to food.
Luckily for diabetic, vegan, and lactose-intolerant Vancouverites, they're also careful to "listen to the requirements of people's health needs." Customers with dietary restrictions can try their goat's milk gelato, no-sugar gelato, vegan sorbettos, and creamy soy-based gelato.
Because their factory is one floor up from the storefront, it's easy for shop employees to have fun with their flavours. Every once in a while, they offer ones like Viagra (disclaimer: it "doesn't really have Viagra in it, but it's blue" and citrusy) or make custom gelato for chefs and clients. Some of the shop's regular favourites are espresso flake, tiramisu, green tea (of which Mario was the first to create it in the city!), coconut and "a lot of the sorbettos." Elizabeth always recommends white chocolate raspberry, mango peach, black forest, stracciatella, and pear and raspberry sorbetto as her favourites.
Mario's Gelati and Amato Gelato are also well known for their vanilla bean and chocolate gelato, which is "a little bit darker than most [since] traditionally, Italian chocolate has more cocoa in it."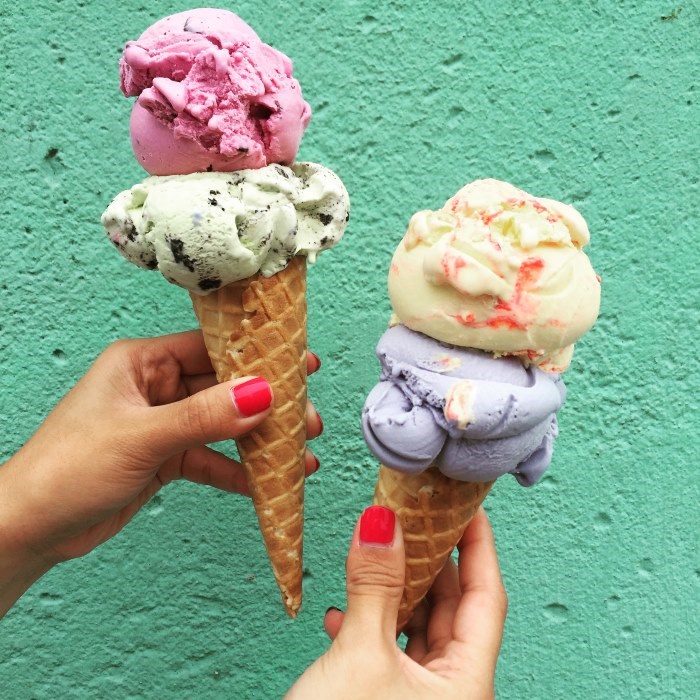 After tasting the espresso flake, it's easy to see why their products are so well-loved. The coffee flavour is rich and creamy, and the crunchiness of the chocolate flakes offsets the smoothness of the gelato, making it perfect for a hot day in the city.
In their sorbettos, you can tell that they use natural and local BC ingredients; instead of tasting like the artificial version of a pear, it was like taking a bite of the real thing. Unlike the espresso flake, they make for a lighter and more refreshing dessert, but the flavour definitely isn't sacrificed. Sitting in the parlour with a waffle cone in-hand, Amato Gelato's welcoming staff and atmosphere made it easy to stay and browse for what to try next.
"We've been around since the beginning. My dad likes to call himself the pioneer of gelato in Vancouver, and honestly, he is," says Elizabeth. "We have customers who have been coming to us for 40 years…and hopefully, we'll be here to serve gelato for generations to come."
Check out their Instagram and Facebook pages, where Amato Gelato regularly posts about their delicious creations.