Picture it as a 20-year glimpse into the future that promises peak health, unwavering discipline and the ideals of being a good neighbour and citizen.
These fundamental skills are central to the new kid-first athletic initiative Stick to School Program being rolled out by the Vancouver Warriors, sponsored by Booster Juice.
The National Lacrosse League club is sending its players to schools across Metro Vancouver for sessions best described as "Lacrosse 101" that speak to ideals and concepts that overlap between sports and studies: dedicated work ethic, goal setting, and fostering healthy minds and bodies.
"The things you learn in sport that make you successful are the same things you learn in school that make you successful — it really comes down to discipline and grit," explains Warriors' chief business officer Colby Fackler. "In school, you'll come up against problems that are tough to comprehend. In sport, you're going to lose a game or a battle in the corner. Good athletes and good students pledge to keep working. They dig deep and figure it out."
Since early November, the program has conducted eight sessions, reaching 3,500 kids ranging in age from kindergarten to Grade 9.
Each session consists of equal parts education and fitness. Over the course of an hour, the club's players present a PowerPoint presentation on who the Vancouver Warriors are, the history of lacrosse, its Indigenous connection, the first people's perspective of learning, and the rules of the game.
After that comes a fitness component, where players engage with the students and teach them the basic rules of lacrosse through fun interactive drills and games. Teachers from the school, or even the principal, then don goalie gear and have their students take shots at them, which is a particular crowd-pleaser.
The students are also given information booklets with details on how to register for their own local lacrosse association should they want to take up the sport on a full-time basis. The booklet includes a Booster Juice coupon for the students to enjoy a drink.
Following each assembly, the club also gifts each school kid ticket vouchers to a 2022-23 Vancouver Warriors home game. At the end of the year, the Warriors will draw one lucky school that will receive 30 lacrosse sticks and balls for their school's P.E. program, where the students can continue to learn and develop their lacrosse skills.
"Lacrosse is our official, national summer sport, but a lot of kids may not know about it yet," Fackler explains.
"If you're lucky, you may get a one-week program in P.E. class, and that might be it. For us, we want to build this out so we can let people know about the sport of lacrosse. One of the big pieces here is the Indigenous roots of our sport and the first peoples' principles that tie in nicely with B.C.'s education curriculum."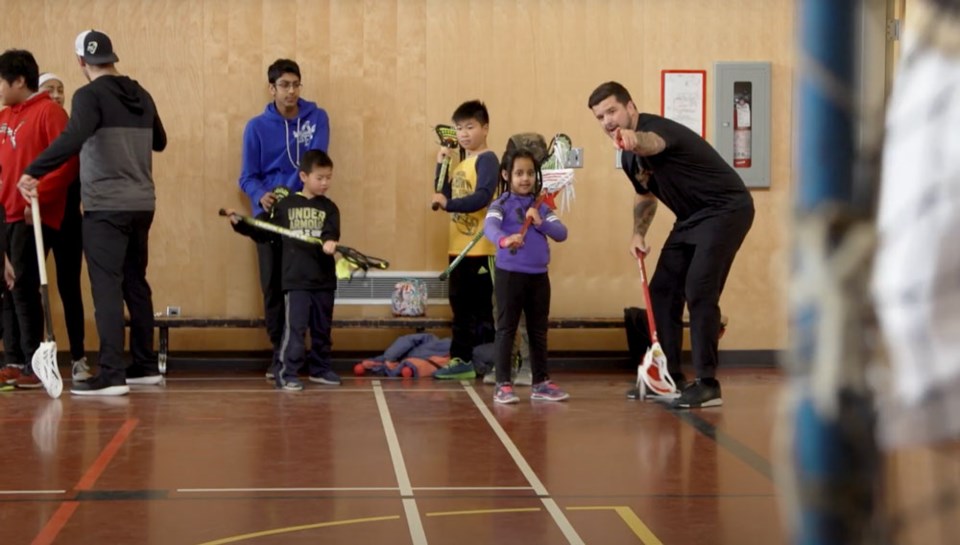 Mitch Jones, Reid Bowering, Brett Mydske, Adam Charalambides, and Tyler Codron are the five players selected to represent the club, and their inclusion is not by chance. Each of the three team captains is represented in the group, there a few fathers among the fivesome, and all but one is local to Metro Vancouver.
"We try to broadcast the fact that Mitch Jones, for example, he's from the Ladner/Delta area, so these students can look at Mitch and recognize he is just like one of them: he grew up in the area, and now he's a professional lacrosse player," Fackler describes.
"The same can be said for Reid Bowering – a Coquitlam guy who is now a professional lacrosse player who also plays for Team Canada. It makes a difference to the kids when they see the local guys coming up, and they understand that being a professional lacrosse player isn't some far-off, unattainable dream."
For any inquiries, or if you'd like to register your school for the Stick to School program, visit vancouverwarriors.com or contact Hailey Gearey at hailey.​gearey@​vancouverwarriors.​com.