With everything that's happening in this world, Celebrities Nightclub wants to remind people that 'All We Need is Love' during this year's Vancouver Pride Week!
An iconic nightlife destination in the heart of Davie Village, Pride community members and their allies are invited to check out the lineup of events during Celebrities Pride from July 26 to 31. This year, guests can expect to see a diverse and inclusive lineup of talented DJs, dancers, and drag performers on the Celebrities' stages.
The theme for this year's Celebrities Pride is Y2K, promising to take Pride celebrators back to the dawn of the new millennium with callbacks to plenty of early 00s pop culture nostalgia in the forms of Tamagotchis, Game Boy, Hubba Bubba, Ring Pops, Bratz, flip phones, butterfly clips, and all things glittery and fun!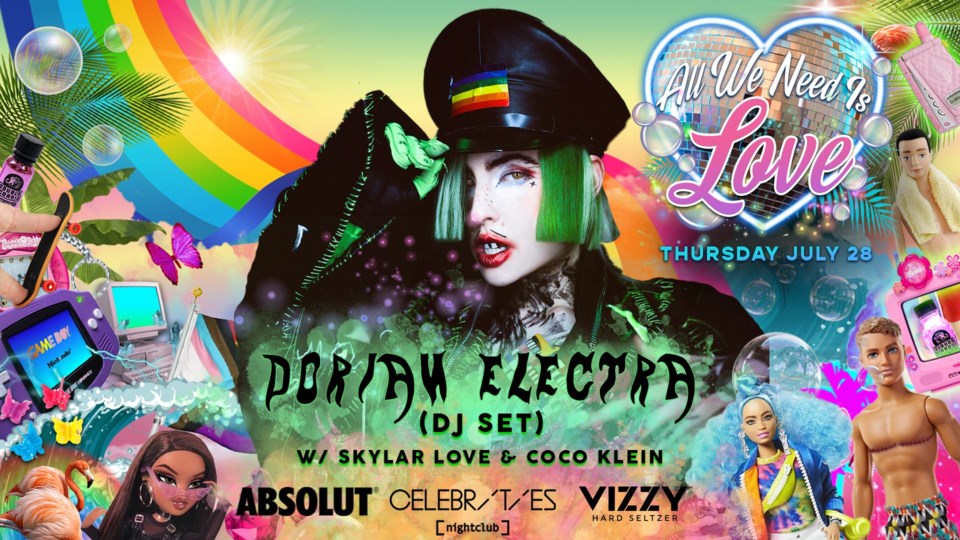 Headlining on Thursday July 28, Dorian Electra (they/them) will perform a DJ set featuring Skylar Love and Coco Klein. The flamboyant singer, songwriter and performance artist will bring their avant-garde sound and extravagant style to the Celebrities stage.
Headlining on Friday night on July 29, Vancouver's favourite girl gang trio Bratpack features three stars of Canada's Drag Race Season 2 — runner-up Kendall Gender, Top 4 finalist Gia Metric, and 7th place finalist Synthia Kiss.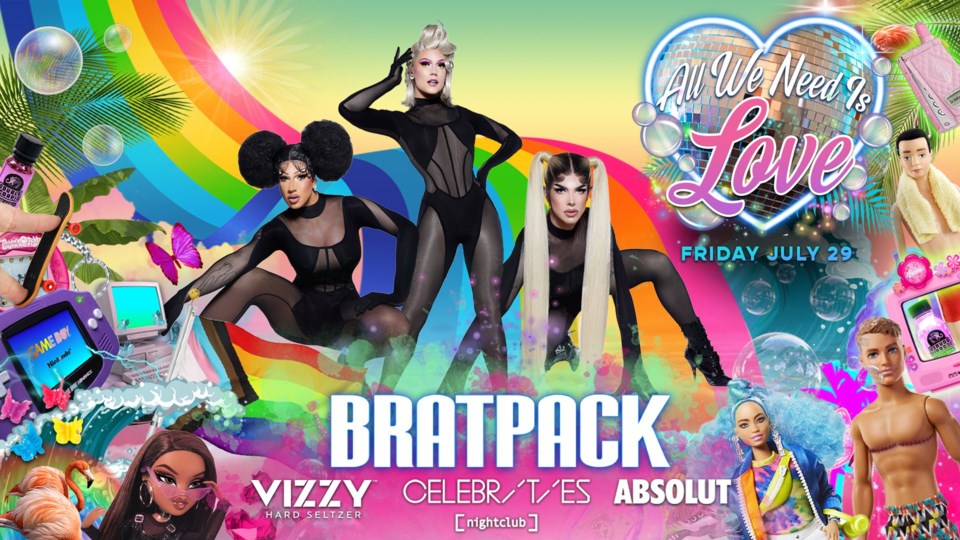 Other Pride Week events on Celebrities' 'All We Need is Love' schedule are:
Celebs Tuesday Pride Edition on July 26
The Queer Prom & Variety Show (hosted by Breanne Williamson) on July 27
GO DOWN by Prism x UHall on July 29 at Village Studios
PRIDEHOUSE Saturday (featuring MYGAY!HUSBAND!, Sam Steele, SIVZ, and Gissala) on July 30
DJ Dickey Do with Mankeen and Adam 2 on July 30 at Village Studios
Legendary Pride Sundays on July 31
Underground Legendary Sundays on July 31
Legendary Pride Sundays has been a part of Celebrities Pride for years. This year's edition will be a 14-hour non-stop party with 9+ DJs, drag performers, a Best Butt Contest, go-go dancers, and more. Legendary Pride Sunday will open at 2 p.m. and run until 4am, with free entry for those who arrive fashionably early before 9 p.m.!
Go to thisisblueprint.com/celebrities-pride-2022 for tickets and more information. To allow folks with financial barriers to be able to access their Pride events, pay what you can pricing is also available for Celebrities Pride events.