Broadway Across Canada (BAC) is hosting the North American tour production of Broadway's Come From Away for a limited engagement from August 16 to 28 at Queen Elizabeth Theatre.
Directed by Tony Award winner Christopher Ashley and with book, music, and lyrics by two-time Tony Award nominees Irene Sankoff and David Hein, this heartfelt musical tells the remarkable true story of Gander, Newfoundland and how they welcomed 7,000 diverted and stranded passengers from around the world into their small town following the events of 9/11.
At the start, cultures clashed and nerves ran high, but the uneasiness turned into trust, music soared into the night, and gratitude grew into enduring friendships. A celebration of kindness and compassion, Come From Away showcases the very best of humanity in the midst of unprecedented times when life goes off course.
Since debuting on Broadway in 2017, Come From Away has surpassed all expectations by becoming a critical darling and box office success, ranking up 7 nominations at the 71st annual Tony Awards and becoming the longest-running Canadian musical in Broadway history. To date, the musical production has been performed for audiences in Toronto, Winnipeg, London's West End, and in cities across Europe and Australia.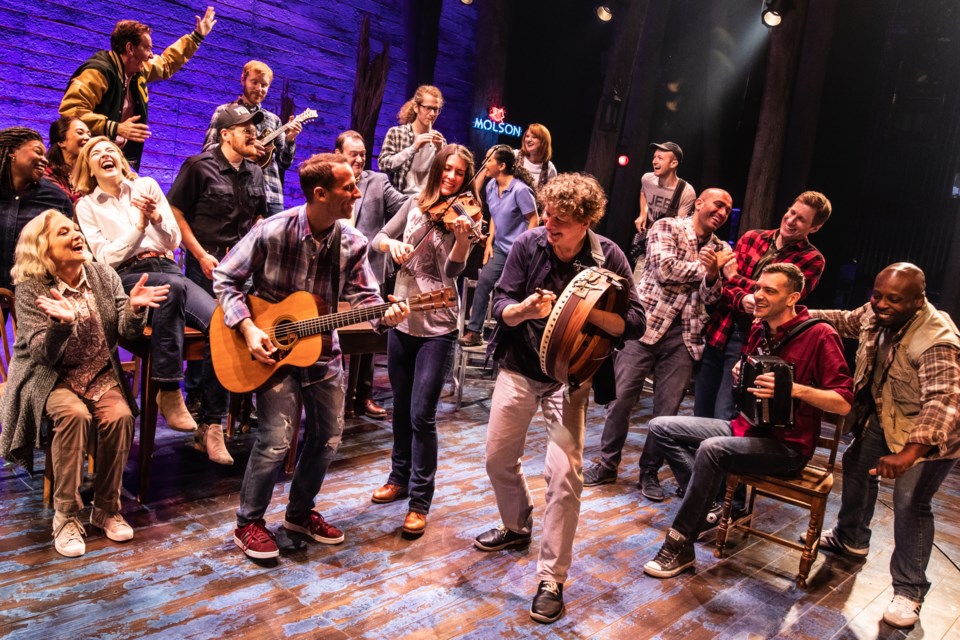 The North American Tour of Come From Away. Photo: Matthew Murphy / Broadway Across Canada
Here are four fun facts about what makes Come From Away a runaway Broadway musical sensation:
Most of the show's characters are based on real-life passengers, including pilot Beverly Bass, who was named American Airlines' first-ever female captain.
Airline passengers Diane Gray and Nick Marson, who met while waiting in line for a blanket, were brought together by extraordinary circumstances and managed to fall in love in the few days they were together. The couple have now been married for 17 years and even returned to Newfoundland for their honeymoon!
On the 20th anniversary of 9/11, a filmed version of the award-winning Broadway musical was released through Apple Original Films. The performance was recorded in May 2021 at the Gerald Schoenfeld Theatre in a special one-off during the COVID-19 shutdown of Broadway. The show features the original Broadway cast and was performed for an audience that included 9/11 survivors and front-line workers.
A feature film adaptation of the musical, with Ashley directing and Sankoff and Hein writing the screenplay, is in the works. The creative team intends to shoot in Gander, cast lesser-known actors, and place Gander residents as extras.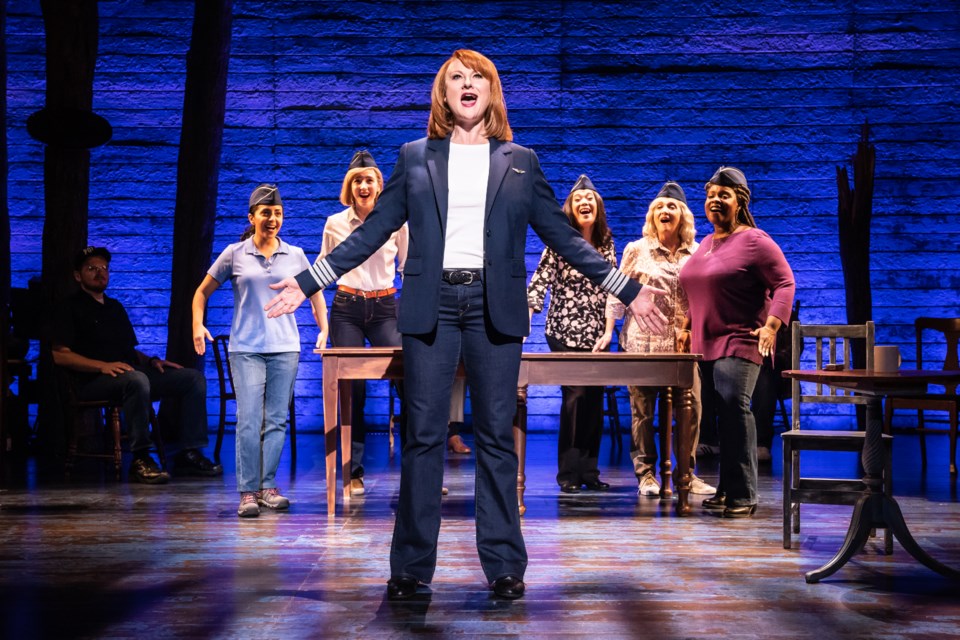 The North American Tour of Come From Away. Photo: Matthew Murphy / Broadway Across Canada
The North American touring production of Come From Away currently stars Marika Aubrey (Lincoln Center's South Pacific), Kevin Carolan (Disney's Newsies), Harter Clingman (Peter and The Starcatcher), Nick Duckart (In the Heights), Chamblee Ferguson, Christine Toy Johnson (The Music Man), Julie Johnson (Memphis), James Earl Jones II (The Gershwin's Porgy and Bess), Julia Knitel (Beautiful), Sharone Sayegh (The Band's Visit), Danielle K. Thomas, Jeremy Woodard, Jenny Ashman, Jane Bunting, Amelia Cormack, Aaron Michael Ray, Kilty Reidy and Brandon Springman.
Tickets for Come From Away are available now through Ticketmaster. For more info, visit BroadwayAcrossCanada.ca and follow Broadway Across Canada on Instagram, Facebook, and Twitter.