When considering the perfect symbol of summer, many different images may come to mind.
Days spent at the beach, filling your belly at a classic backyard barbecue, or maybe setting out and embarking on new adventures by hitting the open road.
For many, summer imagery presents itself earlier, during the transition of seasons when sleepy spring showers create beautiful blooming flowers. More specifically, the summer season brings forth the sprouting of a particularly bright and brilliant flower - the sunflower.
Symbolically, the sunflower represents different things to different people. To some, it embodies happiness, optimism, and honesty. Others view it as a symbol of longevity, admiration, peace and devotion.
However you choose to identify their significance, there is one thing on which we can all agree—they sure are pretty!
If you want to venture to where the sun meets the soil, look no further than the Richmond Sunflower Festival. Located just a quick 30-minute drive from downtown Vancouver—it's also on a major bus route directly from the Canada Line for our public transit folks!—at the scenic Richmond Country Farm, the event boasts a beaming bounty of botanical brilliance.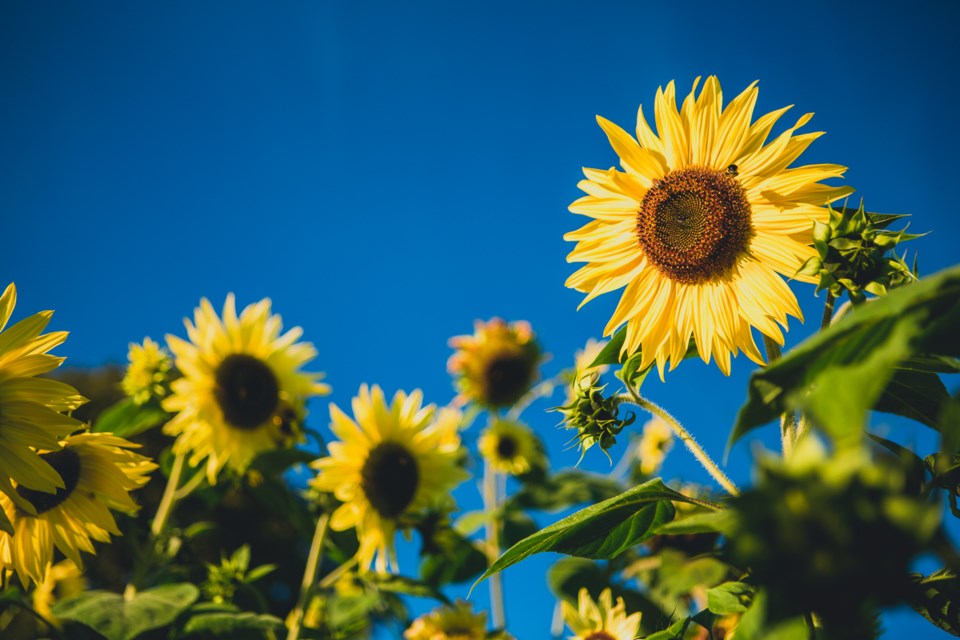 For the fourth consecutive year, visitors are invited to take a pleasant wagon ride to the fields and wander throughout the farm's eight acres of serene yet stunning scenery, with over 90 varieties of sunflowers, dahlias and other flowers to admire.
All those interested are welcome to attend this family-friendly event, including your furry friends!
That's right. Well-behaved pets are allowed to participate, too, so long as they're on a leash and owners clean up after them. As much as the farm appreciates the extra fertilizer, they've got it covered. So, make sure you bring bags to clean up if your pet does their business!
But the fun doesn't stop there.
As you wander, see if you can find all the hidden photo-op moments with the farm's unique flower wagon. Quench your thirst or curb your cravings by purchasing a cool and refreshing drink from the lemonade stand, as well as mini doughnuts and other tasty dishes from local food truck vendors.
Or, try your hand at some of the new farm features, like a yoga class in the dahlia fields on Thursday evenings.
Once you've sufficiently fulfilled your floral quota, be sure to visit the Country Vines Winery, open daily, to sample unique, handcrafted wines made on the family farm and treat your tastebuds to a tasting flight. You can also stop by the market to shop for delicious local organic produce, including fresh berries and homegrown corn.
The Richmond Sunflower Festival is open on weekends between 10 a.m. and 6 p.m. and on weekdays from 12 p.m. to 6 p.m., with the last entry at 6:30 p.m. and the last wagon back to the parking lot at 8 p.m.
In need of more motivation? You're in luck!
We've partnered with the Richmond Sunflower Festival to give two lucky winners a can't-miss summertime prize package, including:
Four tickets to the festival
A $100 gift card to the Country Vines Winery
One free charcuterie board at the winery
A round of mini golf at Savage Creek
Total Grand Prize Value: $200 (each)
You can enter via the contest entry form below. For additional chances to win, follow @richmondsunflowerfest on Instagram.
This contest is open to British Columbia residents and closes on September 7, 2022. The contest winners will be contacted via email on this date.